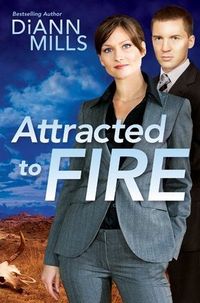 Purchase
Tyndale House Publishers
October 2011
On Sale: October 1, 2011
Featuring: Meghan Connors; Ash Zinders
384 pages
ISBN: 1414348649
EAN: 9781414348643
Kindle: B005EZ0BCS
Paperback / e-Book
Add to Wish List

Inspirational Mystery | Romance Suspense
Special Agent Meghan Connors' dream of one day protecting the president of the United States is about to come true. Only one assignment stands in her way.
After the vice president's rebellious daughter is threatened, Meghan is assigned to her protective detail on a secluded ranch in West Texas. Unfortunately, working with Special Agent in Charge Ash Zinders may be as tough as controlling her charge. Ash has a reputation for being critical and exacting, and he's also after the same promotion as Meghan.
But when the threats escalate and security on the ranch is breached, it becomes clear this isn't the work of a single suspect—it's part of a sophisticated plan that reaches deeper and higher than anyone imagined. And only Ash and Meghan can put the pieces together before it's too late.
Videos
Comments
40 comments posted.
What a great gift pack. My grandson loves hot stuff. Serve the jalepno honey
spread mixed with cream cheese on toast or crackers. We have visited :a few
places in Texas, but to go bac, for more. Ther is so much to se.w
(Patricia Barraclough 12:28pm October 18, 2011)
I have never traveled to Texas except thru reading, movies, tv, etc. Love the gift [email protected]
(Shirley Younger 8:08am October 18, 2011)
Pecan honey butter sounds yummy! Unfortunately, the only place in TX I have been is a layover at the Dallas airport. I guess that doesn't count!
(Karen Gervasi 9:31am October 18, 2011)
been to texas just once, but loved the open skys and the shear
wonder of driving hundreds of miles seeing the mountains in
the distance and never seeming to get any closer.
(Sue Hieber 9:57am October 18, 2011)
This sounds awesome. The only time I have been to Texas is in the airport. I would love to visit though!
(Summer Grinstead 11:01am October 18, 2011)
I was to texas once. San Antonio. It was gorgeous
(Matthew Mcvea 11:01am October 18, 2011)
The only time I have been to Texas was layovers in the Dallas/Ft. Worth & Houston airports. You gift pack sounds wonderful.
(Beverly Beltz 11:11am October 18, 2011)
I have never been to Texas but my husband was there many many years ago when he was in the army. It is definitely on my places to visit. Having grown up in New Jersey it is amazing to me how big the state is.
(Maureen Emmons 11:30am October 18, 2011)
Mmmm sounds great. A little something for everyone in our house. We drove through Texas from FL to NM and boy was it a long drive, a wide state. I can not wait to read Attracted to Fire, and I love the cover.
(Christine Arcidiacono 11:30am October 18, 2011)
Texas is one place I would love to visit, but have never had the chance. I love cowboys, very sexy. I also love the Cowboys football team. When I was little I wanted to be a Dallas Cowboy cheerleader. Love hot stuff and this is a great gift pack and would love to win. Thanks for the giveaway and the chance to win.
(Chris Bails 11:30am October 18, 2011)
I've never been to Texas, but I think I would enjoy a "taste" of Texas! :-)
(Cheryl Castings 11:40am October 18, 2011)
the pic look all most like you and would love to read
the book i hope texas will be ok with the
storms now
(Desiree Reilly 1:33pm October 18, 2011)
I love reading these! You are all winners!
(DiAnn Mills 1:34pm October 18, 2011)
Nope... Never been there but it sounds exciting. My parents went there for a vacation last yr and said great things about it though.
(May Pau 3:11pm October 18, 2011)
Sorry, but I've never visited the hill country of west Texas. It sounds fascinating. Most of my travels through Texas have been through novels and they are usually jam packed with adventures and romance.
(Anna Speed 3:40pm October 18, 2011)
I have been to San Antonio,I just loved it. The boat ride and the great food. Thanks for giving me a chance to win your great prize pack.
(Linda Hall 4:51pm October 18, 2011)
I love the Texas Hill Country, especially in the spring when all the bluebonnets are blooming. It's just gorgeous. Of course, New Braunfels is pretty nice at this time of year, just in time for Wurstfest! Your new book sounds like fun. Thanks for visiting.
(G S Moch 4:52pm October 18, 2011)
My sweetie and I just bought 140 outside El Paso. He was stationed in El Paso and loves it. I was stationed in Ft. Hood and was so so about it until I saw El Paso. My daughter was born in Texas and we have oodles of nieces and nephews who love all over the state. I love the hill country! And I love your books. Your stories are such good entertainment!
(Angee Bartlett 4:53pm October 18, 2011)
I love your gift pack giveaway! I have never visited Texas, but my mother's father's two aunts lived together in Dallas, TX and ran a childrens clothing store for many years. So my mother got to visit them a couple of times. I also had friends from El Paso. Loved the stories about Texas and I'm sure it's gorgeous country. Your latest book sounds great and one I must read.
(Linda Luinstra 5:26pm October 18, 2011)
I would love to read the book. Sounds amazing.
(Sammy Keyes 5:36pm October 18, 2011)
I live in Central Texas on the ranch my Great, Great Grandfather founded in 1852. So I know a thing or two about horses, cowboys, scorpions, rattlesnakes and jalapeños. Love our state and its rich history.
(Maude Allen 5:46pm October 18, 2011)
Great gift pack! Sounds like a great book too, I love Texas and cowboys!
(Deborah Rudd 7:16pm October 18, 2011)
Never been in Texas. Love spicy foods. The cook sounds wonderful - hopefully the agents and protectee build up a tolerance for her spicy cooking.
(Mary C 7:31pm October 18, 2011)
I have driven through the west side of Texas once, but it was a quick trip.
(Barbara Evans 8:37pm October 18, 2011)
I have never been to Texas, but I love reading books set in Texas
(Gail Hurt 8:47pm October 18, 2011)
I still own a dress that my Mother bought me when she went on a trip to visit the Alamo, when I was in my early 20's. I won't divulge my age now, but I'm pleased to say the dress still fits me now!! I love the Mexican style of the dress, and although I haven't had the occasion (or guts) to wear it yet, and she has since passed on, I still hang on to it to feel close to her. Now I'll have to read your book, and get the rest of the ambience of the area. Very classy cover!! Congratulations!!
(Peggy Roberson 9:07pm October 18, 2011)
I travelled through the tip of Texas once but never got to stop and have some
fun. I can't wait to read your books, they sound like my kind of fun. Thanks
for the giveaway and here's to many sales to come.

Val
lastnerve2000 at gmail dot com
(Val Pearson 9:25pm October 18, 2011)
Every Texan adores the "hill country," skirted by San Antonio and Austin and anchored by Fredericksburg, home of some of the State's most excellent wines as well as essentially the State grocery store chain H.E.B. and the National Museum of the Pacific War. International tourism is alive and well in this area touched by German, Swiss, Austrian, Alsatian, and Czech influences in food, beer, music, dance, and architecture. Been there many happy times and plan to continue visits with overnights in quaint area B&Bs and purchases of wildflower plants and seeds from Wildseed Farm! However, to me, west Texas more truly encompasses El Paso, Abilene, Lubbock, and all towns between in that more dusty, arid, hardscrabble part of the State.
(Carla Schuller 11:56pm October 18, 2011)
We honeymooned in Texas so I have great memories from there---I hope to vacation there again someday.
(Sue Farrell 9:05am October 19, 2011)
I can deal with alot of things, but scorpions wouldn't be one of them!
(Michele Lawrence 9:11am October 19, 2011)
I agree, if I could jalapenos in everything I would. My only complaint with them, is that they aren't as hot as they used to be.
(Debbie Penny 9:17am October 19, 2011)
sounds great!
(Ron Legamaro 11:31am October 19, 2011)
The West, spicy food and a bunch of hunks in a book - I want to come to that ranch.
(Alyson Widen 12:38pm October 19, 2011)
Would luv to win the Texas Trio Gift pack...and wish that would have included DiAnn Mills's book Attracted to [email protected]
(Lnda McFarland 2:13pm October 19, 2011)
I was in Texas for a conference once, but never got to leave
the hotel. I'd love to get back there and see all the
different parts. Those Texas treats look yummy!
(Diane Sallans 4:35pm October 19, 2011)
Unfortunately I've never had the chance to visit Texas but it's on my bucket list :)
(Jeanne Sheats 9:57pm October 19, 2011)
Hi DiAnn,

I used to go to El Paso, Texas in the summers. My Great Aunt lived there & all my crazy & funny cousins with her! One cousin can still ride on a (is this the name?)Unicycle. Anyway, talking about hot & firey, when we were kids (I lived in Indiana at that time) we used to go around with the neighbor kids & play in this arroyo that was near were we would stay for the summer. Anyway, I saw this ant hill, & one of the kids dared me to step on it! Well, I had never heard of fire ants before, so taking up the dare, I stood right smack in the middle of that ant hill. YIKES!! Was I in for a surprise! Those ants climbed all over me biting & stinging me everywhere, so I ran back to our place screaming like a wild banshee & my Grandmother & Great Aunt had to peel off my clothes & spray me with a hose to get the ants off! Needless to say, I learned my lesson. Since then, I have a great respect for ants! ;)
Well, I just thought I'd share that. It seems like so many things happened to me in El Paso, included coming face to face with a rattlesnake on top of a rocky mountain I climbed, that I thought I'd just give you a little sample of all the hair raising events that I lived through in El Paso.
Happy Writting!
Ciao For Now,
(Quetzi Fernald 5:16am October 22, 2011)
I lived in the Houston area for about 5 years... learned many of the ways - miss parts but not the hot, humid summers! Great gift pack!
(Diane Brixius 7:21am October 24, 2011)
only places in texas i've been is military training in san antonio and in the el paso area, but it was great times in those areas.
(Michael Cuchinelli 3:50pm October 27, 2011)
I've been to the LBJ Library and the Alamo. Thanks
(Burt Mcvea 7:32pm March 29, 2012)
Registered users may leave comments.
Log in or register now!