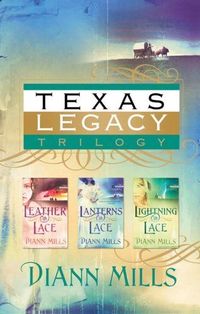 Purchase
Barbour Books
August 2008
On Sale: August 1, 2008
896 pages
ISBN: 1602602271
EAN: 9781602602274
Paperback
Add to Wish List

Leather and Lace

Casey O'Hare forsakes the years she spent in an outlaw gang for a chance to start her life anew. But no one leaves Davis Jenkins and lives. Pursued by the gang, Casey is trapped by a mysterious stranger who takes her as a pawn to get to Jenkins. Could this Morgan be an angel sent to deliver her or the devil setting her up for the kill?  However, instead of Jenkins abducting her, Morgan Andrews captures Casey in an isolated campsite. He insists he will keep her safe, but she believes he, like all men, is using her. She is not sure why at first, but soon realizes she is an expendable pawn for Morgan to get to Davis Jenkins. Though attracted to her warden, Casey plans to escape from him just as she has from the law and from the Jenkins brood. Morgan is reconsidering his values as he has fallen in love with his "guest" (prisoner if you ask Casey) and would die before allowing her to be harmed yet needs her as the bait to capture Jenkins.
Lanterns and Lace
Suspense and Romance Tangle in Texas 
 Moments before she dies giving birth, a tormented resident of the Kahlerville brothel persuades the doctor to adopt her infant daughter. Two years later, Jessica Martin's younger sister, Jenny, arrives in Kahlerville determined to gain custody of her niece. But as soon as Jenny steps off the train, her best- laid plans begin to go awry. From her encounter with the mysterious Aubrey Turner to her humiliation in front of the seemingly dedicated physician Dr. Grant Andrews, unforeseen events cause Jenny to falter in her purpose. Should she leave Kahlerville before she ruins more lives than her own? The secretive Mr. Turner will stop at nothing to get what he's after -- including Jenny's affections -- while Dr. Andrews fears for Jenny and his daughter's safety. What twisted plots and unexpected evils await the residents of Kahlerville, Texas? How many lives will be lost in the chaos?
Lightning and Lace
Bonnie Kahler, immersed in grief since losing her husband, attempts to rise from the ashes of mourning. Will love and faith give her the power to conquer the demons within and evils without?
In an attempt to outrun his past, Preacher Travis Whitworth arrives in Kahlerville, incognito. When he stumbles across a dead body, suspicion falls on his shoulders. Is Travis in too deep to win Bonnie's love? As Bonnie finds herself drawn to Travis, her life and heart are threatened. When secrets unravel, will she be strong enough to face the twisted truth?
Videos
Comments
No comments posted.

Registered users may leave comments.
Log in or register now!