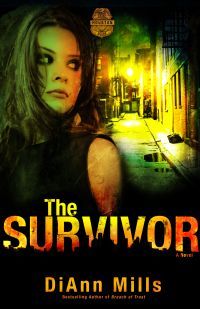 Purchase
Zondervan
March 2013
On Sale: March 5, 2013
384 pages
ISBN: 0310333229
EAN: 9780310333227
Kindle: B008EGXVSK
Paperback / e-Book
Add to Wish List

Kariss meets Dr. Amy Garrett, who survived a brutal childhood attack in which the assailant was never found. Now Dr. Garrett wants her story written into a novel. Kariss wishes she could seek the advice of Special Agent Tigo Harris, but she broke off the relationship a few months prior and seeing him again would be too painful. Kariss interviews Amy and conducts her own research, stepping unaware into a viper's pit of danger. Tigo misses Kariss and wants her back, but he understands why she broke off their relationship. So he concentrates on solving a car bombing and bringing the killer to justice. As Kariss's new story attracts an onslaught of danger that she never expected, Tigo is drawn closer to the woman he loves. He works furiously to find out who wants her dead for writing about an unsolved cold–case, but will he be in time to save her from becoming another case in the FBI's files?
Videos
Comments
74 comments posted.
Re: The Survivor

A couple of things I would try;
1) Try to warn people about the things criminals look for
when committing a crime.
2) Set up a neighbor hood watch, and post signs telling
others. If the criminals know that the area is watched,
they would think twice before doing anything.
(Sara Doyle 8:25pm March 3, 2013)
What an interesting post! Thanks for sharing your experience with the Citizens Academy. We have a Neighborhood Watch in our community and we keep in touch with our next door neighbors whenever we go away on vacation.
(Bonnie H 12:12pm March 4, 2013)
Become friends with some neighbors. Watch out for each other's homes. When I go on a trip and neighbors ask if they can do anything for us, I tell them to call the police if they see a truck in the driveway. :-)
(Elaine Carlini-Davis 1:12am March 5, 2013)
Yes, do a neighboor watch group, in addition to it get with your
neighboors like once a month have a get together, so you be able to get
to know them better & get someone from your P.D. to come by & give
out pointers on how to make your home & when you go ahead make
your house & neighborhood better. When, you & your family go out talk
about where you going ahead of time, esp. If you got children; like what
to do if got separated from each other, like who to call if mommy/daddy
got hurt.
(T. Glenn 3:42am March 5, 2013)
My crime prevention tip may sound odd: It is to treat those one encounters as valid human beings.
(Mary Ann Dimand 8:14am March 5, 2013)
The cell phone use thing seems to have gone through a couple
of cycles. I've heard not to use them, because you look
oblivious, and I've heard that if you use them, that means
you're talking to someone who can call for help immediately
(to the point where one self defense instructor recommended
pretending to talk on your cell phone). With the rise of
"Apple Picking," I'm not surprised that we're back to not
using them.

The best advice I've ever heard about preventing crime is
being aware of your surroundings at all times. You're less
likely to be a victim if you (and your friends) can avoid
dangerous situations!
(Alana Abbott 8:24am March 5, 2013)
Talk to people - I think talking to your neighbors, watch out for each other, talk to the shop owners and workers of the places you frequent (you would be surprised at this, but they will tell you how the neighborhood is turning, they will talk about a robbery that took place, about what kind of people the new store/restaurant is bringing in, if it gets "shady" after dark in the parking lot).
Lately you can get a crime app that shows the areas that are being hit and at what frequency. You can also find this in your local paper - read it!
Being aware of your surroundings, go out with another person (this not only saves on gas and gives possible coupon swapping, but also can be a determent in a criminal having to attack 2 vs. 1 person).
When it comes to the crime at your doorstep - again have your neighbors play a part in watching each other, place a home security sign outside and in windows, double bolt doors and keep a bar with sliding glass. Remove temptation from visibility through the windows - don't leave jewelry out (keep in drawers or if in a big piece keep in closet). Be aware of who is coming into your house - from the delivery man to the cable repair. Another tip is if you live in an isolated area fire off a firearm once a month, people will know you have one and are less likely to choose your house.
(Carla Carlson 10:40am March 5, 2013)
I am always aware of my surroundings. People distracted
become easy prey for criminals. A also always check my car
before I get in it at night. I am a certified chicken.
(Vicki Hancock 11:26am March 5, 2013)
I think communicating the crime trends in a particular community are key to preventing crime.
(Pam Howell 11:29am March 5, 2013)
Earbuds shield people from noises when they jog or walk. Listen to nature and be aware.
(Kathy Sullivan 12:13pm March 5, 2013)
Thankfully I live in a rural area where crime is not too
bad, but in the same sense, people tend to take that to mean
there isn't any and thus are very laid back on what they do
to protect themselves. I would let people know that car
doors, home and such still need to be locked, because you
never know. Also just because you've known them such and
such years doesn't mean they can't commit something wrong.
(Billie Gaskill 12:15pm March 5, 2013)
This is so interesting. Never even thought about an
opportunity like this for ordinary citizens!

I try to be aware of where I am and what's going on around
me. For instance, our local shopping mall is located on the
interstate that runs through our mid-size town. Though
rarely publicized, we hear through the grapevine of crimes
that occur there. I am always watchful while in the parking
lot there....
(Marguerite Guinn 12:27pm March 5, 2013)
A Neighborhood watch is a good place to start.
(Terri Quick 1:05pm March 5, 2013)
I've always told my daughter to be aware of those around her
and to use the phone if feeling in any way in danger. I do the
same myself, especially if out after dark or in an area I
don't know well.
(Ilona Fenton 1:22pm March 5, 2013)
I think neighbors need to keep an eye out for each other and be aware of who belongs in the neighborhood.
(Sandy Giden 1:49pm March 5, 2013)
Great advice! I think the cell phone is a great idea... don't use it while walking but you should keep one around you to report a crime. Don't listen to music while walking too....
(May Pau 2:01pm March 5, 2013)
Be observent... be aware of what happens around you... it can surprise you as to what you may see... interesting post! Thanks for sharing!
(Colleen Conklin 2:48pm March 5, 2013)
I live in a senior citizen mobile home park. The security is non-existent. Recently, they got a security guard who drives around the park. But only in daylight?!? And he does not know who belongs and who does not. There have been several instances of home invasions here and no one has been caught. I would like to set up a neighborhood watch so that residents are more aware. I would also like to have a meeting at the club house with a speaker from the police department who could give us some good information. I would suggest that those who are having someone come in to appraise or purchase something would let a neighbor know and ask them to keep watch.
(Irene Menge 3:32pm March 5, 2013)
I think the biggest tip you already covered: Awareness.
Being aware of your surroundings gives you a bit of a head
start when trouble intersects your life.
There are circumstances where nothing you could do would
have made a difference, but in those instances, it is
important to have at least a mental list of who to call
first and what to do next.
(Diana Troldahl 4:04pm March 5, 2013)
We hsve block captains in our meighborhood and any crime is reported to them and the info is emailed out to everyone. This truly keeps us up to date on what is happening and what to watch out for. Reports of strange persons and strange cars are reported so ao can be on the lookout.
(Gladys Paradowski 6:34pm March 5, 2013)
I think everyone should watch out for each other. Not to be nosey but if you see people hanging around where they've no reason to be, or a strange car or van driving up and down your street make it known in a safe way that people are watching out for their neighbors. I think people tend to mind their own business a little too much because they don't want to be embarassed by calling the police on someone's brother or son's friends because they've never seen them around before. I'd rather be embaraseed then realize my neighbor was robbed and I did nothing.
(Annetta Sweetko 7:20pm March 5, 2013)
Try to get people to be aware of what's going on around them.
(Cheryl McEwen 8:19pm March 5, 2013)
Would so totally love to do what you did! Love the cover
(Tami Bates 8:47pm March 5, 2013)
There have been several daytime burgularies in the area lately
- one where a lady went out to walk her dog without locking
her house doors. So I would suggest always lock the house
doors, especially when going out or home alone.
(Diane Sallans 9:09pm March 5, 2013)
Be smart when banking - I see too many customers who are counting the cash as they walk away.
(Mary C 10:00pm March 5, 2013)
I'm aware of the fact that crime never sleeps, nor does it take a holiday, so I always try to keep my eyes and ears open. If I hear a sound that doesn't sound familiar, I'm checking on it, or my Husband is. When the weather is nice, we're sitting outside more, to be aware of what is going on. We also have darkening film on certain windows that keep the direct sun out, which we found comes in handy for looking out if we need to. We're not nosy people by any means, just people who are aware of what is going on in our neighborhood. We also live in an apartment, so we keep in touch with our neighbors. Being the caretakers of the building, we have a few more responsibilities, and have to be more aware of things that go on with the property. It isn't the same world as it was when we were growing up, and you have to stay ahead of their game.
(Peggy Roberson 10:21pm March 5, 2013)
I live in a very small town so it would be hard for anyone to comit a crime here because evryone knows each other. I read your post with interest though and it gave some pointers to think about. One thing I try to do is pay everything with cash, that way my credit card numbers or debit card numbers can't be easily stolen.
(Christine Schultz 10:35pm March 5, 2013)
I always pay attention to my surrounding wherever I go, so many people walk around on their cellphones not paying attention. Also get to know your neighbors. Thanks for a chance to win your book.
(Linda Hall 12:18pm March 6, 2013)
The most important thing in a small area would be to get to know your
neighbors so you can familiarize with who lives near you. Then, set up a
neighborhood watch, especially if there are small children and such in the
neighborhood.
(Hyunjin Jeon 2:36am March 6, 2013)
The area where I live is quite dark and I have always thought
that better street lighting would be a good step in making our
area less attractive to thieves and attack.
(G. Bisbjerg 3:37am March 6, 2013)
Fascinating course you attended! I am sure it will add details to your works for the future.
Noticing your surroundings is hugely important and not being seen to draw money from a cashpoint. Do this inside a shop or bank.
Each night as I go to bed, as well as checking door locks I look out the front window. If everyone on the street looks out as they go to bed this provides the street with some hours of coverage and any suspicious activity can be noted.
Over the years I have prevented a few crimes by keeping my eyes open - men on a garage roof next to a partially open house window, for instance.
(Clare O'Beara 10:14am March 6, 2013)
1 - Town Watch - definitely - 2 - Lighted Areas - 3 - Being AWARE!!! These have all been mentioned already, I know - but they are definitely important!

What a great experience you had with the Community Outreach Center - WAY cool!
(Felicia Ciaudelli 10:22am March 6, 2013)
Education we can never stop learning we need to train our small children in
schools at home we must be learning all the time must be aware all the
time thank you
(Ava Curtis 11:54am March 6, 2013)
Our neighborhood used to have a lot of home break-ins but now almost every house has an alarm system and people are looking out for each other. Good neighbors, good outdoor lighting and alarms help a lot.
(Andrea Abel 5:37pm March 6, 2013)
As long as everyone is aware of the dangers of criminals and support each other when in times of need we
wouldn't have many crimes going unsolved. And if the authorities really checked for curfew abusers, we
wouldn't have so many youths running around without any sense of guidelines. I think we've been oblivious
of the boundaries we use to set to prevent crime from happening.
(Lazydrag0n Puff 11:53pm March 6, 2013)
Get to know your neighbors and look out for each other. We have an awesome neighborhood and know everyone (not in a nosey way). We also subscribe to a notification system (AlertID My Neighborhood Advisory) that sends us an e-mail with updates about what is happening in our area - crimes and sex offender moves/lcations.
(Cathy Fierstein 2:09am March 7, 2013)
Be watchful, know your neighbors, and listen to your gut. If something doesn't
feel right, if something gnaws at you as strange, it probably is!
(C.E. Hart 8:25am March 7, 2013)
Keep your outside lights on- yes electricity can be expensive but so is
replacing your stuff. Keep plants trimmed back from doorways and
windows- no hiding spots please. Use wasp killer spray instead of mace-
it's perfectly legal to own, doesn't look out of place in a home our on a night
stand, shoots a continuous spray 3-4 ft instead of a fog like bear spray and
only fire for 2-3 secs then leave and take the can you can use it again to
save yourself. Bear spray is only good for an 8 sec burst
(Janis Milford 11:31am March 7, 2013)
Neighbors watch out for eas other in my town. Thanks.
(Dianne McVetty 1:52pm March 7, 2013)
My husband is a volunteer for our county police dept. He did the full training
and was the oldest one to graduate from his class at 45. He sure showed
those youngsters that you can be mature and help the community.
(Christine Didyk 3:14pm March 7, 2013)
Believe it or not, a little sticker on your door saying this is a Crimestopper watched area will help. And, by all means, keep a light or two on when you are gone for an evening out. Many people I know have a fake ADT sign in their yards too. Kariss is the ultimate crimestopper!
(Susan Coster 3:45pm March 7, 2013)
Get to know your neighbors and exchange phone numbers.
(Andrea Abel 5:18pm March 7, 2013)
Try to avoid walking to your vehicle alone (especially at night); leave a store or business when someone else or others are going to the parking lot. Remember to use your car alarm on your key fob to get attention, if someone is coming near you and you're frightened (they will be sure to walk or run away). It's not a bad idea to carry a sharp object with you--a tiny jacknife, letter opener, seam ripper, etc. (to stab a hand that might grab for you). Keep a notepad with you to jot down license plate nos. and descriptions of any suspicious person(s) or activity your may wish to report. Keep car doors locked even after you get into your car. Anyone can jump right into your car and cause you harm or carjack your vehicle and take you with them. Many years ago, while stopped at a red light, I had a man jump into the passenger side of my vehicle--he wanted a ride, and I screamed at him to get out of my vehicle and he did (I was lucky he cooperated). Do not carry a lot of cash on your person or in your handbag. A robber will snatch your purse or even pretend to have a weapon to get it. We had a spree of handbag thefts from shopping carts while women were distracted looking at products on shelves and not keeping a close eye on their handbags. He'd grab them and leave the store shoving it inside his winter jacket. They finally did catch the guy who acted alone and did this numerous times. Report unlit areas and burned out street lamps to the city. Many areas remain dark when no one lets the city know they're out. Always double check that your windows and doors are locked on your home before leaving and before going to bed. Keep a baseball bat or spray handy where only you know it is by your bedside and backdoor. Do not open your door to any strangers after dark that you're not expecting. My son was robbed of everything at knifepoint in his apt. building when he was awoken late at night. His apt. was located next to the front door and they bagged up everything at took it
(Linda Luinstra 7:16pm March 7, 2013)
walk strong and be careful. Park in well lit areas.
(Lisa Fitzgibbons 8:56pm March 7, 2013)
Our neighborhood has security cameras that connect to a public website a neighborhood watch group. We try to watch out for each other.
(Amy Kincade 12:00pm March 8, 2013)
Have neighborhood watch meeting with the police. Also keep a
big loaded gun on your nightstand.
(Debra Kelley 12:50pm March 8, 2013)
Have a burgler alarm on your house if you can, and keep it on even during the day along with keeping the doors locked at all times. Paying attention to the people around you is vital. I was walking in a parking lot watching the ground for potholes when out of the corner of my eye I saw a man alter his direction to come right at me. There was no good reason to come in that direction. I looked directly at him and he was too close to me for comfort. When I looked at him, he turned and left the lot. He thought I was distracted and was going to steal my handbag. At least, that's what I think. Now, I am careful about the surface on which I am walking, but still not looking as if I am not paying attention to people around me. The Dallas police once said to not park by a van that had no windows in the
back or sides since there had been several cases of females
kidnapped by guys in a van next to their car. They also
recommended if you come out and there is a van parked next
to you, get in on the other side of the car. Lock the door
and leave immediately.
(Linda Howell 8:12am March 8, 2013)
I live in a very rural area. So the crime is much, much smaller. We don't lock our cars or houses. But there has been several sexual assaults. Many, many times women are under the influence. So my advice would be to never drink to excess. Do not leave your drink unattended. Rape is always wrong and just because you were under the influence does not make you responsible for your rape. But be aware that drinking to excess will make you vulnerable to bad people.
(Phyllis Lamken 1:07pm March 8, 2013)
Keeping the outside lights on to light up your home and yard at night prevents someone from coming up to your home to commit any crime including vandalism. They will be deterred. Be sure to put away yard tools and bikes, etc. before dark. Always be extra careful walking to your car from a bank, especially. A would-be robber may assume you have a lot of cash. Never open up your wallet wide enough for anyone to view the amount of cash you have when checking out at a store, since you may then be setting yourself up. There are too many jobless individuals these days and they take desperate measures. Keep your cell phone charged and handy in your pants pocket where you can quickly grab and use it. Don't be afraid to yell and scream loudly for help and even run away getting attention. Anyone doing something wrong will less likely continue doing so when you're attracting a lot of attention. Never take walks alone, especially on secluded walking trails. Many assaults occur in these areas.
(Rich Cook 4:40pm March 8, 2013)
I always check out the parking lot before walking out to my car. If there is someone hanging around my car I wait inside until another customer walks out. My friend was mugged at Christmas while walking to her car and she was talking on her cell phone paying no attention. You have to be aware of your surroundings.
(Andrea Abel 4:47pm March 8, 2013)
A Dog or any animal makes a home safe. Robbers hate dogs.
(Deb Pelletier 8:49pm March 8, 2013)
Try not to go out alone after dark. If you do, make sure you are aware
of your surroundings and have your car keys out. You can always push
the alarm on your remote if you need help.
(Susan Cote 10:25pm March 8, 2013)
Keep your outside lights on throughout the night.
(Mason Fine 12:38pm March 9, 2013)
A few things I think are important to keeping yourself safe is being friendly with the neighbors which will make them more inclined to look out for you or help you if you need it. Always lock your doors, house and car.
(Tracie Travis 6:57am March 9, 2013)
I think its a great idea to familiarize yourself with the neighbourhood, keep doors locked, be aware of your surroundings and report things that look suspicious, setting up a neighbourhood watch program is a great idea.
(Sarah Perry 12:02pm March 9, 2013)
Mama always had a phrase she used to explain why we locked the house (we lived in a rural area), why we locked the car, and why we traveled in pairs when we went to the city, "We are keeping honest folks honest." In these days of more unemployment, we have seen a rise in crimes locally. I think Mama was right. I also pay attention to my surroundings now which I didn't do before.
(Angee Bartlett 2:46pm March 9, 2013)
Never go to a shopping mall at night alone. I live in a tiny town but our crime rate is as high as a big city so just because your town might be small doesn't mean you should let your guard down.
(Andrea Abel 4:55pm March 9, 2013)
Agree most important is to be aware of your surroundings.
Another thing I suggest is to always have a plan & think of
what everyday object could be your weapon should you need one.
That was a lesson learned from hard experience. Always lock
doors & look inside your car before getting in.
(Kay Martinez 10:45pm March 9, 2013)
Keep an eye out for persons that do not belong in your
neighborhood. Know your neighbors! Very important!!!
(Cheryl Sanders 10:59pm March 9, 2013)
Know what is normal for that area & be aware. Don't be afraid of calling the police and looking silly.
(Laura Gullickson 1:10am March 10, 2013)
I learned a lot from reading the posts. There is really good advice here. I would also suggest to be careful when using the ATMs. Someone once tried to watch what I was doing. Maybe they were innocent but you never know.
(Kathleen Yohanna 7:57am March 10, 2013)
Thank goodness for good neighbors who keep an eye out for anything unusual happening when I am out of town. I live in a small town and didn't have to worry about crime until more recent years. Now days, I lock car doors and at night, I lock the doors to my house and set the alarm.
(Anna Speed 12:47pm March 10, 2013)
I would love to take a class like that. I often find that when I walk, I am thinking and oblivious to what is around me. You have made me stop and think about that aspect. I think passing your suspicions along can help prevent and detect crime. As a teacher, I often have to be particularly observant of changes in my students and have learned to report. Better that they are safe than I am sorry.
(Renee Brown 1:39pm March 10, 2013)
I think you should look for something odd and not be afraid to report it.
(Debra Guyette 4:05pm March 10, 2013)
Keep your cell phone charged and a charger in your car when traveling. It could save your life.
(Andrea Abel 4:58pm March 10, 2013)
Know your neighbors. Become friends. Watch out for each other, watch over their houses when they are gone. That's how we do in our neighborhood. If we notice a car we don't recognize, immediately we're on the phone, asking if it's someone they know. Be aware. Pay attention to things around you, so you'll notice when they're different. Know your neighborhood. Be safe!
(Chelsea Brooks 5:16pm March 10, 2013)
I am lucky to live in a neighborhood with a private security patrol. It is sad
that things like that are needed, but I feel safer. I don't rely on that, so I
make sure of my surroundings and my neighbors.
(Ann Sheiring 7:08pm March 10, 2013)
take the time to get to know your neighbours so you will know if anything seems
out of usual. be aware..thanks
(Debbi Shaw 8:45pm March 10, 2013)
police presence, keep activities for kids/teens, keep the area clean and kept up - no abandoned, falling down properties, etc.
(Michelle Schafer 10:43pm March 10, 2013)
I'm part of neighborhood watch program.I also keep a check on familywatchdog in my area,or any other local law information site that report crimes in my area. Also if I have to go shopping a night 85% of the time I'm not alone, if I am I on the phone with a family member when I leave the store just in case something does happens. I also try to parking lighted areas & around camera if possible.
(Carolyn Helms 10:44pm March 10, 2013)
In my neighborhood everybody watches out for the other.
(Gloria Walshver 8:19am March 11, 2013)
before getting into my car i check the back....someone i know had a bad experience with a man hiding in backseat.
(Mal Kaplan 10:20am March 11, 2013)
the neighborhood watch is the greatest.home alarms are no. 1.watching out for others is not being nosy neighbors.
(Ouida Stokes 11:20am March 11, 2013)
In my neighbor hood we look out for each other
(Debbie Lord 4:14pm March 11, 2013)
Registered users may leave comments.
Log in or register now!