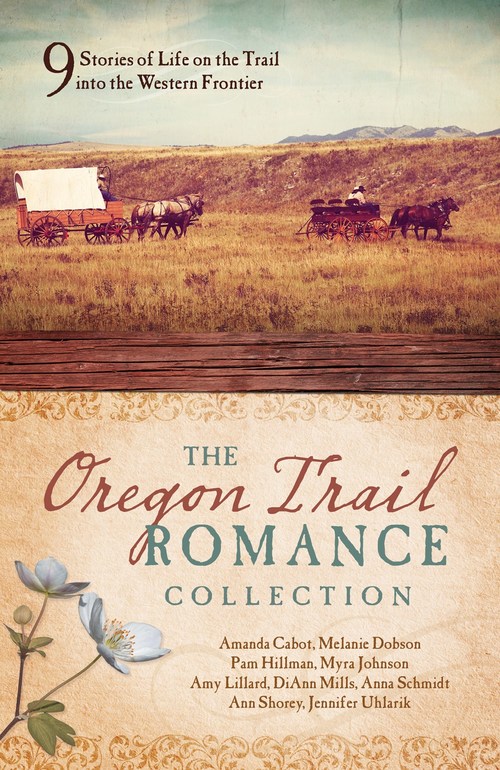 Purchase
9 Stories of Life on the Trail into the Western Frontier
Barbour Books
November 2019
On Sale: November 1, 2019
448 pages
ISBN: 1643521764
EAN: 9781643521763
Kindle: B00UUMMDXK
Paperback / e-Book
Add to Wish List

Inspirational Historical | Romance Historical
Nine romantic adventures take readers along for a ride on the Oregon Trail where daily challenges force travelers to evaluate the things that are most precious to themincluding love. Enjoy the trip through a fascinating part of history through the eyes of remarkably strong characters who stop at famous landmarks along the way. Watch as their faith is strengthened and as love is born despite unique circumstances. Discover where the journey ends for each of nine couples.

The Sagebrush Bride by Amanda Cabot
1852 Avice Longcopes parents have died on the trail, her uncle has confiscated all they owned, and now he wants her to marry his new business partner. When the wagon train reaches Fort Laramie, Avice is desperate to escape her uncles plans, but she doesnt expect a sudden proposal from the widowed sutler.

Beckoned Hearts by Melanie Dobson
1856 Widowed, Molly Goodwin has spent the winter in Idahos Fort Hall, working for a shopkeeper. When Payton Keller brings his sick sister to her, she is glad to help and for female companionship. But when the siblings invite her to go with them to Oregon, can Molly accept when her plans were to return East?

Shanghaied by the Bride by Pam Hillman
1851 Blake Samuelson wakes up in the bed of a wagon lumbering west along the Oregon Trail. He remembers being attacked, but not how he got in the wagon. Cassidy Taylor sees Blake as an answer to prayer for a man to help her all female family on the trail.

Settled Hearts by Myra Johnson
1852 - Desperate to find her father in Oregon for her ill mother, Emma Clarke teams up with John Patrick, a loyal uncle who is determined to hide his niece and nephew from abusive adoptive parents. Will Emma and John find the hope they seek for their futures along the trail?

As Good as Gold by Amy Lillard
1851 Ellis Hardy is headed to the gold mines of California when he takes up Trudy Johnsons proposition: pretend to be her husband and protect her and her daughter as they travel to meet up with her real husband in Oregon. Sounds easy enough, but Trudy is hiding something important.

Daughter of the Wind by Diann Mills
1851 While Lane Walker is out scouting for a wagon train, a tornado destroys the wagons and kills everyoneexcept Deborah and seven little girls who had joined her on a hike to a rocky bluff. How is this little band of survivors to get through the wilderness without provisions?

His Frontier Family by Anna Schmidt
1851 Captain Jason Campbell is not the marrying kind. So when yet another wagon train pulls into the fort he is unprepared for his attraction to the beautiful young widow, Emma Carson who comes to him for helping in finding her twelve-year-old son.

State of Matrimony by Ann Shorey
1858 Diantha Bowers joins a family moving to Oregon, but when the husband dies, the wife wants to return East. Will Diantha lose her dreams of adventure, or will one of the two men vying for her affections convince her to stay the course?

Sioux Summer by Jennifer Uhlarik
1854 Ellie Jefford is struggling after the death of her husband and son. Alone to serve Indians and immigrants at a trading post during her cantankerous father-in-laws illness, she welcomes a friendly face in Teagan Donovan, who declares he is on his last trip as a trail guide before settling down on his own farm.
Comments
No comments posted.

Registered users may leave comments.
Log in or register now!