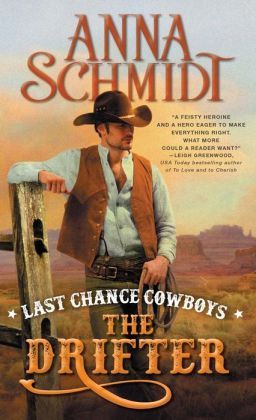 Purchase
Last Chance Cowboys: The Drifter
Anna Schmidt
Where the Trail Ends #1
Sourcebooks Casablanca
September 2015
On Sale: September 1, 2015
Featuring: Maria Porterfield; Chet
384 pages
ISBN: 1492612960
EAN: 9781492612964
Kindle: B00W3WTUPO
Paperback / e-Book
Add to Wish List

"I barely know you, and yet there's something about you that I trust. But why?"
"You know me, Maria. I'm the guy trouble follows. Best if you keep your distance."
She ran the backs of her fingers along the line of his jaw. "And what if I don't want to keep my distance?" Her voice was barely a whisper.
"Fair warning," he murmured, and pulled her close.
Caught between a greedy corporation and a desperate love of the land, Maria Porterfield barely has time to mourn her father's death. If her family is to survive, it'll be up to her to take charge-but she can't do it alone. When a mysterious drifter rides into town, the handsome cowboy seems like an answer to her prayers. But Chet isn't interested in settling down, no matter how tempting the offer...
Chet made his way West looking for a fresh start-the last thing he wants is to get involved in someone else's fight. But something about Maria awakens a powerful need to protect the fierce beauty at all costs. He never thought he'd find love, but as danger presses in, he may find there's more beyond the next horizon than just another long and dusty trail.
Where the Trail Ends
Comments
31 comments posted.
Re: Last Chance Cowboys: The Drifter

Honesty
(Marissa Yip-Young 6:01am September 4, 2015)
The rules I live by are these:
1. Try to be a better person
2 Try to make at least one person laugh or smile a day
3 Try to help at least one other person daily
4 Be sure to thank God for your day, even if it didn't
go as planned.

There are other little things that go into each of the items,
but you get the general idea. I not only love everything about
your latest Cowboy book, but also your WWII series, and it
looks like I'm going to have to get crackin' (no pun intended),
as far as doing some reading!! My Father served in WWII, so
books written from that time period are close to my heart.
Thank you for coming here today and letting us know about all
of your books. I'm going to have a very busy Fall season,
playing catch-up with your books, but know it's going to be
enjoyable!!
(Peggy Roberson 9:43am September 4, 2015)
Do unto others and you would have them do unto you. Be grateful. Life is Good. I love your books. Thank you for the chance to win. Your new series sounds like they will be winners - just like all your others.
(Nancy Reynolds 10:03am September 4, 2015)
Do not be afraid to be different and do not judge others for being different and force your beliefs onto them. Be thankful you live in a country that allows you that freedom because if we were all the same the world would be a very, very boring place.
(Maria Smith 11:45am September 4, 2015)
you are a new author for me!
(Lorelei Frank 11:54am September 4, 2015)
A do unto others code.
(Pam Howell 12:37pm September 4, 2015)
We had simple rules in the house growing up.. Other than
the normal, If you can't say something nice, don't say
anything at all.. or Silence is golden.
No, are's were more like this.
1. If you want something ask, the worst you can be told
is NO
2. If you walk away from the table hungry it's your own
damn fault.
3. If you don't like the rules, there's the door don't
let it hit you on the way out
4. Screw me once shame on you, screw me twice shame on me
and I don't do shame on me.

These were what we were taught. Be nice, kind, helpful,
and respectful and you will be treated the same way.
I do not judge people by the color of their skin, I judge
them by their actions. I know I am different from you and
that is ok. I will treat you with kindness until you
prove otherwise.
My mom would say I get new meaning to the phrase.. Hell
hath no furry than a woman scorned... you get on my bad
side and I will not be kind.
My boys are like Knights with they way they help women,
open doors and such.
My daughter acts like a spoiled princess and we but heads
all the time.
This is how I was raised and how I raised them.
(Tina Ullrich 12:38pm September 4, 2015)
Be myself and look at the positive...
(Colleen Conklin 1:09pm September 4, 2015)
Without integrity, I am nothing!
(Clydia DeFreese 1:56pm September 4, 2015)
Treat people the way
You want to be treated
(Emily Stemp 3:54pm September 4, 2015)
I know that everything happens for a reason. It may be to
teach me to depend on God, to learn to get my priorities
straight, or to count my blessings.
(Nyala Edwards 4:10pm September 4, 2015)
I try to be polite to everyone.
I try not to hurt anyone's feelings. I try to be a decent and
God loving woman.
Marilyn
(Marilyn Collins 5:03pm September 4, 2015)
Treat people with respect, at times that can be really hard.
When it gets to be too hard, treat them the way they treat
you and walk away fast.
(Sharon Sommer 12:02pm September 5, 2015)
Do unto others serves me well.
(Mary Preston 5:12am September 5, 2015)
Thank God every night for the day I just had and whatever happened I know was his plan for us . I try to be nice to all and treat them as I would want to be treated .
(Joan Thrasher 10:43am September 5, 2015)
Treat people the way You want to be treated
(Emily Stemp 11:01am September 5, 2015)
Like many others, the Golden Rule. Do unto others as you
would have them do unto you.
(Judy Gregory 11:27am September 5, 2015)
Never go to bed angry with someone and treat everyone as
you wish to be treated.
(Joanne Balinski 2:36pm September 5, 2015)
I do the best job I can, regardless of the task.
(Joanne Schultz 2:42pm September 5, 2015)
Always do your best no matter what the job. Treat everyone as you would like to be treated.
(Melinda Marks 4:13pm September 5, 2015)
1. Treat everyone as your friend until they prove otherwise.
2. Never lie, unless it is Christmas present time!
3. If it is something you can't control, let it go or it will drive you nuts.
(Shirley Cochran 5:33pm September 5, 2015)
Love your cover. My code don't steal if you want something ask. no political correctness. try to see the beauty in everything.Believe in something bigger than yourself.If you give charity do it to help someone not for your own glory.Remember we none of us are any more perfect than anyone else & before we condemn someone else remember this Thanks for the contest
(Gloria Vigil 1:44pm September 6, 2015)
I try to treat everyone with respect, the way that I would
want to be treated or to have my child be treated. Learning
is a treasure not to be wasted, but some children have to be
inspired. I work at it. Don't lie, don't cheat, don't steal,
don't commit adultery. In other words, follow the 10
commandments. They are commandments, not suggestions. Do all
things in moderation. Words hurt, use them gently. Everyone
has a story, some are even more compelling than our own, but
they won't share, if they don't trust. (I work in an inner
city elementary school. But these are my basic life rules
regardless.)
(Marcia Berbeza 1:26am September 7, 2015)
Everyone deserve a chance
(Emily Stemp 11:30am September 7, 2015)
Treat others like you would like to be treated.
(Denise Austin 12:34pm September 7, 2015)
I told my kids that of you tell a lie, it is hard to remember
what you said. You can remember the truth.
Your post reminded me of my father making a deal with a
handshake. I was raised in West Texas and that is how they did it
then; I remember him telling me that when I was a child.
(Leona Olson 12:40pm September 7, 2015)
I live by the code of " Be Kind to all "
(Barbara Ryan 2:17pm September 7, 2015)
I remember always being told when I was a child to BE NICE...I try to do that
every day.
(Jackie Wisherd 2:58pm September 7, 2015)
Don't judge people. There's always more to the story than you can
see. Be kind.
(Christine Schultz 5:30pm September 7, 2015)
to be kind, compassionate and forgiving, and to stand for what
is right.
(Diane Sallans 6:56pm September 7, 2015)
The Golden Rule was the code in our home. Do unto others as you would
have them do unto you. Thanks for the chance in the giveaway.
(Wl Hutch 7:15pm September 7, 2015)
Registered users may leave comments.
Log in or register now!