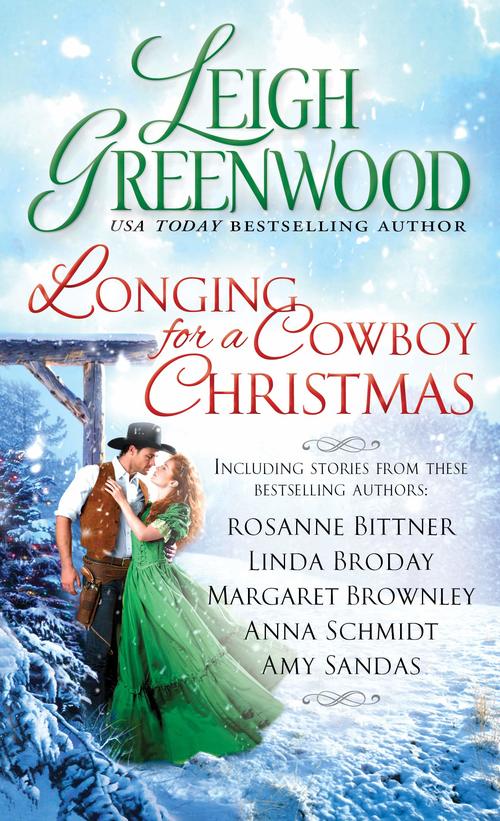 Purchase
Sourcebooks Casablanca
October 2019
On Sale: September 24, 2019
528 pages
ISBN: 1492683833
EAN: 9781492683834
Kindle: B07QSCXV9N
Mass Market Paperback / e-Book
Add to Wish List

Romance Anthology | Romance Historical | Holiday
Find your very own cowboy to keep warm these long, wintry nights as you cozy up with six sweeping, epic tales of heroism, passion, family and celebration from bestselling authors Leigh Greenwood, Rosanne Bittner, Linda Broday, Margaret Brownley, Anna Schmidt, and Amy Sandas.
Fall in Love with Christmas
Whether it's a widower finding an unexpected new start, a former outlaw and his new wife welcoming their very own Christmas miracle, a long-lost lover returning just in time for a special holiday celebration, a second chance at love between two warring hearts given peace at last, an unlikely pair working together to bring joy to a small Texas town, or a cowboy and his dark-eyed beauty snowed in one unforgettable wintry eve...every Christmas with a cowboy is filled with light, laughter, and a forever kind of love.
Comments
16 comments posted.
Re: Longing for a Cowboy Christmas

oh wow,,this book and these authors sounds amazing,i love
Christmas books ,an our tradition is pancakes on Christmas
morning before gifts
(Vickie Couturier 8:12am November 13, 2019)
getting together with family is the best part of holidays - and sharing good food!
(Diane Sallans 1:18pm November 13, 2019)
Hello ladies! Your books look wonderful. I always love Christmas books this time of
the year.
(B P 1:13am November 14, 2019)
Congratulations on the new release!
I love seeing all the lights and decorations on the houses.
When my kids were younger, we would drive around each night
just to look at them. Now I love cozying up with a good
Christmas story, especially when I can look out the windows
and see snow outside.
(Tina Rucci 3:46pm November 14, 2019)
I live in Florida now and miss the moments of Winter from up
North. But I rather not deal with the dangerous driving
conditions and bad weather. I can get lost into your books
and Hallmark Christmas movies for my dose of Christmas
Winters.
(Thomas Gibson 1:01am November 15, 2019)
I love everything about Christmas. And I love Christmas-
themed books and stories. Thanks for the chance to win.
(Nancy Reynolds 11:28am November 15, 2019)
I can not wait to read this book. I love Westerns of all
kinds. I also love this cover.
(Robin Davis 2:21pm November 15, 2019)
I love the Christmas lights!
(Jaye Smith 4:58pm November 15, 2019)
My favorite part of the holidays is when all my
granddaughters come over to decorate the tree and the house.
We play Christmas music and sing along. I have plenty of
snacks and deserts to enjoy while we work. I look forward to
this part so much every year.
Thank you for the awesome giveaway!!
(Lynne Brigman 6:02pm November 15, 2019)
I just love Christmas stories! Reading these stories is one
of my favorite things to do over the holidays.
(Cheryl Castings 6:06pm November 15, 2019)
There are many things I enjoy about Christmas, but find music is the quickest way to get me into the holiday spirit. It doesn't matter whether it's coming from a television program, a school play, a shopping mall or a church, it gives me a lift.
(Anna Speed 8:36pm November 15, 2019)
I love the magic of Christmas!! The twinkling lights, the
small children who still believe, the surprise gift that is
just perfect and also I love the Spirit of the Holiday
Season.
(Jamie Gillespie 11:13pm November 15, 2019)
My favorite holiday tradition is singing and humming
Christmas Carols. White Christmas, the song and movie,
reminds me of singing around the piano and harmonizing
all the verses. One year, we didn't have any snow and
played marbles with the plastic sleds. That's the year,
I changed the words of White Christmas to I'm Dreaming of
a Green Christmas for a poem and an "A." Snow came after
we were back in school hoping for "snow days" to make
forts and throw snowballs and skate outside on the
flooded basketball court by the fire station. We warmed
our toes on the warmth from a fire in a big steel can and
went into the fire station for hot cocoa.
(Alyson Widen 2:27am November 16, 2019)
I love anthologies, especially Christmas stories. I read them all year long. Thank
you for this enticing book!
(Sandra Spilecki 10:07am November 16, 2019)
What a wonderful holiday collection! Thanks for sharing.
(Bonnie H 8:14pm November 16, 2019)
It's getting closer and closer to Christmas and I'm already
starting to get into that 'magic mood'...I was pleasantly
surprised at just how many of the different author's
interview answers that were very close if not exactly the
same that I myself would have answered.
(Steph Heykoop 9:38pm November 16, 2019)
Registered users may leave comments.
Log in or register now!