Linda Broday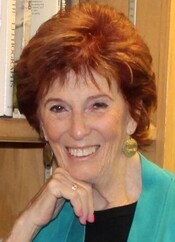 Blogging at Fresh Fiction
Linda Broday | Wrapping Up the Outlaw Mail Order Bride Series
November 25, 2020
Each time I come to the last book of a series I'm overcome with sadness. I've spent a long while Read More...
Linda Broday | 20 Questions: THE MAIL ORDER BRIDE'S SECRET + Giveaway!
January 29, 2020
1--What's the name of your latest release? THE MAIL ORDER BRIDE'S SECRET Read More...
Linda Broday | Top 5 Reasons You Should Read a Mail Order Brides Book
April 24, 2019
I'm having so much fun writing what will eventually be the 4- book Outlaw Read More...
Linda Broday | The Brides of the Outlaw Mail Order Brides
January 30, 2019
I'm so excited to launch the first book of Outlaw Mail Order Brides,  Read More...
Linda Broday | The Conclusion of Texas Heroes
July 11, 2018
I'm so happy to be here, sharing my new release TO CATCH A TEXAS STAR Read More...
Favorite Character to write in To Marry a Texas Outlaw? Why?
November 15, 2017
I really love all the characters in this conclusion of my Men of Legend series Read More...
Excerpt: KNIGHT ON THE TEXAS PLAINS
August 2, 2017
Excerpt from KNIGHT ON THE TEXAS PLAINS "Don't mean to pry, and if Read More...
Linda Broday | Excerpt – TEXAS REDEMPTION
February 8, 2017
"Sit with me, Lil." Brodie Yates' order didn't come with an alternative. Bittersweet memories rose from the ashes. She'd Read More...
Linda Broday | Which Character from the Men of Legend Series Do You Most Relate to?
October 4, 2016
I'm so excited to be here and share a brand new series called Men Read More...
Linda Broday | Idea For My Bachelors of Battle Creek Series
May 13, 2015
Sometimes the idea for a story or series comes from the most unlikely source. The inspiration for my Bachelors of Battle Creek series came about Read More...
Ideas and Inspiration | Linda Broday
January 7, 2015
Deepest thanks to Fresh Fiction for having me. I never get tired of talking about books which happens to be my favorite subject…next to Read More...
Linda Broday is a New York Times and USA Today bestselling author and makes her home in the Texas Panhandle on land the American Indian and Comancheros once roamed. She is a multi-published western historical romance author who lives and breathes cowboys and the American West way of life. Here in the panhandle it's very common to see cowboys, they've provided lots of inspiration. There's just something about a man in tight jeans, a Stetson and boots that gets her hot and bothered!
Linda grew up watching TV westerns back in their heyday and fell in love with the desperados, lawmen and strong men and women who portrayed the people who settled this wild land that offered so much opportunity for those who wanted to seek it. They taught her the values, the strength it took to survive and the tremendous will to keep going when things got tough. She loves writing stories about similar people who could've lived back then.
When Linda is not writing, She's scouring the internet looking for little tidbits to add depth to my stories. She has also been accused, quite unfairly she might add, of haunting museums and libraries. Linda's desire to keep history alive is what drives her and she can't imagine writing anything else.
Log In to see more information about Linda Broday
Log in or register now!
Series
Bachelors of Battle Creek | Men of Legend | Texas Heroes | Outlaw Mail Order Brides
Books:
A Man of Legend, April 2022
Mass Market Paperback
A Cowboy Christmas Legend, October 2021
Lone Star Legends #2
Mass Market Paperback / e-Book
A Cowboy of Legend, May 2021
Mass Market Paperback / e-Book
Once Upon a Mail Order Bride, December 2020
Outlaw Mail Order Brides #4
Mass Market Paperback / e-Book
The Mail Order Bride's Secret, February 2020
Outlaw Mail Order Brides #3
Mass Market Paperback / e-Book
Longing for a Cowboy Christmas, October 2019
Mass Market Paperback / e-Book
Saving the Mail Order Bride, May 2019
Outlaw Mail Order Brides #2
Mass Market Paperback / e-Book
The Outlaw's Mail Order Bride, February 2019
Outlaw Mail Order Brides #1
Mass Market Paperback / e-Book
To Catch a Texas Star, July 2018
Texas Heroes #3
Mass Market Paperback / e-Book
The Cowboy Who Came Calling, February 2018
Texas Heroes #2
Mass Market Paperback / e-Book
To Marry a Texas Outlaw, November 2017
Men of Legend
Mass Market Paperback / e-Book
Christmas in a Cowboy's Arms, October 2017
Mass Market Paperback / e-Book
Knight On The Texas Plains, August 2017
Texas Heroes #1
Mass Market Paperback / e-Book (reprint)
The Heart of a Texas Cowboy, May 2017
Men of Legend #2
Mass Market Paperback / e-Book
Texas Redemption, February 2017
Paperback / e-Book
To Love A Texas Ranger, October 2016
Men of Legend #1
Paperback / e-Book
Forever His Texas Bride, December 2015
Bachelors of Battle Creek #3
Paperback / e-Book
Twice A Texas Bride, May 2015
Bachelors of Battle Creek #2
Paperback / e-Book
Texas Mail Order Bride, January 2015
Bachelors of Battle Creek
Paperback / e-Book
Be My Texas Valentine, January 2012
Paperback / e-Book
A Texas Christmas, October 2011
Paperback / e-Book
Give Me A Texas Outlaw, July 2011
Paperback / e-Book
Give Me A Texas Ranger, July 2010
Short Story Collection #3
Paperback
Give Me A Cowboy, February 2009
Short Story Collection #2
Paperback
Give me a Texan, February 2008
Short Story Collection #1
Paperback
Redemption, May 2005
Paperback
Texas Redemption, February 2005
Paperback / e-Book (reprint)
The Cowboy Who Came Calling, August 2003
Mass Market Paperback