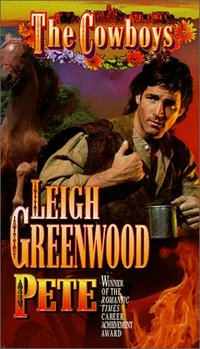 Purchase
The Cowboys #6
Leisure Books
August 1999
On Sale: August 1, 1999
395 pages
ISBN: 0843945621
EAN: 9780843945621
Paperback
Add to Wish List

I've been told that my heroes ought to be rougher, more dangerous, more brooding, but that goes against the grain of my Southern upbringing. Southern men can be total bastards to each other, but you treat a woman special. After all, she is, or will be, somebody's mamma, and mothers are sacred to a true Southerner
I guess that's a little bit how Pete Jernigan, the hero of The Cowboys: PETE, feels about Anne Thompson. That's what causes him to assume the identity of a dead man, to pretend to be her husband, so he can save her from a forced marriage to a savage old womanizer. Only trouble is, once he's told the lie, he's stuck with it. If he tells the truth, everybody loses. Then a rival is murdered right under his own roof and Pete is the prime suspect.
Pete knows he ought to tell Anne the truth and leave before she falls in love with him. He has to leave before he runs out of excuses not to consummate their marriage. But he can't leave without putting her in danger, giving up his search for the money stolen from him (the reason that brought him to the ranch in the first place), and practically confessing to the murder of the man he's impersonating. It becomes even more complicated when Pete finds himself falling in love with Anne. His honor demands one thing, his body and emotions the opposite. No matter which he chooses, he loses.
Pete's not your typical, all-conquering hero. Pete acts and speaks before he thinks which has gotten him in trouble his whole life. His adopted family considered him something of a burden because he used to be little and they were always having to bail him out of trouble his mouth got him into. But he's grown up now, and Anne thinks he's perfect, that he can fix any difficulty, figure out any problem. Pete tries mightily to live up to this flattering picture of himself. And he does pretty well until he falls into the clutches of the real villain. Then it's time for Anne to discover she's not so helpless as she thought.
Comments
No comments posted.

Registered users may leave comments.
Log in or register now!