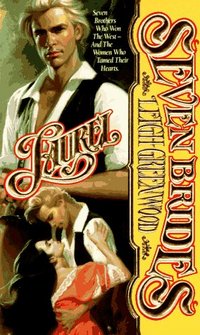 Purchase
Seven Brides #4
Leisure Books
March 1995
On Sale: March 1, 1995
439 pages
ISBN: 0843937440
EAN: 9780843937442
Paperback
Add to Wish List

Hen Randolph's reputation as a cold-hearted gunslinger without a need for friends, family or women, was the reason he was hired to be the sheriff of Sycamore Flats, a small Arizona town. They needed someone ruthless enough to protect them from the Blackthornes who have harassed the town and run off the previous sheriffs.. When he saves a young widow. Laural Blackthorne, from a beating, he finds he's made a enemy of the entire clan. When he refuses to let the Blackthornes take Laurel's son, they plan to kill him and warn the townspeople to stay out of the way.
Laurel Blackthorne has no need for gunslingers or guns. As far as she's concerned, Hen is no different from her late husband or his family. She wants little more than to prove she was legally married to Carlin Blackthorne and that her son is legitimate. She doesn't want the new sheriff to interfere. But when he does and carefully tends her wounds, she sees the tender man this gunslinger could be. But Hen is a loner who thinks he's empty inside unable to love and certainly not worthy of anyone else's love. She loves him but can't let herself hope for a future with him. As a sheriff, he would always be in danger, and she can't stand the idea of losing him.
When he says he intends to face the entire Blackthorne clan alone if the town refuses to stand behind him, she can't decide whether he's a saint or a fool and starts to leave town. She doesn't get very far before she decides having a man be a fool over her isn't half bad.
Comments
No comments posted.

Registered users may leave comments.
Log in or register now!