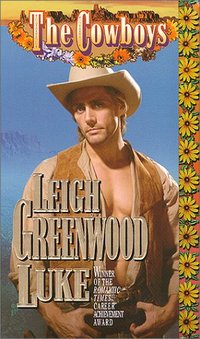 Purchase
The Cowboys #8
Leisure Books
December 2000
On Sale: December 1, 2000
400 pages
ISBN: 0843948043
EAN: 9780843948042
Paperback
Add to Wish List

I've always had a weakness for gunfighters. Hen was my favorite Randolph brother, so I knew I would have fun with Luke Attmore. He was even more hard-bitten and angry. Rather than turn his guns to the benefit of the law, Luke became a professional gunman, hiring out to the highest bidder. He's hired to escort Princes Valeria Badenburg to a ranch in the Arizona Territory. She's a haughty aristocrat with a serious misconception of what life in Arizona is like. He can't decide whether to scorn her or help her, so he does both. Not a good way to begin a loving relationship.
But that's exactly what Luke doesn't want.
Valeria didn't want to come to America. She particularly didn't want to come to the West. But when you're a princess from a small European country, your marriage has been arranged by your father, and your family is in exile, you have few choices.
Valeria didn't like America. It was too hot, no one accorded her any respect, and she didn't understand the customs. Most of all, she didn't like Luke Attmore. She fired him but had to hire him back when she couldn't find anyone else who would take the job. But someone was trying to kill her, and as obnoxious and infuriating as he was, Luke was her only insurance policy.
But princesses don't have to be stupid. Valeria realized if she wanted to learn how to live in this country, Luke was the best person to teach her. She decided to dog his heels. No matter where he ran, she would follow. The only trouble was, before long, she wanted to follow. Luke was good at escaping killers, even better at escaping women, but sometimes a man just doesn't want to run any more.
Comments
No comments posted.

Registered users may leave comments.
Log in or register now!