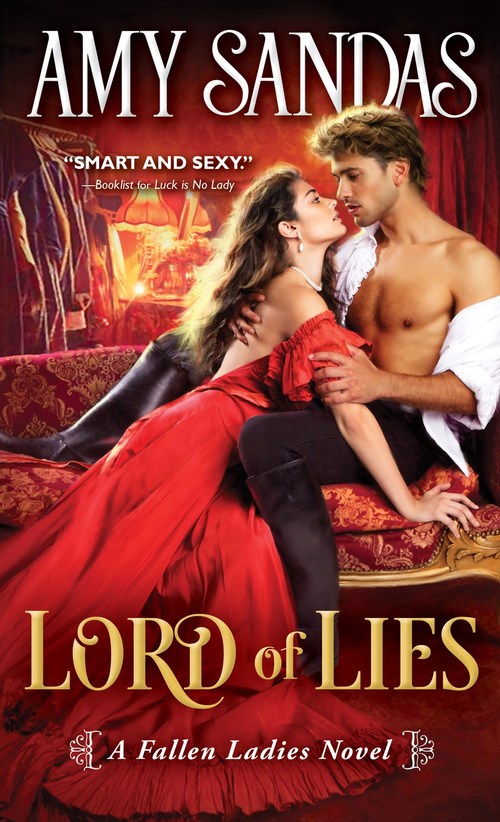 Purchase
Fallen Ladies #3
Sourcebooks Casablanca
July 2017
On Sale: July 1, 2017
400 pages
ISBN: 1492618780
EAN: 9781492618782
Kindle: B01MZFBGVZ
Paperback / e-Book
Add to Wish List

Determined to save her older sisters from ruin, Portia Chadwick turns to the mysterious mercenary known only as Nightshade for help...and in his arms, discovers a whole new world of thieves and cutpurses, danger and passion.
Portia knows she'll never have a life of adventure. But when a dangerous moneylender kidnaps her sister, Portia seeks help from a man known only as Nightshade. Soon she finds herself charging headfirst into his world of intrigue and danger—and unexpected passion.
Dell Turner grew up in London's back alleys and gin lanes. Vowing to escape his low beginnings, he hires himself out to society's elite. When he accepts a job from a beautiful young lady, he doesn't anticipate her relentless determination to join his mad occupation...or her unnerving ability to inspire emotions he thought long buried. She's as dangerous to him as his world is to her, and yet Dell can't bring himself to turn Portia away... even if it means risking her life.
"You do strange things to me, Dell Turner. Tell me I am not alone in what I feel." His voice was low and rough. His eyes burned. "You are not alone," he said.
Fallen Ladies
Comments
16 comments posted.
Re: Lord of Lies

I have enjoyed Jacki Delecki's spy characters...
(Colleen Conklin 12:57pm July 5, 2017)
My favorite spy would be Percy Blakney(the Scarlet
Pimpernel)
(Cecilia Rodriguez 10:50am July 6, 2017)
Cecilia beat me to it, I have to pick Sir Percy Blakeney!
(Mary McCoy 5:30pm July 6, 2017)
I don't really have any. Would Paul Revere count. I am
looking forward to reading your book. Sounds interesting
and a strong female lead.
(Melody Gonser 6:06pm July 6, 2017)
James Bond
Marilyn
(Marilyn Collins 9:21pm July 6, 2017)
This is not a man but all I can think of at the moment is
Mati Hari. Hope I spelled her name right. :)
(Sharon Shearouse 12:46pm July 7, 2017)
Mata Hari was an interesting one
(Joy Isley 5:07pm July 7, 2017)
Scarlet Pimpernel
(Judy Gregory 6:10pm July 7, 2017)
I would say Sir Percy Blakeney!Thanks for the giveaway
(Julie Parrish 4:24pm July 8, 2017)
James Bond was the first spy I thought of, then Melissa
McCarthy in her movie 'Spy'.
(Diane Sallans 8:59pm July 8, 2017)
The Cold War was one of my favorite times in history to read about. I'll bet there were many American spies who risked their lives every day behind the Iron Curtain to keep us safe.
(Nancy Marcho 3:42pm July 9, 2017)
I don't really have a favorite. However, I do enjoy the
animals that pick up details in some of the cozies. Since I
like variety, my favorites are always changing.
(Nancy Luebke 11:00pm July 9, 2017)
The first historical spy I remember reading and hearing about while attending elementary school was the Revolutionary War American spy Nathan Hale, the man who made the famous quote "I only regret that I have but one life to lose for my country."
(Anna Speed 1:02pm July 10, 2017)
Mata Hari
(Linda Knowles 5:22pm July 10, 2017)
Harriet Tubman a slave who saved other slaves.
(Deb Pelletier 10:29pm July 10, 2017)
Anna "Nancy" Smith Strong
Member of the Culper Spy Ring. (Revolutionary War)
Worked from her farm in the New York area.
Used laundry on her clothesline to secretly signal other undercover operatives.
(Beth Elder 7:57pm July 11, 2017)
Registered users may leave comments.
Log in or register now!