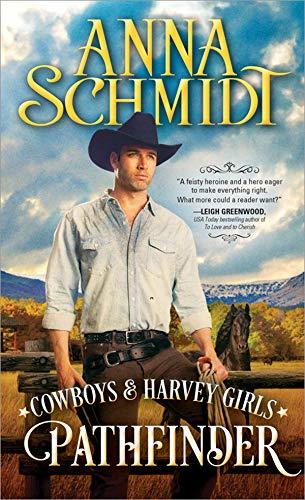 Purchase
Cowboys & Harvey Girls #3
Sourcebooks
January 2020
On Sale: January 1, 2020
352 pages
ISBN: 1492667102
EAN: 9781492667100
Kindle: B07W37543H
Mass Market Paperback / e-Book
Add to Wish List

Romance Historical | Romance Western
Return to a time
when the West was Wild...
Captain Max Winslow was once a pathfinder for the Army, blazing trails and keeping his brothers-in-arms safe. Now he's the star of a Wild West show, reminding curious audiences of days long gone. The world around him may be changing, but that doesn't mean he has to accept it—not when there are frontiers yet to be explored.
When Max first sets eyes on no-nonsense Harvey Girl Emma Elliot, he knows that anything between them would be impossible. She's a realist embracing what the future holds, while he's a dreamer, determined to preserve the West he once knew. And yet something about Emma's strength of will calls to him. It isn't long before Max must decide: is there room in his dream for love, or will his resolve to hang on to the past jeopardize their future?
Comments
16 comments posted.
Re: Pathfinder

sounds so good,,fingers crossed
(Vickie Couturier 9:23am January 1, 2020)
The stories usually has more action instead of just one on one interaction.
(Sharon Good 2:19pm January 1, 2020)
Must go way, way back to growing up watching cowboy series
on tv and all those handsome cowboys in the movies who
always saved the day and the woman.
(Melanie Rosen 2:28pm January 1, 2020)
I love cowboy romance because a lot of the time you find they are in small towns or areas with good people.
(Cynthia St. Germain 5:56pm January 1, 2020)
I love to read cowboy romance because when I was little I
always wanted to marry a cowboy and live in a ranch. I live
my fantasy while reading a cowboy romance.
(Lynne Brigman 6:11pm January 1, 2020)
There is something special about the West. Back then it
was a chance for a fresh start. Where you could prove the
type of person you were, or wanted to be, without the
preconceived view of you from your past. Hard work
counted for something. The opportunity to build something
for yourself and your family was there. Even women could
build a life that often was not available to them in the
Eastern part if the nation. There were many dangers from
the land, the weather, and the evil people wanting to take
whatever they could get. We lived in Colorado for several
years and there is still the feel of independence, working
hard, and a certain respect for others and the land. The
western romances give us an opportunity to step back and
get the feel of being there during that time period.
(Patricia Barraclough 12:30pm January 2, 2020)
I guess my love of cowboy romances started when I was a child, probably first by reading books about horses and the cowboy owner, then watching movies and television with cowboy heroes. I'm much older now and especially enjoy good books with a cowboy hero.
(Anna Speed 1:55pm January 2, 2020)
- always nice to be transported to the wild west . ...
(Martin Bodnar 10:48pm January 2, 2020)
I love a farm man. Met my husband and we lived in his dairy
farm for a several years. Love the man and I love the
animals!
(Mackenzie Bates 5:13am January 3, 2020)
They're so masculine, know the land and the outdoors.
(Tracy Urschler 8:40am January 3, 2020)
I just love the idea of cowboys!
(Nancy Reynolds 4:47pm January 3, 2020)
Sounds like the Wild, Wild West where arguments are settled
now by both sexes. Looks like a sassy read.
(Alyson Widen 12:52pm January 4, 2020)
I love cowboys because they are usually very caring and put
family first. I also like the small town setting where I
can get to know the neighbors along with the main
characters.
(Tina Rucci 4:18pm January 4, 2020)
Cowboys and the West definitely an appealing read.
(Rebecca Shields 9:17pm January 5, 2020)
I love these because I live in the West.
(Renee Grandinetti 11:39pm January 5, 2020)
I read your article. I am very interested in your site.
You are a fabulous man. There are very few people who ask
about someone's interest. I found the website chatbook
in Pakistan. This website is great and I loved it. You
must be joined. I am absolutely sure you deserved it.
(Faizan Khan 3:27am January 10, 2020)
Registered users may leave comments.
Log in or register now!