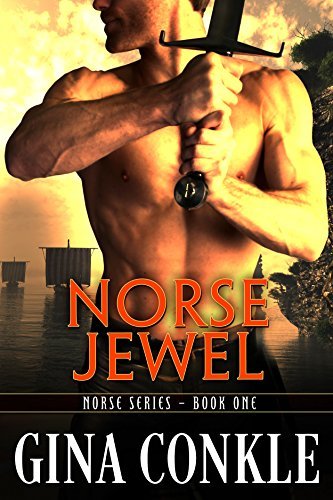 Purchase
A stolen woman of rare qualities
Norse Series #1
Entangled Scandalous
June 2013
On Sale: June 17, 2013
Featuring: Hakan; Helena
199 pages
ISBN: 1622662237
EAN: 9781622662234
Kindle: B00D0MMUEO
e-Book
Add to Wish List

A stolen woman of rare qualities...
Seized by marauders and taken to the icy northlands by the wolf-eyed Viking warrior, Helena will do whatever it takes to earn her freedom and return to France.
A mighty Viking Chieftain...
Betrayal has turned Hakan's heart to ice, but the spirited Frankish maid warms him in a way he's never known. The spell she weaves leaves them both breathless, but can he keep his promise to return her home even if it means he'll lose his precious jewel forever?
Videos
Norse Series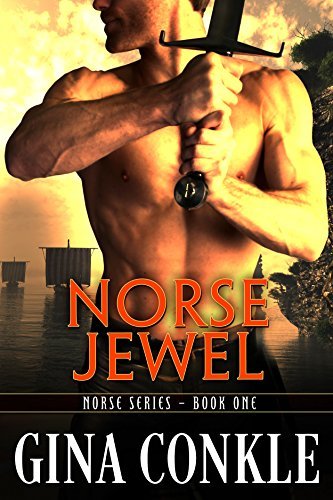 Norse Jewel
#1.0
Kindle | BN.com | Apple Books | Kobo | Google Play
Comments
45 comments posted.
Re: Norse Jewel

Absolutely! Twists add excitement, and people are capable of change and
surprising you, for better or worse.
(Gloria Shaw 12:52pm October 27, 2013)
I like a twist if it helps with the plot. It makes reading more interesting.
(Sharon Extine 5:53am October 27, 2013)
You've so got it right -the same but different!!
(Chris Coulson 6:00am October 27, 2013)
A twist is always exciting. Predicting
the plot then having a twist totally
different adds a lot to the story. At
the end of a book, I like to say
"wrote, I NEVER saw that coming!"
(Rhonda Brittingham 8:34am October 27, 2013)
There should always be twists and turn in a good book. It's not good reading unless there are some. Predicting the storyline is boring.
(Bonnie Capuano 9:12am October 27, 2013)
The Norse had a tiny amount of arable land and long bitter winters, so they raided other lands to sustain themselves. When they got the chance, of course they settled in better farming lands such as Ireland, England and Normandy. But they often had to do it as invaders, because the locals were there first.
(Clare O'Beara 9:50am October 27, 2013)
I love reads with twists. Especially when it is clear the author was going there the whole time. That makes me want to read the book again to see what I missed the first time.
(Pam Howell 10:35am October 27, 2013)
Wow, Congrats on your new book: NORSE JEWEL. I love the book
cover too! Yes, I love the Gladiator movie and Yes, I love a
book or movie with lots of twists and turns and that keeps
everything we are reading and seeing exciting in our World.
I would love to win and read your new book this Fall. Thank
You very much. Cecilia CECE
(Cecilia Dunbar Hernandez 11:38am October 27, 2013)
You are a new author for me... loving the sound of your book! Twists... enjoy books with a twist!
(Colleen Conklin 1:07pm October 27, 2013)
Sounds like a great book with a great twist.... I do get bored
with books that follow the same old storyline. :-)
(Glenda Martillotti 1:57pm October 27, 2013)
Yes I love twists and being surprised vs a happily ever after, I love books/movies that make me think!
(Darci Paice 2:07pm October 27, 2013)
I am really tired of so many "New Adult Contemporary" books that all have
the same story line. I am getting to where I am trying to buy old classics to
get something different. It really does suck.
(Vicki Hancock 2:09pm October 27, 2013)
I love reading a story that has twists in, makes it much more exciting.
(Jean Patton 3:27pm October 27, 2013)
Stories with a twist make it more exciting. A lot of times I
can figure out what is going to happen at the end and I love
it when a twist changes everything.
(Cindy Thomason 4:29pm October 27, 2013)
Hi,
This is Gina. Such great comments. Any fans of historical
romance out there? Any open to the early 1000s?
Gina
(Gina Conkle 5:34pm October 27, 2013)
Hi, Gina! Your book sounds fantastic. I love historicals of almost any date frame except 1900's-200's. I have always loved stories of Vikings and their captured love interests. I love books with a twist in them.
(Cathy Phillips 8:20pm October 27, 2013)
I love my Highlanders! Thanks for the contest!
(Linda Townsend 8:28pm October 27, 2013)
I can't wait to read this!
(Julie McDonough 8:53pm October 27, 2013)
I love my reads with a twist. I like to be surprise and tried to figure out how did I missed this clue.
(Kai Wong 1:08am October 28, 2013)
A twist is always appreciated. Love a surprise in the stories
I read.
(Mary Preston 8:16am October 28, 2013)
i love twist they are what i seek out in books like a bad or
just hurt (emotionly ) main hero turns around and is the hero
we are all looking forward to seeing ohhhh ya i love twist
(Denise Smith 9:31am October 28, 2013)
this sound like a book that will keep you up until finished
(Ron Frampton 10:29am October 28, 2013)
I really like books with a twist...but they have to make sense
.
(Sandra Boen 10:49am October 28, 2013)
The book sounds fantastic - and the cover is great. Thanks for the chance to win - and best of luck it!
(Nancy Reynolds 11:09am October 28, 2013)
I love a book with a twist..especially if I didn't see it coming. It has to make sense, even in an odd way.
(Kimberley Coover 12:10pm October 28, 2013)
Twists and turns keep me interested and turning the page - and
the more the better! This story sounds terrific, can't wait to
read it.
(Sandra Marlow 12:25pm October 28, 2013)
Twists always make it more interesting to me.
(Kerry Shaw 1:11pm October 28, 2013)
You can't have a good read without twists!
(Beth Elder 4:20pm October 28, 2013)
Love books with a twist! Makes them fun to read as I try to guess where it's
going.
(Michelle Schafer 4:37pm October 28, 2013)
Love books with a twist keeps me quessing
(Patricia Lambert 4:56pm October 28, 2013)
I love a twist. Things that keep me guessing are great. I hate when I can figure the book out in the first 5 chapters.
(Laura Gullickson 8:25pm October 28, 2013)
Sounds like a great books with great twists in it. Have not read one of your books. But thanks for a chance to win. Great cover.
(Linda Hall 9:07pm October 28, 2013)
Will add to my to read list. thanks for the chance to win it.
(Terri Poindexter 10:27pm October 28, 2013)
Been a long time since I read such a book. Sounds good.
(Lisa Hutson 10:33pm October 28, 2013)
Isn't it wonderful how ideas come together!
(Janet Martin 8:52am October 30, 2013)
I love twists & turns in a story.
(Mary Preston 11:48pm October 30, 2013)
A twist is tantalizing and makes me work harder to figure out
where the plot is heading. I like surprises - the good kind.
(Alyson Widen 8:06pm October 31, 2013)
Just brings back memories of my "first pumpkin pie" for my husband. I must have forgot some ingredient, not sure what it was. It looked fine going into the oven (at least to me, but coming out of the oven after the timer went off, was this "thing" that looked like a pizza, only a pumpkin pizza. Crust wasn't too bad looking, nor did it taste bad. However, at the bottom of the "pie" was my filling - sitting there looking deflated, like all the air was gone out of it. To this day, my husband and I laugh about my first pie, of which thankfully I have been able to make a great pie that tastes and looks like a real pie.
(C Culp 10:28am November 21, 2013)
I am afraid that I had a similar experience of not
defrosting the Turkey well enough. However, the debacle was
shared with my brother and sister. We were in our teens and
certain that we could easily pull off the celebratory meal
for ourselves and our parents. After all, my sister and I
had read cookbooks extensively from a very young age. The
fact that we had little to no practical experience with
cooking did not daunt us. The kitchen looked like a war zone
by the time we were done. And the food? Well, the gravy
looked lumpy so my brother decided to use eggbeaters to
smooth it out in the pan. The stove was greatly sprayed
with tannish gluey stuff. The turkey was severely
underdone, the mashed potatoes were lumpy and underseasoned,
etc. We never did live down that dinner and we learned that
all the research in the world does not necessarily compare
with hands-on experience.
(G. Bisbjerg 11:23am November 21, 2013)
Hi Ladies! Thanks for sharing. My laptop jiggled up and down
as I had some good laughs at your shared experiences. Next
Wednesday is my "pie baking day." So I will think of your
pumpkin pie experience Carletta! :-) And "G" that's great
that you and your brother and sister wanted to treat mom and
dad to Thanksgiving made by you (very thoughtful teens).
Sooo true: books and research get you so far, but nothing
beats experience. I wish you and your families a great
Thanksgiving!
(Gina Conkle 12:25pm November 21, 2013)
I LOVE the picture of the two of you!! You make a great couple!! I was wracking my brain, trying to remember what my first turkey was like. I even asked my Husband, and he doesn't remember any flops. The reason I can't think of any disasters, is because it's been over 30 years of making them, and I find making a turkey one of the easiest dinners to make. This year, I probably won't be having one, since my Husband wants me to take a break from doing all that cooking for just the two of us, but we'll see who wins out on this difference of opinion. Have a wonderful Thanksgiving!!
(Peggy Roberson 4:27pm November 21, 2013)
Hi Peggy,
Thanks! That is so sweet. We've been married almost 20
years now. I enjoy making the big Thanksgiving meal and feel
like now it's old hat. When it comes to the pie, I sometimes
go store bought, sometimes homemade. This year I have a
request from my boys to go homemade all the way and they put
their pie requests on a whiteboard in the kitchen. I hope
you and your husband have a great Thanksgiving. I bet your
feast is spectacular! Have a great Thanksgiving!
(Gina Conkle 10:11pm November 21, 2013)
I actually didn't realize there was a bag INSIDE with the neck
and giblets and cooked them in the turkey. It was a mess when
we ended up carving into it. You'd think your mother would
warn you!
(Sharmila Prasad 4:56am November 22, 2013)
My first turkey kindof carved itself because it was so well
done. Er...I mean overdone. My mom's tradition was
dropping the turkey on the floor while trying to get it out
of the pan. The pets were happy about that and I can recall
the cat hopping in the roaster and then lifting his paws one
at a time to lick and then putting them back down and having
to start licking again. When they invented turkey lifters -
large forks or small pitchforks for turkeys, we got mom a
pair and knew the screams and special words weren't going to
come out of her mouth anymore, at least not for the turkey
drop.
(Alyson Widen 3:06pm November 22, 2013)
well, I learned that experimenting with exotic recipes for a crowd which expects the same old tried-and-true few things just doesn't go over well - rule #1: Don't Mess With Tradition; something will always go wrong - rule #2: Expect the worst and be pleasantly surprised when you only break one serving platter; be prepared - rule #3: Overplan - lists are your friend!
(Beth Fuller 11:36pm November 24, 2013)
Registered users may leave comments.
Log in or register now!