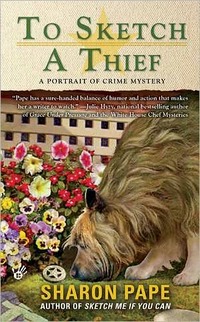 Purchase
Portrait of Crime #2
Berkley
June 2011
On Sale: June 7, 2011
Featuring: Rory McCain
304 pages
ISBN: 0425241920
EAN: 9780425241929
Paperback
Add to Wish List

Mystery Paranormal | Paranormal Mystery
After a stray dog named Hobo leads former police sketch artist-turned-paranormal private eye Rory McCain back to his owner's corpse, she finds herself involved in another homicide case-not to mention the new owner of a lovable pooch, which makes Rory's ghostly partner, Zeke, more than a little spooked.
Comments
38 comments posted.
As far as character names in a book go, I figure that whether I care for the name or not, it's the authors' choice, so I just deal with it, and bury myself in not only in the plot, but try to put myself in the main characters' shoes, and try to feel what they're feeling, or going through what they're going through. As for naming a baby, health problems prevented me from having children(doctors' orders). I did bless myself with dogs and cats, and found it extremely difficult to come up with names for them. One cat was named by her kitten jumping trait - Cricket. Our last dog, we lost 2 years ago, was named for the spots around her eyes - Bandit. Those were easy ones, but others were harder. I must say I love the cover of your book, and am sure I'll love what's on the inside even more.
(Peggy Roberson 1:26pm September 16, 2011)
I take the names as they are given...I feel that eventually I will understand why an author has used a name. Names are very powerful things and very sacred - whether someone is naming a child, pet or character in a book. It is refreshing when a character is given a name and you assume what the character is going to be like (a female lead is BAMBI- blond, blue eyed 36ddd) and the character is the complete opposite (mensa genius, redheaded and svelte)...It makes the book so much more.
(Kimberley Coover 1:52pm September 16, 2011)
I understand your problems with names... I've never been the one to come up with our pets' names.. But I appreciate the use of names that I can figure out the pronounation.. I really hate the 'cutsey uniquely spelled names these days..
(Cate Sparks 1:56pm September 16, 2011)
I named my daughter Shivonne, which was the name of a character in a tv show that I had admired. Turns out a few years later I found out I had misheard the name & it was actually Siobhan. Not being Irish I'd never heard that name before. Now that my daughter is grown she tells me she loves the name because it is different. So all's well in the end,lol.
(Christine Schultz 1:56pm September 16, 2011)
I GET INSPIRATION FROM MY PAST WHEN NAMING PETS; MY KITTIES ARE BETTY AND VERONICA, FROM THE ARCHIE COMICS!
(Silvana Moscato 2:13pm September 16, 2011)
I got a puppy and named him Barkley. A year later my sister go a dog and called to say his name was Barkley because it ws the only one he responded to. I just think she took the name to irritate me.
(MaryEllen Hanneman 2:54pm September 16, 2011)
I am not much on coming up with names myself! I know when my son was born my husbands family wanted him named after my husband but the third because husband was a jr. I refused to do so. I stuck with the same letters but not the name.
(Gail Hurt 2:57pm September 16, 2011)
I named my daughters from characters out of books that I had read in the 70's - Skye & Courtney (but gave both of them Amber for their middle name). As for our 3 cats, we choose several names for each of them & tried them out to see which one they would respond to. Thor was found during a thunderstorm. Mars is orange & white & was born when the Sun was in Aries. He has a very quick temper. Pudgy, well, he was pudgy when we found him, but he lost his baby fat. I now tell him that my Pudgy is not longer pudgy.
(Beverly Beltz 4:49pm September 16, 2011)
I named my daughter after my favorite story growing up, my fault though it was a fairy tale and she acts like a princess.. But there was no compromise, no, not at all, I think because I have always been an avid reader that if I had a baseball and softball team, I still wouldn't have run out - but it's thanks to the writer's (more so than any baby name book) and to fairy tales, great novels, and those names we can never forget along with the characters.
(Carla Carlson 4:51pm September 16, 2011)
I've always enjoyed picking names for our animals until the last one--nothing seemed to fit. I named her Genny and all her vet records show that---but she became Muff Tuff about six months later and that's what she has stayed---finally a name that fit.
(Sue Farrell 5:28pm September 16, 2011)
I really have no problem with names in the books I read...if they are sometimes hard to pronounce I get by...because I really am into the story........would luv to win one of your wonderful books......babyruthmac16@yahoo.com
(Lnda McFarland 6:36pm September 16, 2011)
All my kids are named after family names. And the pets, they all start with ch...
(Dawn Staniszeski 8:50pm September 16, 2011)
I'm not a writer, but can empathize on names. If only that it was for our daughter once we knew we were having a girl.

As for how a name is pronounced, it sounds good in my mind as I read to myself, but if I try to say one that is unusual outloud....it does sound squirrelly. I am thankful for the audiobooks so that can get cleared up.
(Vickie Browning 9:09pm September 16, 2011)
I work at a girls club and we always get funky spellings some times its hard to keep them straight.
(Catherine Myers 9:35pm September 16, 2011)
One of the most important tasks of parenting is naming your child. This is because when you choose a name for your baby, you are creating the baby's future. The meaning of baby names are the single most important influence on the development of your baby's personality. Each baby name meaning has a hidden energy behind it which will greatly influence your baby's destiny.
(Diane Brixius 9:57pm September 16, 2011)
I don't tend to re-name characters I just muddle along with the pronunciation as best as I can.
(G. Bisbjerg 10:56pm September 16, 2011)
I am trying to write a story right now and I had to rename one of my characters because the first name didnt really fit...as for other author's character names, if I cant pronounce it, I just kind of sound it out or guess as to how it is pronounced. I named my puppy after one of my favorite pro wrestlers lol
(Ashley Applebee 11:21pm September 16, 2011)
When I am reading & come across a character with a name I cannot pronounce, even in my head, I assign them a descriptive name, like "alpha villain".
(Mary Preston 11:47pm September 16, 2011)
I really wish the author would give the correct pronounciating maybe in the prologue or index if it is a strange or foreign name. It does draw me out of the story because I usually can't decide which way is correct. I don't care how weird or strange it is, just as long as I can pronounce it.
(Jeanne Sheats 12:25pm September 17, 2011)
I wanted to name our daughter Kristen until just a couple of weeks before she was born, the hubby says he didn't really like that name. I said it's been my choice for about 8 months now and he said, I figured you'd "get over it". Then I had to come up with another one. I saw the name Stephanie in a magazine and loved it and that was ok for him too.
(Karen Gervasi 7:54am September 17, 2011)
I have trouble with foreign books where the names are not familiar to me, so I take a sheet of paper and list the basics as a reminder
(Pam Howell 8:52am September 17, 2011)
Good thing Hubby and I had only two children. We could hardly agree on names! I look forward to reading more about your book.
(G S Moch 9:14am September 17, 2011)
I have always loved to name my pets according to the way they look, my dalmation was named pepper because of the black spots, my dachshund was named Longie because he was 'long', etc. I like children's names that are easy to pronounce and remember
(Shirley Younger 10:16am September 17, 2011)
I had picked a name out for a boy for my 2nd child but not a girl. The boys name was picked by rolling four alphabet block's, lol. Then my daughter was born and my mother called and said that her mother was born on that day. Wala, she had her name, Mary Catherine! I loved it. Otherwise it was going to be Jolene after a country music song that was popular at that time.
(Kathleen Bianchi 10:33am September 17, 2011)
I prefer simple, easy to read names. I struggle with the pronunciation of certain foreign ones and end up giving them a similar name.
(Anna Speed 11:32am September 17, 2011)
Naming our two kids took the whole pregnancy to agree on names. I could not imagine writing books and having to come up with names all the time. I like names that are simple, classic and easy to figure out when you look at them.
(Christine Arcidiacono 12:31pm September 17, 2011)
I am a voracious reader and love to find stories where the main character has a distinctive name. That helps when I pick up a book a few years later and remember the storyline linked to the character name.
(Cheryl Pinette 1:45pm September 17, 2011)
Names sometimes tell me a bit about the character. I associate certain names with specific people so my bias may get in the way of the story.
(Alyson Widen 1:45pm September 17, 2011)
I found that one sylable names are easy for pets to recognize. Two takes a little longer. I find that in my reading, if names are strange or extremely long, I just shorten them myself and breeze along. Most pets are named appropately to their own nature and looks, but sometimes you just have to ask yourself, what were they thinking about with that name.
(Rosemary Simm 2:50pm September 17, 2011)
sorry about my misspelled words, forgot to hit spellcheck
syllable appropriately
(Rosemary Simm 2:54pm September 17, 2011)
I think if you spend one on one time with an animal the name will just come to you.
(MaryEllen Hanneman 3:11pm September 17, 2011)
My husband's name was Bill and our two sons were named Bruce and Brent. I always referred to them as my 3 bears....
(Anne Derkat 5:36pm September 17, 2011)
I spent tons of time trying to name my own baby... so can't imgaine what authors have to go through with each book...
(May Pau 5:36pm September 17, 2011)
ilike the book cover and then the info are great good luck with the book
(Desiree Reilly 8:19pm September 17, 2011)
How fun! I love names and have done exactly as you describe. When reading Harry Potter before there were any movies, or listening to Jim Dale's audio books, I had no idea how to pronounce Hermione's name. I read it like Hermie - oanie. After a while I just skipped her name and started saying "H" only. Thank heaven for Jim Dale who set me straight with the 4th book and all those after. :)
(MaryAnne Banks 10:00pm September 17, 2011)
Mary Ellen commented about how her sister chose the same name for her dog that her dog had, well two of my sisters chose the same first name for their first-born sons. My older sister that had chosen the name Patrick, first, was very upset in the beginning over this, however, a couple years later her son at the age of 7 was accidentally killed when he was run over as he left school to walk one block. My sister then appreciated our younger sister having his first name to in a sense carry his name in his memory. So many names can have a significant meaning when used without much thought going into them and in other cases they do. I love all the unusual and new names that many authors come up with an often jot them down. My youngest son, asked me for my list to go through to name his first child, so it came in handy. Now, you're all wondering what the name is--it's Xander. He told me now that he started school, he has another boy in his class with that name, but spelled with a Z--Zander (the way it's pronounced). Pet names are easier to come up with often times by their appearance or traits. Love the book cover, Sharon. Especially since I've had Shi Tzu's in the past that resemble your dog somewhat.
(Linda Luinstra 5:27pm September 18, 2011)
When I come up with names I try to view a pets personality or even a characters personality in a book. It usually gives me some pretty good ideas for names;-)
(Jeanette Huston 7:22pm September 19, 2011)
I find what goes on in an author's mind so interesting. I'm a terribly unimaginative person myself. Maybe that's why I love to read since that's all that's left for me. And every author has a different way of thinking about her/his book and its characters. So totally fascinating and as foreign to me a as some of the worlds I read about. I wouldn't even be able to name my characters at all. I have only a hollow space where writers find that kind of information. And yet, when I read a book I can get so lost in it that coming back to the real world can be quite a shock.
(Sigrun Schulz 4:17am September 20, 2011)
Registered users may leave comments.
Log in or register now!