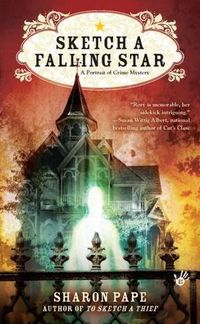 Purchase
Portrait of Crime #3
Berkley Prime Crime
March 2012
On Sale: March 6, 2012
Featuring: Rory McCain
304 pages
ISBN: 0425246698
EAN: 9780425246696
Kindle: B005GSYYGW
Paperback / e-Book
Add to Wish List

+When the "Way Off Broadway Players" get swept up in a flash flood while sightseeing in Arizona, Rory McCain's aunt Helene and her fellow amateur thespians survive—with the exception of Preston Wright.
The victim was actually a womanizing scam-artist who duped nearly everyone in the troupe, as well as an ex-con who operated under various aliases. While Preston's death was deemed to be an "act of nature," Rory can't discount the possibility that human nature may have contributed to his drowning.
But even as she investigates the cast of characters to find out which one played the villain, Rory is finally on the verge of solving a cold case -- the murder of her ghost partner, Zeke.
Comments
43 comments posted.
Wow! U makes me scare :D.
Have u ever feel tht? The characters of the people in your books take out u from the real of u?
Ina
(Rina Darmayanti 2:08am March 12, 2012)
I love it when the characters I am reading about kidnap me. Nothing better than losing yourself.
(Mary Preston 4:58am March 12, 2012)
It is a tribute to the author when one becomes totally lost in a book.
Blessings,
Marjorie
(Marjorie Carmony 6:52am March 12, 2012)
Maybe in some point of our lost time we may pass. While yours is the writing of the books, mine is the reading of the books. My sister or one of my kids will call to see what I'm doing and I get the same from them. Usually they ask if I'm taking a nap or...reading. My daughter says that she's going to write a book about me getting sucked into the book because when I'm reading a book that I really like she says I'm lost to the world. Haha so funny. The thing is that there are so many Great books out there that I guess I better watch out I Don't get sucked in and that I Can find my way back. Thank you Sharon, this was a fun one. :)
(Margie Gagarin 8:26am March 12, 2012)
We refer to it as a fugue...shower fugue, kitchen fugue, car fugue.....
(Mare Fairchild 9:18am March 12, 2012)
Hi Sharon,
What you've experienced is certainly nothing new. I've been
known to lost days, even weeks of my life. No I'm not a
lush. I just get caught up in things and suddenly wonder
where the time went.

I love your books and have enjoyed the first two in this
series immensely. I would love to win a copy to add to my
home library.
(Nora-Adrienne Deret 9:38am March 12, 2012)
I have gotten so caught up in a book, that I feel I am actually in the story and hours go by until I finish. But I know where the hours went and usually want more time in that book. :-)
(Becky Darmogray 9:45am March 12, 2012)
Thanks for a lovely post! LOL... I lose time when I'm reading!
I get so involved that I fall into the story and next then I
know, it's hours later. Must be transferrance from the author
to the reader :)
(Erin Fender 10:23am March 12, 2012)
I love it when the characters seem to be real, makes the book so much more interesting.
(Wilma Frana 10:47am March 12, 2012)
I learned it as disassociation. It is when time
blocks are loss, from ten/fifteen minutes to
hours. I describe it as getting lost inside your
mind or the movie behind the eyes. Everyone
has experienced this on some level, for example
driving along and how did you get home.. you
are unable to recall the drive. Don't worry about
it.
(Carla Carlson 10:56am March 12, 2012)
Wow, that's pretty focused. It actually sounds like a type of meditation-effect.
(Kathleen Conner 11:06am March 12, 2012)
I have enjoyed your first two books, I have had hard time trying to find your new book. Most of Barnes & Nobles by my house are sold out of your book. I will kept looking for it. I love reading your books, I stay up all night to finish them. Please keep writing them,my whole family enjoy them. Thank You.
(Sue Tesnow 11:16am March 12, 2012)
I find I can lose big chunks of time when I'm doing something that I really enjoy---like reading a good book or even doing some of the things I enjoy at work. I can even miss meals and not notice that I'm hungry.
(Sue Farrell 11:17am March 12, 2012)
I am a reader and love getting lost in a story. Enjoyed your post. This sentence really had me laughing this morning:

You just have to be careful not to let any of them sublet.
(G. Bisbjerg 11:22am March 12, 2012)
That happens to me when I'm on the internet!
(Lisa Elwood 11:57am March 12, 2012)
I love getting lost in a book ♥
(MaDonna Lemmen 12:10pm March 12, 2012)
I live with chronic pain and health issues and I thank God for being able to
lose myself in books, relaxation or happy thoughts because they are the
only things that keep me sane at times. Thanks for an interesting post. I
hope I win the book so I can use I to lose myself in!
(Maureen Hayes 12:15pm March 12, 2012)
sounds like a good read
(Mal Kaplan 12:21pm March 12, 2012)
HI SHARON,

BEING SEMI-PARALYZED, I DON'T KNOW WHAT I'D DO WITHOUT
BOOKS! I HAVE A LOT OF TONE IN MY FIST AND ALWAYS IN PAIN,
BUT BOOKS KEEP ME WRAPPED IN THE STORIES SO I DON'T FEEL TO
PAIN. I'D LOVE TO READ YOUR BOOK AS I'M A PARANORMAL FREAK!
LOL
(Linda Bass 12:33pm March 12, 2012)
I am always losing time when I enter a book - it's nice to
know I am following a good example when I do :D
(Ilona Fenton 2:06pm March 12, 2012)
I really want to read this!!
(Charlotte Zimmerman 3:38pm March 12, 2012)
I completely understand. Although I am not a writer I am a
crafter. I get lost in my project and hours fly by. I don't
eat, don't know the clock is moving, can't even hear my
kids. I also do it reading a good book. Hours will go by and
I am lost in the adventure. Thanks for your great adventures
and sharing them with us!
(Lenna Hendershott 3:47pm March 12, 2012)
I love to lose time in a book or a project. This book sounds
very interesting.
(Gayle Cochrane 4:07pm March 12, 2012)
I know what you mean. When I surface from reading a good book I feel like I
have come back to a strange place. My husband could have been talking to me
and asking questions but I have't a clue what he said. Sometimes he says to me
"Good book?". Sometimes "Welcome back".
(Sandra Spilecki 4:31pm March 12, 2012)
I can get caught up in a project and lose track of time.
(Maureen Emmons 4:35pm March 12, 2012)
I practice self-hypnosis when I want to delve deep into myself. I learned a different language, or when I need dental work and needed a quiet place. Reading for enjoyment isn't one of those places where I lose time, however, I do feel the temperature or fear. I will cover with a heavy afagan when reading about cold snowy times or feel utra hot when down in the tropics. But best of all is when the hair stands on end and my sense of hearing and smelling intensifys. Wierd me. Sharon your books is going to be a wonderful read.
(Rosemary Simm 4:42pm March 12, 2012)
Interesting post! I've had experiences with lost time. I think mine is due to getting so caught up in what I'm doing or working on that, it's almost impossible to accept the amount of time that's slipped away. Some is due to daydreaming and not staying focused. I get lost in books and wish I had even more time to finish, rather than put it down. I was admiring the beautiful, eye-catching cover art of your book, because I LOVE ghost stories/mysteries and really want to read this one for sure, because it looks so good!!!
(Linda Luinstra 5:07pm March 12, 2012)
I've followed your career for years and read every published book you've ever written. Your last mystery series is my favorite.The characters stay with you long after you've finished the book. I hope we'll be hearing more from Rory and the Marshall. If any of your fans feel the same, please shout it out now!
(Vivian Sanzeri 5:32pm March 12, 2012)
i've never lost such huge amounts of time.....that i can remember; unless you count falling a sleep & really don't remember intending to sleep that long!!! LOL!!!!!

thank you for the chance to win Sharon's latest book!!!!
(Cynthia Wong 6:18pm March 12, 2012)
Looks like a great book.Love it when I find a new author. Thanks
(Kiki Winn 6:38pm March 12, 2012)
I'd have to say I wish there was more time in a day...after working and eating supper, it's easy to fall asleep reading or watching TV and wondering where that half-hour went, that I never realized I'd lost dozing off. I can't excuse it as any alien abduction, even though, I do believe those happen to a few select people. Your book sounds great, and I hope for the chance to win and read it! Much success with this latest book.
(Rich Cook 6:39pm March 12, 2012)
That happens to me at work, especially when I have a lot of deadlines that day. Then the opposite in class - I can't get out soon enough! I think we always wish we had more time though (and it doesn't help that we lost a hour for daylight savings!)
(Alyssa m 7:14pm March 12, 2012)
i love getting lost in a book!!
(Jennifer Beck 8:05pm March 12, 2012)
Getting lost in a book is totally awesome.
(Christine Schultz 8:44pm March 12, 2012)
I think getting lost in a good story is great therapy!
(Angee Bartlett 8:44pm March 12, 2012)
It's amazing how you get attached to characters while writing and they invade your daily life at the least expected times. I keep a notebook handy for these creative moments. I guess you get in the "zone".
(Alyson Widen 8:52pm March 12, 2012)
Zoning out with a book is almost as nice as being in love.
(Joanne Hicks 9:23pm March 12, 2012)
I get "lost" all the time especially when it is a great book. My poor family, lol. When reading a book that you can completely get lost in you know you have found a great author. When that happens I tend to get as many books by that author as I can.
(Wendy Hulbert 9:26pm March 12, 2012)
I'm sure that I wouldn't get very sleepy if I read your book!! There have been times that I've lost track of time, but I can't explain it. I really can't say that it's due to aliens, because I don't know for sure if I really don't know for sure if I believe in them or not. My Husband is trying to convince me, but I haven't read anything yet, nor heard anything yet to convince me. Everything I've heard on the radio reminds me of the kooks that wear those hats made from tin foil that wait to see those "little green men" (no offense). I'm hoping that your book will change my mind, and make me a believer. Whoever did the artwork for your book, did a fantastic job. It's the type of cover that makes someone pick up your book, and want to see what is inside. Congratulations!!
(Peggy Roberson 9:31pm March 12, 2012)
I love it when a book is really good and I can get lost in it. I can get away from lifes everyday problems. Thank you for giving me a chance to win your book.
(Linda Hall 10:17pm March 12, 2012)
I went to bed in September in 10th grade and woke up in January. Obviously I was there at home nobody missed me but to this day all that time is a blank for me. I'm 59 now. I asked doctor's but they just look at you strangely. I had a brain tumor removed when I was forty that I was born with, I'm blaming it on that. Even though the doctors said no.
(Kathleen Bianchi 11:23pm March 12, 2012)
I am glad that I am not the only one who falls into a time warp - espeically when I am reading!
(Felicia Ciaudelli 10:21am March 13, 2012)
I don't know about time warps, but man, can I lose 3 hours in a flash while reading. I can't hear anything, see anything, or be easily distracted once I've honed in on a story. I will be in trouble if they stop writing these types of books.
(Kelly Knapp 4:53pm March 13, 2012)
Registered users may leave comments.
Log in or register now!