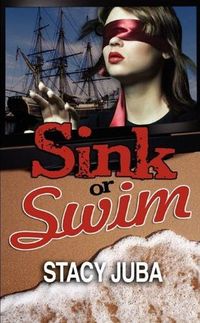 Purchase
Mainly Murder Press
January 2011
On Sale: January 1, 2011
Featuring: Zach Gallagher; Cassidy Novak
248 pages
ISBN: 098279522X
EAN: 9780982795224
Paperback
Add to Wish List

When reality TV turns to murder, it's sink, swim or die. Ambitious personal trainer Cassidy Novak has gained national fame for starring on Sink or Swim, nicknamed SOS, a hit reality game show set aboard a Tall Ship. She hopes the prize money will help to launch her dream of owning a chain of fitness centers. Not only does she lose the competition and have to walk the plank in the finale, after the game show ends, the terror begins.
Upon returning to her small Massachusetts hometown, Cassidy discovers she has attracted a stalker masterminding his own twisted game. She struggles to focus on her health club job and celebrity endorsement opportunities, but her stalker has other plans. As her former competitors get knocked off one-by-one, Cassidy refuses to play by his bizarre rules. She's also being shadowed by hunky photographer Zach Gallagher, who has been assigned to capture her personal moments for a spread in the local newspaper. She wants to trust Zach, but fears he may not be the nice guy that he seems.
With or without Zach's help, when the stalker forces a showdown by threatening her family, Cassidy must once again walk the plank - this time for her life.
Comments
33 comments posted.
Re: Sink or Swim

Thanks to Fresh Fiction for hosting me today! If any readers have a question for me, please let me know. I'll check in throughout the day.
(Stacy Juba 9:27am March 25, 2011)
I'm a big fan of the reality shows- particularly the competition shows like Top Chef. I will definitely have to read your book since it includes my other favorite thing- suspense.
(Maria Munoz 10:59am March 25, 2011)
Love a good mystery and to tie in a reality show theme...sounds great! Thanks for sharing with us!
(Dawn Staniszeski 11:46am March 25, 2011)
This sounds like a good mystery, one I would enjoy reading.
(Anna Speed 11:47am March 25, 2011)
I haven't seen Top Chef yet, Maria - that's on my list to check out sometime. I need a little help in the cooking department! Thanks for coming by, Dawn and Anna. I love reading mysteries as well as writing them.
(Stacy Juba 12:24pm March 25, 2011)
I am a sitcom fan, but your book sounds like fun.
Blessings,
Marjorie
(Marjorie Carmony 12:27pm March 25, 2011)
When a show morphs into real life problems, it seems like the reader becomes more of a close observer. This book has guts and verve along with the need to turn the pages faster to check on where the stalker is pulling the puppet strings on next. Don't keep me in suspense much longer, because I need to know more.
(Alyson Widen 12:48pm March 25, 2011)
I don't watch reality TV. It has nothing to do with my reality.

But I know how popular these shows are. Someone must be getting something out of them. So I'm not going to condemn the genre. And it wouldn't make any difference if I did!

Good luck with your new release, Stacy.
(Mary Anne Landers 12:55pm March 25, 2011)
Love reading mystery stories. Probably the only reality show I watch on a regular basis is Survivor, never really got into watching any others.
(Jean Patton 12:57pm March 25, 2011)
What an interesting premise for a book! Although I'm not a
fan of reality TV, I do enjoy a good murder mystery. Count me
in!
(Laura Henderson 12:59pm March 25, 2011)
In a way, I suppose I consider myself fortunate that where I live, I can only get 3 channels on my tv, and they're Canadian!! lol They do show some American shows, but the only ones we've been able to watch are Big Bang Theory, American Idol, Dancing With The Stars, So You Think You Can Dance, and Hot in Cleveland. Those are the only ones that come to mind that we'll watch. They do have their own comedies, most of which are bland. Your book has an interesting twist, and I'm sure it will be a good read.
(Peggy Roberson 1:43pm March 25, 2011)
Give me a suspense/ mystery story anytime... I love trying to figure things out. There are a few reality shows that I enjoy, but I am picky about what I watch...
(Colleen Conklin 1:43pm March 25, 2011)
i'm not raelly a big fan of reallity TV but I do like to watch cooking shows on Food Network. But I enjoy reading mysteries.
(Sandy Giden 1:45pm March 25, 2011)
THE "REALITY" GENRE ON TELEVISION IS THE SIGNATURE OF TV IN THE 21 CENTURY. COMBINING THIS WITH GOOD, OLD-FASHIONED MYSTERY IS A WINNING COMBINATION!
(Silvana Moscato 2:14pm March 25, 2011)
Thanks so much for all the nice words. I love Hot in Cleveland, Peggy - just watched the season finale the other night.

As long as they keep having some balance in the TV schedule, I'll be happy. When I was writing the first draft of the book, shows like Friends and Everybody Loves Raymond were ending and it was hard to find a new sitcom. There were few to choose from and the ones I tried kept getting cancelled.

Reality shows are still popular, but it seems as if there are more non-reality shows than there were a couple of years ago. Hopefully some of the new sitcoms will last, like Hot in Cleveland and The Middle. I still haven't found anything to replace Ghost Whisperer as far as one hour dramas!
(Stacy Juba 2:16pm March 25, 2011)
I like a good mystery and a reality show seems like a perfect setting---but I can't stand watch reality shows on TV and just turn the channel to anything else.
(Sue Farrell 3:04pm March 25, 2011)
I still like American Idol and Survivor. The older reality shows... Your book's concept sounds interesting.
(May Pau 4:48pm March 25, 2011)
I am not a fan of Reality TV at all but the book certainly sounds interesting.
(Amanda Boyer 6:04pm March 25, 2011)
I don't watch much television; I prefer to read. I have watched "Dancing with the Stars" though because I like to see the dancing.
(Carol Drummond 6:47pm March 25, 2011)
I am not so much a fan of Reality TV but I love any kinds of books and mysteries especially. Your books sounds great.
(Laura Albert 6:48pm March 25, 2011)
The only reality shows I watch are the Judge shows, it is just so hard to believe people can be so stupid. Besides you can listen and do other stuff. Give me a good mystery to read any day.
(Linda Pillow 7:58pm March 25, 2011)
My husband and I were hooked on "LOST" and love your idea of a Reality Show as background for a mystery. Hope I can solve it before the last page. Keep writing!
Patricia R.
Smith Mt Lake, VA
(Patricia (Pat) Pascale 7:59pm March 25, 2011)
I really like your idea of using a Reality Show this way. I can't wait to read the book. Thanks for a great original background to a murder mystery.
(Angela Bartlett 8:13pm March 25, 2011)
Seems like I have a lot in common with the posts so far, I read more than watch TV and only watch a few "Reality" type shows. The problem with most that I've seen is that the reality character isn't all that real. The more outrageous the character or their actions, the higher their ratings go. Being categorized as reality instead of fiction, some people actually believe what's happening is real, that the type of behavior exhibited is acceptable and that they can be like that also (mostly selfish, obnoxious, manipulative, etc). My Grandmother liked to watch wrestling shows in the 60's and 70's, she thought that was real too. A character who is more of a normal person with a normal lifestyle who likes to compete would be a refreshing change from all the hype pretending to be real. Looking forward to reading your book.
(Vickie McCarter 8:47pm March 25, 2011)
My grandmother loved wrestling also! I like to "escape" when I'm watching television (and there's only so much time I can spend watching TV or else none of my books would get written or promoted!) While it might be fun to turn on a reality show once in awhile, I get much more drawn into shows with fictionalized characters. I like the ones that make me laugh, but for me television doesn't quite compare to reading a good book.
(Stacy Juba 9:46pm March 25, 2011)
I love some of the reality shows (especially the cooking shows). other shows seem more shock reality and very scripted. The shows where they pick their "future spouse" scary...

You book sounds wonderful, I look forward to reading it!
(Kimberley Coover 9:46pm March 25, 2011)
I like realiety shows. American Idol, Dancing with the stars The Bachelor ~ : ).
(Brenda Rupp 11:04pm March 25, 2011)
I really don't watch much tv, except some DIY shows and such, so I guess that would be considered reality tv. I would really much rather read than watch tv most of the time.
(June Manning 11:41pm March 25, 2011)
wow i love to win the book i do watch the show and i
like t he game show and fixit up show
(Desiree Reilly 11:31am March 26, 2011)
I love mysteries, yet I've never read one about a reality show - would love to read your book :-) !
(Birgit Lehner 5:33pm March 26, 2011)
Honestly? I don't think I've ever watched a complete day's show. In the one's I've sort of seen, I find too much backstabbing, denigrating, uberdramas, etc., etc. After a short time I can no longer listen to the bad language and worse thoughts. This kind of show is definitely not for me. I think in this case I want to get away from reality. So the only thing I watch most of the time now are the local, national and international news, the real reality of what's going on in the world. Otherwise I prefer a logical drama to a faux or manufactured "reality."
(Sigrun Schulz 2:39am March 27, 2011)
I hope the two winners will enjoy their ebook copies of Twenty-Five Years Ago Today, and thanks to everyone who has taken the time to enter and leave a comment so far.
(Stacy Juba 8:22am March 27, 2011)
I try to watch as few reality shows as possible. they are so unreal. As far as I can tell, they are all about putting people in the most ackward positions so that they do un-characteristic things, such as fight over un-important stuff.
(Heather Pearson 12:27pm March 27, 2011)
Registered users may leave comments.
Log in or register now!