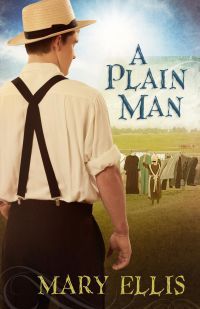 Purchase
Harvest House Publishers
April 2014
On Sale: April 1, 2014
Featuring: Caleb Beachy; Josie Yoder
304 pages
ISBN: 0736949801
EAN: 9780736949804
Kindle: B00I2YDBVQ
Paperback / e-Book
Add to Wish List

Inspirational Romance | Inspirational Amish
Though Caleb Beachy lived in the Englisch world for some years, he is a Plain man at heart. When he decides to return to the Amish lifestyle, he moves back home and goes to work for his father. Soon these two strong–willed men find themselves at odds. Caleb discovers there's more to embracing his faith and reconnecting with the community than merely driving a horse and buggy and giving up Levis.
Josie Yoder was just a girl when he left. All grown up now, she gives Caleb hope for the future. She soothes his frayed temper and is determined to remind him that while his faith may have wavered, God never left his side. Caleb is tempted to return Josie's feelings, but the choices he made while away are a heavy burden on his conscience. Will past mistakes end up destroying their fledgling romance? Or will she be able to break through the wall around his heart?
Videos
Comments
24 comments posted.
Re: A Plain Man

Love Amish books and you are a new author for me. So I look forward to reading A Plain Man.
(Suzanne Bischoff 12:59pm April 1, 2014)
I am always ready for a new author. If I find their writing to my taste I am a new fan, if it is not I will recommend them to people that I know will like this type of book.
(Cindy Olp 12:11pm April 18, 2014)
i have gone to lancaster, pa.and found their life style interesting and purchased the food...but have never read anything pertaining to their actual life. this sounds very interesting and would like to read this book.
(Mal Kaplan 6:29am April 18, 2014)
A couple of years ago, I met an Amish man who did cabinetry
work, and was hired to do some work on the property where I
live, through my landlord. He was a very nice younger
gentleman, and although I didn't probe him about his
background, he was on the quiet side, but spoke to me
politely, and answered any questions that I had for him.
I've always had a fascination with the Amish people, and
believe that they live a proper life, and are some of the
most talented people around. There are a few groups who
live in our area, and I see them scattered here and there,
when I happen to be out shopping. Your book sounds like it
has a very interesting story line, and I would love to read
it, to find out how the story unfolds. I love the cover
that you chose for the book, too!! Congratulations on your
book!! I know that it's going to do well, since I'm not the
only one who is fascinated with these reclusive people.
(Peggy Roberson 10:32am April 18, 2014)
It is a great start though. I loved the story of the book
signing.
(Debra Guyette 10:56am April 18, 2014)
I love Amish stories, with their simple way of life,
and family values.
(Barbara Wells 11:35am April 18, 2014)
In England, we don't have the Amish. I love reading about this way of life. I really love the way they are so happy with what they have and that they aren't participating in this 'want and throwaway' society. Amish romances are refreshing and I particularly like their morals
(Manda Ward 11:48am April 18, 2014)
Sounds like a really great book!
(Denise Austin 12:21pm April 18, 2014)
I'm an Amish addict, and am teased about it. I enjoy their simple way of life. When I was younger my mother befriend an Amish women when they were both in the hospital, we visited often, my brother and I even went to visit an Amish school. He lives in the heart of Amish country so I get to visit often. I wish my life could be so simple. I enjoy your books.Keep up the good work.
(Nanette Ladd 1:23pm April 18, 2014)
I enjoy reading about the Amish. We have many Amish living
in the area here.
(Mary Hay 2:42pm April 18, 2014)
This sounds like a very interesting story. It sounds like the main character has a life lesson to learn.
(Anne Pichette 4:06pm April 18, 2014)
I've noticed Amish books must be gaining popularity because of curiosity in their lifestyle. I'm sure authors have to do plenty of research to write a good story about them. When I visit my library, I've noticed them by the lovely covers (which would make great pictures in a group). I would love to read your books, which I know are good because of the awards you've won...Congratulations!
(Linda Luinstra 4:34pm April 18, 2014)
Your book sounds captivating and wonderful. I enjoy books
with depth and characters with strength. Congratulations and
best wishes.
(Sharon Berger 4:47pm April 18, 2014)
I love your books Mary! I am a big fan! I can't wait to
read A Plain Man. I love Amish fiction!
(Judy Burgi 6:56pm April 18, 2014)
I haven't read too many Amish fiction books, but those I've read I liked. Yours sounds interesting also. Looking forward to reading it.
(Carol Woodruff 7:42pm April 18, 2014)
My stepmother was raised in Lancaster, PA. She loves stories
about the Amish community. I will have to tell her about your
book.
(Glenda Martillotti 11:27pm April 18, 2014)
I love finding new authors. Your book sounds really good.
(Sue Brandes 8:47am April 19, 2014)
Stories about the Amish are my favorites, I'd love to read this book.
(Wilma Frana 10:37am April 19, 2014)
Mary- I think that she will be able to break thru to his heart as he also needs a woman in his life and as a plain man he will see that. Happy Easter to you and your family.
(Peggy Clayton 1:54pm April 19, 2014)
It seems to be a lot easier for writers these days since it is possible to self-
publish on the internet. If the story is good, there is always the possibility to
have a major publishing house come knocking at your door.I hope that you are
finding it much easier to bring your stories to the masses with the help of e-
books! Your story lines are unique & interesting for the romance genre!
(Rachel Kerrinski 4:04pm April 19, 2014)
Book signings give me goose bumps every time. It's not often that I can be next or interact with an author. Though I can view a live feed online featuring an author, I still enjoy mingling with a wordsmith one-on-one.
(Joanne Hicks 1:00am April 20, 2014)
Love Amish books. Such fascinating things to learn!
(Vicki Hancock 2:36am April 20, 2014)
THis book sounds like a book I would love to read. Thanks for the chance to win!
(Kimberley Coover 12:39pm April 20, 2014)
this sounds really good we live in pa and we have a lot of
Amish people living in our town
(Denise Smith 5:49pm April 20, 2014)
Registered users may leave comments.
Log in or register now!