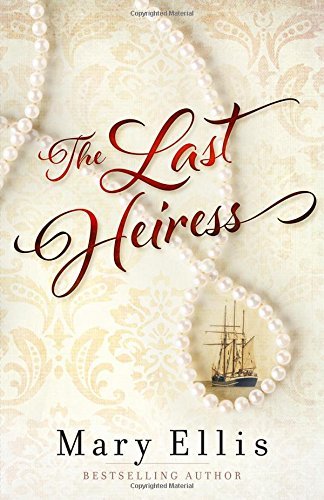 Purchase
Harvest House
February 2015
On Sale: February 1, 2015
Featuring: Nathaniel Cooper; Amanda Dunn
352 pages
ISBN: 0736950524
EAN: 9780736950527
Kindle: B00RYB9NHY
Paperback / e-Book
Add to Wish List

Romance Historical | Inspirational Historical
Bestselling author Mary Ellis (A Widow's Hope) presents The Last Heiress, a new romantic standalone that intertwines the lives of a British manufacturing heiress and an American merchant caught in the turbulent time of the War Between the States.
When Amanda Dunn sets sail from England for Wilmington, North Carolina, she hopes to somehow restore shipments of raw materials for her family's textile mills, which have been severely disrupted by the American Civil War. Though there is not much one individual can do, the wealthy young woman feels she must try, as her mother and hundreds of employees at Dunn Textiles are dependent on Southern cotton.
When Amanda meets Nathaniel Cooper, her desire to conduct business and quickly return to England changes. Though captivated by one another, neither is fully aware of the other's true nature.
Nathanial, who on the outside appears to be a poor but hardworking merchant, is actually a secret Yankee sympathizer who will stop at almost nothing to bring about freedom for those who live under subjugation, even when that involves questionable judgment. And Amanda's wealth is made possible by underpaid workers living in slums around the mills, not much different than American slavery.
Can these two earnest souls find the best in one another rather than focus on what could tear them apart? And though they both believe they are on God's path, how will their decisions affect those around them?
Comments
28 comments posted.
Re: The Last Heiress

I would like to read this
(Allison Gardner 8:21am January 15, 2015)
Sounds interesting to read.
(Marissa Yip-Young 5:56am April 24, 2015)
I would like to do research in Scotland. What a great trip
you had. I have been to Wilmington, which is a cool city.
(Heather Rizzuti 8:01am April 24, 2015)
I would love to travel to Italy. Romance, history and
captivating sights.
(Sharon Berger 12:50pm April 24, 2015)
I'd love to go to Germany and France!
(Joanne Schultz 3:34pm April 24, 2015)
If I had a chance, I'd love to travel to Ireland and Holland. I enjoy seeing beautiful scenery.
(Anna Speed 3:56pm April 24, 2015)
Mary you are so lucky to vacation along with research,
happy for you. I love the way this story sounds with the
twins and hope to read soon. thanks for sharing today
I would love to be able to travel like this....
(Pauline Osborne 4:11pm April 24, 2015)
i would love to go to irland and france, and travel with my
family. and go to all the places where my ancestrey lived.
(Ann Unger 6:54pm April 24, 2015)
i have 3 places i have always wanted to visit. 1)
Scottish Highlands, 2)Transylvania,now a part of Romania.
and 3) there is a train that you can take from
Vladvostock in Siberia to Moscow. i have always wanted
to take it and then switch trains and drop down from
Moscow through Mongolia on the way to China. "Squee" i
get excited just think about it, i usually plan it out at
least twice a year LOL!

tammy ramey
[email protected]
(Tammy Ramey 1:53am April 25, 2015)
I'd like to research aborigine life in Australia.
(Nadine Stacy 4:23am April 25, 2015)
I'd like to travel to Easter Island
(Lesley Walsh 7:18am April 25, 2015)
I ha e always wanted to go to Italy. And the food...yum!
(Rebecca Dewey 9:04am April 25, 2015)
I like to go to Colorado Springs & visit the Castle there. I'd
enjoy exploring the Castle & see how that ere lived.
(Deanna Stevens 9:54am April 25, 2015)
England does sound tempting, however I would love to go to
Poland, because I still have relatives who live there, and
would love to seek them out, and learn a little more about
my ancestry. Your book sounds really good, and I am really
looking forward to reading it. I've already put it on my
TBR list. Congratulations on what I'm sure is going to be a
big hit, if it isn't one already!!
(Peggy Roberson 10:46am April 25, 2015)
I can't see the pictures. Is there a technical issue? I
would love to go to England to visit places talked about in
the books I read.
(Kelly Burch 10:51am April 25, 2015)
Love the pictures and the theme of the book. Can't wait to read it.
(Kantu Malhotra 1:52pm April 25, 2015)
My dream foreign travel would be to Ireland to study half of my roots. And to see the many shades of green there.
(Debra Wolsleben 8:38pm April 25, 2015)
I also could not see the photos.
I once saw a manor on a hill in Spain and said what a setting
for a novel; I may have that picture somewhere. Book sounds
great with history and romance.
(Leona Olson 8:00pm April 26, 2015)
I'd love to go to Jamaica or New Orleans to do research.
(Christine Schultz 8:42pm April 26, 2015)
some lovely warm island with lovely warm surf and warm sand sounds just right to me, stuck inside on a cold grey Sunday after what seems like months of snow and cold - I'd find a reason to be on that beach in the sun, some research which absolutely needed to be done 'in the field', without which that book just wouldn't be right!
(Beth Fuller 11:57pm April 26, 2015)
I have always wanted to go to London.
(Denise Austin 10:27am April 27, 2015)
greece
(Angela Parrish 11:10am April 27, 2015)
I've always wanted to go to Scotland or Ireland. Their
countryside is breathtaking and their traditions are
something I've always wanted to learn more about.
Australia and Alaska are also two places that I think
would be an outstanding location for a novel.
(Val Pearson 11:30am April 27, 2015)
My son is going on a study abroad trip next month and one stop is London...I hope he has a wonderful, safe experience! I can no longer travel due to health issues so I will enjoy sharing his pictures when he returns.
(Connie Sahn 12:33pm April 27, 2015)
Happy Monday reading
(Emily Stemp 2:46pm April 27, 2015)
I would LOVE to read this!
(Connie Williamson 7:22pm April 27, 2015)
I'd love to do research in Scotland.
(Janie McGaugh 2:24pm April 28, 2015)
I would really love to go to Scotland or Austria. I have
always had a fascination for Scotland when I started
reading Gothic Novels as a teenager. I'd love to visit
Austria since that's where my mother's family is/was.
(Patrice Eannucci 1:29pm May 6, 2015)
Registered users may leave comments.
Log in or register now!