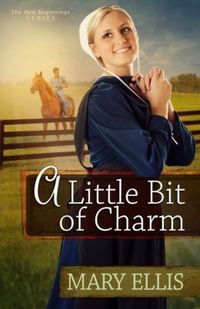 Purchase
A Little Bit of Charm
Mary Ellis
New Beginnings #3
Harvest House
September 2013
On Sale: September 1, 2013
Featuring: Rachel King; Jake
352 pages
ISBN: 0736938680
EAN: 9780736938686
Kindle: B00ET7Q4QE
Paperback / e-Book
Add to Wish List

A Little Bit of Charm, the third book in bestselling author Mary Ellis's New Beginnings series, is about fresh starts...and how faith in God and His perfect plans provide the peace and joy all long for.
After the death of her parents and then watching both of her older sisters find happiness in homes of their own with husbands who adore them, Rachel King yearns for a new beginning. Her cousin Sarah lives near a thoroughbred stable in Kentucky, and working around beautiful horses is Rachel's dream come true. She leaves Lancaster County to find a job at Twelve Elms Stables and believes God has answered her prayers.
And then she meets Jake, an attractive and charming Englisch man. At first she refuses to go out with him, but he eventually convinces her to give him a chance. When Amish men who also wish to date Rachel start encountering strange mishaps, she wonders if Jake is really who he seems to be.
What does a young woman do when her heart is pulled in two directions?
Videos
New Beginnings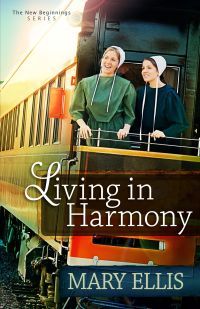 Living In Harmony
#1.0
Amazon.com | BN.com | | |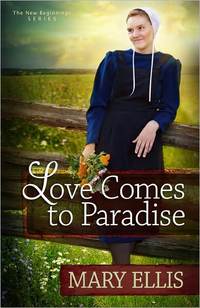 Love Comes To Paradise
#2.0
Amazon.com | BN.com | | |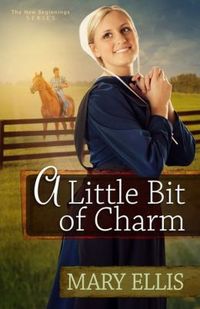 A Little Bit of Charm
#3.0
Amazon.com | BN.com | | |
Comments
23 comments posted.
Wow, Congrats on your new book: A LITTLE BIT OF CHARM. I
love to read about the Amish and my mom and I used to see
them when we would visit their restaurant and gift shop in
Haven, KS. Being raised on a farm in Kansas I really admire
their hard work and lifestyle too. I would love to win and
read your great book this summer. Thank You very much.
Cecilia CECE
(Cecilia Dunbar Hernandez 12:06pm August 7, 2013)
This sounds very good.

I don't think I would do well without my tech gadgets. Too attached.
(Larena Hubble 12:01pm August 7, 2013)
I've never read any of your books but I've recently fallen in love with the Amish
lifestyle. I love how their lives are a slower pace. They know how to keep focus
on the family. Sometimes, I put down my tech gadgets (this coming from a
person with two computer degrees) and just try to enjoy life how it used to be
before it got so hurried. The cover of A Little Bit of Charm is to die for.
(Val Pearson 12:33pm August 7, 2013)
I live about 2 hours away from a very small Amish Community here in Illinois. The quilt displays and auctions are always an event/events, that I try to make sure and see. Have you ever been to the Amana Colonies in Iowa. I found them such a fun place to visit and see. Also, my husband grew up in Maryland right next to Mennonite farmers. One of the young boys, gave my husband his hat and to this day, we have it on display in our home...Many thanks, Cindi]
jchoppes[at]hotmail[dot]com
(Cindi Hoppes 1:15pm August 7, 2013)
When your heart is being pulled in two different directions... pause and consider all the facts and ramifications. Pray for guidance and answer will eventually come to you.
(Betty Hamilton 3:06pm August 7, 2013)
I love Amish books, I'd love to win this one.
(Wilma Frana 4:05pm August 7, 2013)
I find the Amish culture very fascinating.
(Callie Stuck 4:41pm August 7, 2013)
When a young woman's heart is pulled in two directions first pray to God that He will lead you to the man He wants you to marry. He should be a man who loves the Lord, lives a clean life, is kind and honest, slow to anger, etc. That they love each other and have things in common. I really liked your post and would very much like to read your books, as I enjoy reading stories about the Amish. Thank you for this chance to win, hope I do. God Bless You.
(Esther Somorai 4:44pm August 7, 2013)
There is an Amish village nearby in Indiana I would love to visit someday ~ they fascinate me too ~ especially their language....
(Susan Coster 5:17pm August 7, 2013)
I love Amish stories. I'm looking forward to reading the book.
(Rita Wray 6:02pm August 7, 2013)
I love the Amish and their simpler way of life. I've never seen an Amish village or community. It would be so interesting. Would love to read your new great book this summer. I know I'd really enjoy it, since you've really done your research. Congrats on your 2012 Lime Award for Book 1 and for being nominated for 2013 Lime Award for Book 2! I will have to read those also.
(Linda Luinstra 6:11pm August 7, 2013)
Your visit to Kentucky sounds like so much fun. I live not far from the Amish in Pennsylvania and I always enjoy it when we drive thru the area and admire their lifestyle. I will enjoy reading A Little Bit of Charm
(Shirley Younger 6:59pm August 7, 2013)
we all need less tech and more nature if u ask me, thanks
(Debbi Shaw 9:58pm August 7, 2013)
I can't wait to read this. I live in an area in Missouri where we live with Amish & Mennonite neighbors. They are wonderful neighbors and I love to read stories with them featured in them.
(Teresa Miller 10:12pm August 7, 2013)
Being from Pennsylvania, not too far from Amish territory, and now having lived in Delaware for over 20 years (where there are plenty of Amish all around me), I find their different culture style to be charming and endlessly interesting. There is nothing that draws me more than a chance to learn about a new people or culture or country.
(Donna Holmberg 10:23pm August 7, 2013)
I would love to be a winner!
(Melanie Backus 10:50pm August 7, 2013)
LOVE AMISH BOOKS! THANKS FOR THE GIVEAWAY!
(Shelley Summers 12:02pm August 8, 2013)
I find he Amish interesting to read about, but I'm sure I couldn't live like them. Would love to win a copy of your book.
(Carol Woodruff 11:12am August 8, 2013)
It sounds like you had a little taste of Amish life while doing your research while on vacation. It's always interesting to learn more facts about their lifestyle to incorporate that into your books which most people are curious about.
(Rich Cook 5:11pm August 8, 2013)
It would be nice to get away from cell phone and the computer for awhile. It would be nice just to go Amish for awhile.
(Kai Wong 11:40pm August 8, 2013)
The research would be fascinating.
(Mary Preston 7:40am August 9, 2013)
Love comes to Paradise is a great read so I hope I can get hold of your other books soon.
(Clare O'Beara 8:40am August 9, 2013)
Amish books are my favorite to read. Oh to simpler times. Not the pressure of today. Would love to win and read.
(Joyce Yanney 2:48pm September 23, 2013)
Registered users may leave comments.
Log in or register now!