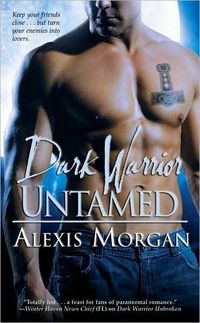 Purchase
Keep your friends close...but turn your enemies into lovers..
Talion #3
Pocket Star Books
August 2010
On Sale: August 3, 2010
Featuring: Greyhill Danby; Piper Ryan
384 pages
ISBN: 1439175926
EAN: 9781439175927
Mass Market Paperback
Add to Wish List

Romance Paranormal | Erotic Paranormal
In Alexis Morgan's electrifying new Talion adventure, a sexy warrior fights to save his headstrong lover from the crossfire of an evil plot to overthrow the Kyth's leader.
He questions everything. No one thought Chief Talion Greyhill Danby would report to work so soon after wrapping up his affairs in London. Then again, he didn't expect to find a beautiful spy with a major attitude in his new office. Clearly the Kyth's Grand Dame doesn't trust him to do his duty—to protect her.
She fears the truth. Piper Ryan isn't keen on the arrangement, either. Matching wits with an ancient warrior isn't in her administrative job description. But sharing space with the red-hot head of security could have unexpectedly tempting benefits . . . if he doesn't dig into her secret past.
Opposites always attract. When threatening e-mails result in danger, the fiery sparks between Piper and Grey grow scorching hot. They must defend the throne from a deadly invisible attacker, but will their raging desire keep them together . . . or will their burning suspicions tear them apart?
Comments
45 comments posted.
Well your short list also made mine. I, like you, tend to be drawn to honor and duty (I guess it was because I was lucky enough to be raised by such a man! My dad was a marine, he was the ideal definition. I was also blessed with 2 older brothers who I can honestly say are also my heros.....What a very lucky girl was I?
(Kimberley Coover 10:12am August 27, 2010)
oh i just read a good ebook with a great hero & heroine by gail koger "just my luck"
great alpha hero and bad as* heroine
(April Strength 11:12am August 27, 2010)
I read so many different books and genres that I can't think of one now. I do love the Suzanne Brockman type heroes.
(Andrea Infinger 11:27am August 27, 2010)
Hi,

There are so many warrior heroes out there. I just can't think of any right now although those you've listed are my favourites too.

Oh, there is the Grave series by Jeanne Frost. Bones is a hunk of lovin' vampire...lol!!

Valerie
[email protected]
in Germany
(Valerie Bongards 11:30am August 27, 2010)
I love Suzanne Brockmann's heroes, too. Especially Sam and Izzy. Bones is great, and I really like Spade, too.
Alexis
(Alexis Morgan 11:33am August 27, 2010)
Any of the LORDS OF THE UNDERWORLD by Gena Showalter would make my list.
(Tammy VanScoy 11:58am August 27, 2010)
Any of the Highland Warriors in Karen Marie Moning's books
(Tamara Shurling 12:08pm August 27, 2010)
I have never read Suzanne Brockmann but i will have to check it out

-Brandy
[email protected]
(Brandy Blake 12:18pm August 27, 2010)
This is a great web site.
(John Ferris 12:22pm August 27, 2010)
Vane from Sherrilyn Kenyon's Night Play
(Maria Munoz 1:06pm August 27, 2010)
I enjoy Suzanne Brockman,Clive Cussler and David Hagberg for my hero type reading.
(Teresa Ward 1:57pm August 27, 2010)
I agree with Suzanne Brockmann... I have to add some of these others to my list to read!
(Colleen Conklin 2:09pm August 27, 2010)
I also enjoyed Midnight Rainbow, I actually love so many books that are so good, but too many to list.
(Colleen Jensen 2:21pm August 27, 2010)
this sounds like a winner
(Debbi Shaw 2:37pm August 27, 2010)
Wow, I can't think of any right now. Now as soon as I post this I will think of 10 but my brain went blank which is absolutely nothing new. Have a wonderful day!!
(Vicki Hancock 2:54pm August 27, 2010)
I would have to pick Gena Showalters's Lords of the Underworld. They are great!
(Cherie Japp 3:08pm August 27, 2010)
Alexis - I am so glad that you had this Blog - this is just the story I have been looking for. I am glad to have my own special warrior at home who was active duty Navy during Vietnam and is retired now from the Reserves. When he was on duty I knew he had to seperate himself mentally sometimes so he could do his "best to protect".
(Jeanne Miro 4:15pm August 27, 2010)
I love Kenyon's Dark-hunters and shifters.
(Marlene Breakfield 4:26pm August 27, 2010)
Hmmm, I haven't found a warrior
I am really drawn to. They all
seem too much alike.
(Cathie Veres 5:06pm August 27, 2010)
I've been adding a few new books to my "must read" list! I've enjoy Moning's books, too, and have several favorites from Kenyon's stories--definitely Vane! Jeanne, I'm glad the blog resonated with you. Sounds like you've got quite a hero of your very own!
Colleen--always glad to meet another Midnight Rainbow fan. Grant Sullivan is still one of my fave's no matter how many times I've read that book.
(Alexis Morgan 5:34pm August 27, 2010)
Currently, my favorite warrior heroes that I am head-over heels in love with are the Eternal Guardians from Elisabeth Naughton's series. These guys are Argonauts: Theron from MARKED and Zander from ENTWINED. This series really intrigues me because it is wrapped around Greek Mythology: My first love in high school.
(Cynthia Netherton 5:44pm August 27, 2010)
Great insight thank you. I can't say I have a particular warrior or type of warrior that stands above the rest.
(Mary Preston 7:15pm August 27, 2010)
This sounds like a keeper. Can't wait to read it.
(Julie Swaney 7:37pm August 27, 2010)
Cynthia--thanks for the suggestions! Mary and Julie, thanks for stopping by--

Alexis
(Alexis Morgan 7:39pm August 27, 2010)
Your rationalizations for staying connected to your manuscript are close to the heart. When you're in the flow, the book seems to be words flying out of your fingers onto a page and sometimes amaze even yourself. The emotional attachment to others is what keeps me turning the pages to see who's going to do what and if it's out of character and unpredictable, how far can you go?
(Alyson Widen 8:21pm August 27, 2010)
I love it when the characters whisper their stories to me, letting me see the world through their eyes. When that happens, I can only smile as I write.

Alexis
(Alexis Morgan 8:24pm August 27, 2010)
JD Robb's Eve Dallas and her husband Roarke, he's her hero and mine.
(Diane Sadler 9:33pm August 27, 2010)
The first romances I ever read were
Julie Garwood's historicals. Her
highland warriors were men of honor:
brave, tender, someone you can trust
with your life. She always gave them
a heroine who would give them a run
for their money : )
(Patricia Barraclough 10:01pm August 27, 2010)
Sounds like a great read!
(Sheila True 10:05pm August 27, 2010)
I really love Bowen from the IAD series, Bo from Laurenston's latest installment, Mercury from Leigh's breed series, but I think my ultimate fave is Alexander from Jennifer Ashley's Mad Bad Duke.
(Marc Holiday 10:09pm August 27, 2010)
I started reading Nancy Gideon's new Charlotte Caissie and Max Savoie series. I am loving Max who is a shapeshifter and the right hand to the New Orleans Crime Lord Jimmy Legere. His loyalty lies Jimmy who has raised him after his mother was killed.

He is torn between his loyalty and his love for Charlotte Caissie who is a New Orleans Detective. This is what makes Max so lovable to me... a bad boy from the wrong side of the law and Charlotte who is a cop. Both have to cross the line in their belief of right and wrong in order to meet in the middle.
(Kai Wong 11:03pm August 27, 2010)
the cover is great and many more books to come and hope they will be graat sucess
(Desiree Reilly 1:12am August 28, 2010)
I love Bowen from the IAD series to! And Vikings have a soft spot on me as well. But my favorite must be Lochlan MacAllister. I can't help it, but he's my warrior.
(Annemiek de Vries 4:55am August 28, 2010)
I enjoy Margaret Moore's Norman warrior heroes! Honorable, courageous!

I haven't read any of your books but this will change soon!
(Laurie Gommermann 6:57am August 28, 2010)
Wonderful that you stayed with IT!
Blessings,
Marjorie
(Marjorie Carmony 8:18am August 28, 2010)
ty fot the books and best of luck for more
(Desiree Reilly 8:36am August 28, 2010)
Heroes are like potato chips -- you can't pick just one!! When you've been reading as many years as I have, all of the books tend to meld together, and you tend to lose track of the names. There are several different authors that I've read over the years, as well as genres, depending on my mood at the time, but they just tend to just be stories of a generalization sense -- very seldom with a hero and heroine.
(Peggy Roberson 9:44am August 28, 2010)
Warrior heroes? Fallon Macleod from Forbidden Highlander by Donna Grant.
(Minna Puustinen 10:11am August 28, 2010)
Great list. I haven't read any of them. I will have to add them to my ever growing list of books to read.
(Pam Howell 11:31am August 28, 2010)
I just love to read. And I love variety.
(Sue Goodin 12:10pm August 28, 2010)
I love all the Heros in christine Feehans Books and in Sherrilyn Kenyon books and there is to meny more two count
(Stacey Smith 4:33pm August 28, 2010)
Wulfgar from Kathleen Woodiwiss' "The Wolf and The Dove", read that 30 years ago and still he makes my heart "stumble"!!!
(Sheila Schwartz 8:05pm August 28, 2010)
I've got to admit Zsadist tops my
list. Though it's been awhile
since I read his story, it
continues to resonate in my mind.
(Lisa Richards 9:10pm August 28, 2010)
Elizabeth Lowell's heroes are a favorite of
mine. Tough on the outside, but sensitive
inside.
(Sue Ahn 7:33am August 29, 2010)
I love the warriors from the Black Dagger Brotherhood; they have their own rules and codes that are noble. M-square
(Mickey McCall 10:36pm September 4, 2010)
Registered users may leave comments.
Log in or register now!