Alexis Morgan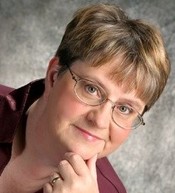 Blogging at Fresh Fiction
Alexis Morgan | Ten Things That Writers and Readers Have in Common
January 17, 2014
1. We love books—not just the story inside, but the actual books themselves. I draw great comfort from being surrounded by shelves piled high Read More...
Alexis Morgan | Just who is in the driver's seat?
April 2, 2013
Here's a little secret about me and my writing: Â when it comes to how my stories unfold, I'm not always the one with Read More...
Alexis Morgan | The Warriors of the Mist—a labor of love
July 2, 2012
Years ago, when I first started writing, my very first completed manuscript was a fantasy romance, a story about a band of heroes charged with Read More...
Alexis Morgan | It's All About Theme
August 27, 2010
Twenty plus years ago, when I first started out to write a book, I managed to eke out about twenty-five pages before the story Read More...
Alexis Morgan | Jarvis Donahue, A Gift From My Muse . . .
Make your Blog Reading Pay Off Win Signed Copies from Alexis!
January 28, 2009
I'd like to thank everyone here at Fresh Fiction for inviting me to join them today to help celebrate the release of my Read More...
Pseudonym for Pat Pritchard.

Alexis Morgan has always loved reading and now spends her days imagining worlds filled with strong alpha heroes and gutsy heroines. She is the author of over thirty books, novellas, and short stories that span a variety of genres: American West historicals (as Pat Pritchard); paranormal and fantasy romances; and most recently, contemporary romance with her Snowberry Creek series from Signet Eclipse. Alexis has been nominated for numerous industry awards, including the RITA© from the Romance Writers of America, the top award in the romance genre.
Log In to see more information about Alexis Morgan
Log in or register now!
Series
Warriors of the Mist | Cricket Creek | Sergeant Joe's Boys | Abby McCree
Books:
Death by Intermission, January 2021
An Abby McCree Mystery #4
Mass Market Paperback / e-Book
Death by Auction, June 2020
An Abby McCree Mystery #3
Mass Market Paperback / e-Book
Death by Jack-o'-Lantern, September 2019
An Abby McCree Mystery #2
Mass Market Paperback / e-Book
Death by Committee, February 2019
Abby McCree
Mass Market Paperback / e-Book
Always for You: Jack, April 2016
Sergeant Joe's Boys #1
e-Book
Honor's Price, September 2014
Warrior of the Mist
Paperback / e-Book
A Reason To Love, May 2014
Paperback / e-Book
More Than A Touch, January 2014
Snowberry Creek #2
Paperback / e-Book
Christmas On Main Street, November 2013
Shelter Bay
Paperback / e-Book
A Time For Home, September 2013
Mass Market Paperback / e-Book
Her Knight's Quest, March 2013
Warriors of the Mist #2
Paperback / e-Book
Savage Redemption, August 2012
Paperback / e-Book
My Lady Mage, July 2012
Warriors of the Mist
Paperback / e-Book
The Darkness Beyond, June 2011
Mass Market Paperback
Bound by Darkness, May 2011
Paladin #7
Mass Market Paperback
Dark Warrior Untamed, August 2010
Talion #3
Mass Market Paperback
Vampire Vendetta, May 2010
Mass Market Paperback / e-Book
Defeat the Darkness, March 2010
The Paladins of Darkness #6
Mass Market Paperback
Dark Warrior Unbroken, August 2009
Talions #2
Mass Market Paperback
Darkness Unknown, February 2009
Paladins of Darkness #5
Mass Market Paperback
Dark Warrior Unleashed, August 2008
Talions #1
Mass Market Paperback
Redeemed in Darkness, December 2007
Paladins of Darkness #4
Paperback
In Darkness Reborn, July 2007
Paladins of Darkness, # 3
Mass Market Paperback
Dark Defender, December 2006
Paladins of Darkness #2
Paperback
Dark Protector, June 2006
Paladins of Darkness #1
Paperback