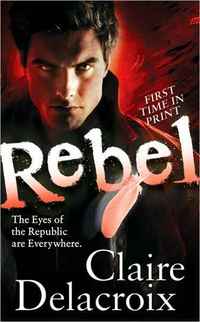 Purchase
The Eyes of the Republic are everywhere.
Fallen Angels #3
Tor Paranormal Romance
September 2010
On Sale: August 31, 2010
Featuring: Armand; Theodora
416 pages
ISBN: 0765359510
EAN: 9780765359513
Paperback
Add to Wish List

Paranormal Romance | Fantasy Urban
Having sacrificed his wings in a bid save humanity, fallen angel Armand has a bold plan to assassinate Presidential candidate Maximilian Blackstone. When things go awry and his partner Baruch is gravely injured, Armand fears that he will fail in his task and forever lose the chance to rejoin the angels in Heaven.
Theodora is a wraith, a woman who officially doesn't exist. She lives in the shadows, taking risks to earn the bounty placed on dangerous assassinations — bounty that buys the chance at a new life for those she loves. Captured when her latest hit goes horribly wrong, Theodora finds herself the prisoner of a strong, arrogant stranger.
Soon enough, these two solitary souls find their missions — and their hearts — entwined. But in their desperate attempt to save the world, will they be able to save each other?
Comments
32 comments posted.
Re: Rebel

Hi Claire,

I love reading these kind of books. They are usually edgy, maybe dark and have really good heroes and heroines.

Don't know if I would be eligible to enter the contest today, but anyways, these books are going on my wishlist for sure!!!!

Valerie
(Valerie Bongards 10:19am September 13, 2010)
sounds like a great contest. I have the first one in my tbr pile. Would love to have the other two.
(Pam Kinsey 10:26am September 13, 2010)
Claire, Hi
I loved the whole series, it was so
unique and that's hard to do in this era
of many publications of urban
fantasy/post apocalyptic reads. Yours
really stands out and I absolutely loved
all of the characters and the story line
The only thing I'm sad about is that it's
over.

Deb
(Debbie Haupt 10:42am September 13, 2010)
I have not read your series as of yet. I have not found them here at my local. I love dark and forbidden type of romance. I fall for the 'never should be together' type of couples...the ones that everyone says they should NEVER be together....but when they ARE together everything clicks. Fallen Angels, Demons, Vampire, Fairy, Were-animal...you name it I love it in all its juicy glory. I must admit though...I tend to fall more for the ancient or medieval classics...and finding THOSE with a vampire or fallen angel theme is few and far between.
(Ti Colluney 11:05am September 13, 2010)
Claire,
I found myself physically shaking as Joachim found no hope for the future at the end of Rebel.
And then I broke into tears.
What a great trilogy!
Good thing Delilah has set us up for a new trilogy....
Possibly?
Thanks for all the wonderful reads and memories.
Dorothy
(Dorothy Callahan 11:06am September 13, 2010)
Glad to find out about this series. They look very interesting.
(Jeff Danner 11:27am September 13, 2010)
Hi everyone -
It's great to be here today!

Valerie - I like books that are a bit different, too. Hope you enjoy this series.

Pam, you need to get reading! LOL! This is a series that I think should be read in order.

Debbie, your support blows me away. Thanks so much for all your kind words about my work. :-) Now I have to come up with something new for you to read...

Ti - I hope you find the books - you can always order online or ask your local store to order it in for you. It is a bit of an unusual series, but I had fun with it. Hope you enjoy it, too.

Hi Dorothy - I'm so pleased that you enjoyed the series. I wanted to be sure the ending held up to everything that had come before! As for a sequel, hmm, I'm not sure it would be so fun to stave off the Apocalypse the second time. I would LOVE to tell Tupperman's story (there's a man with some secrets) but he hasn't told me it as yet. I know I'll work it out of him sooner or later.

Hi Jeff - Thanks for stopping by and for commenting!

Deborah
also writing as Claire
Deb
(Deborah Cooke 11:49am September 13, 2010)
I love your Claire Delacroix books, but have not gotten my hands on this series... I have been reading more and more paranormal these past few years and loving it! Also looking forward to more of your Dragons... can not wait for what comes next!!!
(Colleen Conklin 1:35pm September 13, 2010)
One thing I really enjoy about paranormals is author creativity in developing a unique world. Your characters, setting and plotline sound so interesting. I want to know more. Thanks for sharing with us today.
(G S Moch 1:44pm September 13, 2010)
I love reading and Claire Delacroix seems to be a good fit. Would love to try one of her books.
(Danielle Pontow 3:36pm September 13, 2010)
I read Fallen Angels books and it's usually the struggle between good and evil they have the intrigues me.
(Andrea Infinger 4:50pm September 13, 2010)
Yes, I read apocalptic stories and fallen angel stories. I love these types of stories, as long as they don't end badly. I must have a HEA.
(Marlene Breakfield 6:17pm September 13, 2010)
I have been loving your Pyr
books... need to make space for
the Prometheans :-}
(Diana Troldahl 6:21pm September 13, 2010)
I haven't read too many paranormal romances with fallen angels. But I do like fallen angels. I like the whole concept about this fallen angel and reading to find out if indeed there is some kind of redemption.
(Leni Kaye 6:29pm September 13, 2010)
I've read a few paranormal romances with fallen angels and just loved them. Unfortunately, nothing about an Apocalypse though. Your series sounds right up my alley. Chock full of what I love to read when it blends genres: dark and lovely!
(Cynthia Netherton 10:15pm September 13, 2010)
Claire, it doesn't matter what genre or timeline you write about. I will read anything that you write. I have read your historical romance, futuristic romance, and even the shapeshifters romance(which I refer to as "Dragon series"). I love your books!!!
(Kai Wong 10:27pm September 13, 2010)
Colleen - Thank you! I miss historicals, but am having a great time with the paranormal stuff right now.

You're right GS - that's one of the things I enjoy most about writing paranormal and fantasy romance. Creating the world and evoking it for readers is a wonderful challenge.

Good luck on the draw, Danielle!

Yes, Andrea, fallen angels do get to play with the good vs. evil question on a grand scale. It's part of the fun.

No worries, Marlene - I need an HEA too. :-)

Thanks Diana!

Leni - I agree. The questions of sacrifice and redemption were central to this series and interesting to explore.

Yes, Cynthia, these are gritty and dark - but romantic too.

Oh, Kai, thank you so much! Your comment is the perfect way for me to start my day. Thank you!

Claire
who is also Deborah
(Deborah Cooke 8:04am September 14, 2010)
This sounds so interesting.
(Joanne Reynolds 10:37am September 14, 2010)
I haven't tried these types of books but it would be nice to step out of my comfort reading zone.
(Pam Howell 1:30pm September 14, 2010)
yummy cover
(April Strength 1:42pm September 14, 2010)
First let me say that I have been a fan of all your books (in all genres).

I love the paranormal romances. All kinds, but angels are so special...A big what if....possibilities out the ying yang LOL. This genre has opened up so much fiction and imagination! I love it...keep writing it and your other books too....I always have room on my bookshelf for your books!
(Kimberley Coover 3:22pm September 14, 2010)
Thanks Joanne and Pam.

Yes, April, the covers are fabulous for all of these books. I love them.

And thank you, Kimberley! Let's make a deal - I'll keep writing and you keep reading! :-)

Claire
who is also Deborah
(Deborah Cooke 3:28pm September 14, 2010)
Thanks for sharing your news here and love the sound and looks of your books. I spent the past two days in the hospital with close friends of mine and just getting to you and I wanted to tell you how much your books interest me. I am new to your books but sure happy to meet you at least. susan L.
(Susan Leech 7:21pm September 14, 2010)
cool contest
(Amanda Edmond 6:44am September 15, 2010)
LOVE!! LOVE!! LOVE!! stories with angels. Dark & fallen & WOW!!!
(Mary Preston 7:51am September 15, 2010)
I enjoy reading apocaliptic stories. I will read anything about the paranormal. I find it interesting how the heroine/hero manage to gather the tools and supplies necessary to survive whatever is to come and how they find the strength to go on. I would love to have this trilogy. Thanks.
(DeeAnn Szymanski 8:18am September 15, 2010)
Normally, books about the apolcalypse aren't something that I would gravitate towards, but the way that you wrote your series, along with the beautiful incorporation of angels, has me so intrigued!! I really want to read this series of books, and find out how you made this series unravel. You wrote as if the books were a cinch to write, but I'm sure there was more to it than just what you wrote in your blog. Thank you for hooking one more reader to your fan base. I'll have to look your other books up as well.
(Peggy Roberson 8:44am September 15, 2010)
I really love this kind of romance being a new to romance person that has always loved fantasy, this the kind I would pick up first.
(Vickie Hightower 9:14am September 15, 2010)
Claire,
I have enjoyed you historicals for
years. This is quite a switch for you.
It sounds like you had fun with it.
Always good to stretch yourself
creatively. I haven't yet read any of
the fallen angel books that are out
there and only one or two of the
apocalyptic time books. I have one
series on my shelf now waiting for the
last book before I start it. I prefer to
read a series in "one sitting" rather
than stretch it out waiting for the next
book. You get much more out of the
story arc and characters that way
IMHO. I like the sound of you world
and story line. Your knights in
shining armor and damsels in distress
have just changed appearance a bit. I
am certain they will be great.
(Patricia Barraclough 10:07am September 15, 2010)
Wow, lots more comments since I last peeked!

Thanks Susan - nice to "meet" you too!

LOL Amanda - good luck!

Thanks Mary. Dark angels are bunches of fun.

Hi DeeAnn - I think the appeal to me is similar. When everything is awful, the power of love is thrown in contrast and looks even better. I liked having the romance be the light in the darkness, so to speak - and maybe even the power to change the world.

Ah Peggy, these books were tough to write! I had to keep a big reference manual for myself, about history and laws and practices and all the other things I'd made up along the way. A good challenge, though.

Hi Vickie - Yes, you can probably tell by the cover that these have been cross-marketed as urban fantasy, and Tor (my publisher for these books) is a big fantasy house. I think they did a great job for me with this series. :-)

Hi Patricia - the costumes change and so does the setting, but the importance of the core relationship remains constant through all my books. Maybe that's why readers follow me to new turf. And I think a lot of people agree with you about waiting for the whole series to be in print before starting to read. We've all had the experience of getting hooked on a series only to find there will be no more - that's even worse for authors than readers, I suspect! So, this is a finite series. Three books is it and they're all in print. You can start reading with confidence. :-)

Claire
also writing as Deborah
(Deborah Cooke 2:38pm September 15, 2010)
The series sounds greeat! I didn't have any knowledge of them before.
(Brenda Rupp 9:15pm September 15, 2010)
The supernatural can scare me, so I tend to pick other books up first.
(Alyson Widen 2:04pm September 16, 2010)
Registered users may leave comments.
Log in or register now!