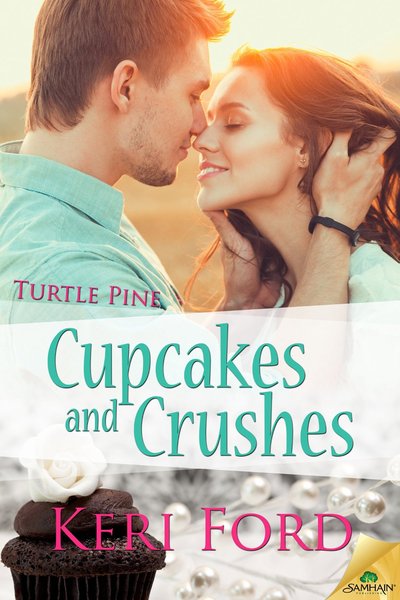 Purchase
Cupcakes and Crushes
Keri Ford
Turtle Pine #1
Samhain Publishing
April 2015
On Sale: April 14, 2015
Featuring: Annie Cookie; Cade Revlin
191 pages
ISBN: 1619226790
EAN: 9781619226791
Kindle: B00SB49E3Q
e-Book
Add to Wish List

Sometimes there is enough sweet to make up for the bitter.
Turtle Pine, Book 1
Years ago, a broken heart sent Annie Cookie running from home, and she's never looked back—until now. Her grandpa's broken wrist means the family bakery is at risk of losing two big orders.
Reluctantly, Annie returns to Turtle Pine to help out, only to discover it's not just seven hundred cupcakes she has to bake, but also a wedding cake for the half-sister who stole her high-school sweetheart. Annie left town to get away from her sister. No way is she getting mixed up with her again. Once the cupcakes are done, she's outta there.
Back in high school, Cade Revlin hid his crush on his brother's girl, but when his brother dumped Annie for another Cookie sister, Annie slipped through his fingers and out of town. Now that she's back, he's determined to give her a reason to stay.
He's got one week to change her mind. Or she'll be gone in a cloud of powdered sugar.
Warning: Contains small-town meddling, family drama and all the necessary ingredients for a second chance at love—if they have the guts to turn up the heat.
Turtle Pine
Comments
24 comments posted.
My family is like crazy at times but we are there fpr each
other.
(Marissa Yip-Young 5:43am April 22, 2015)
my immediate family is very close. but when you start talking about aunts, uncle, and cousins we are not close at all even though a lot of us live within 5 miles of each other.
(Angela Parrish 11:16am April 22, 2015)
My family is close...My daughter and her two small sons
moved from my house in Texas to Colorado 6 weeks ago...I
have been on grandsons withdrawal since. We talk daily,
text and send pics.. This last couple of years I have not
been as vigilant in keeping in touch with my siblings, I
have made myself a promise to do better from now on.
(Kimberley Coover 11:35am April 22, 2015)
My family is always there for me even if they drive me crazy at times! Love the sound of your book! Thanks for sharing!
(Colleen Conklin 1:18pm April 22, 2015)
Marissa- I wouldn't know how to act if my family wasn't
nearby to be there for each other!

Angela- I have a relationship with my cousins like some
have with their sisters. We grew up at grandma's house in
the summer together.

Kimberley- oh no! that's rough! the texting and pictures
just isn't the same (hugs). Sometimes is hard to keep up
with siblings. Mine moved away and we grew apart some but
she moved back a few years ago and we're closer than
ever!

Colleen- awesome!! if they're not driving you crazy, then
something is probably wrong! lol
(Keri Ford 2:08pm April 22, 2015)
My closest family beside my husband and son is my sister but she
lives about four hours away from me I really wish we were closer
to each other I don't get to see her very often and I miss her
(Jeri Dickinson 2:46pm April 22, 2015)
I love the Hallmark movies. My brother and I are 9 years
apart in age. I love him dearly but we drive each other
cray. I am blessed to have 2 great daughters.
(Beverly Beltz 5:29pm April 22, 2015)
I
(Hylla Jackson 5:32pm April 22, 2015)
Family is always very important
(Jean Benedict 11:28am April 23, 2015)
My family isn't very close and the ones I get on best with
live the furthest away.
(Jen Barnard 12:09pm April 23, 2015)
I'm a grandma and I have 6 grandchildren that I have baby- set ( for their love) till they all started to school . I love them dearly. I would love to win your book , but I don't have an e-reader so Good Luck to everyone else.
(Joan Thrasher 12:24pm April 23, 2015)
What a wonderful book! We have a small family and enjoy getting together especially during the holidays.
(Bonnie H 9:07pm April 23, 2015)
Our family is pretty small, so we stay close(even though we sometimes drive each other CRAZY!)
(Joanne Schultz 3:31pm April 24, 2015)
My parents are both only children they have worked hard to keep us together and talking.
(Beth Elder 8:03pm April 24, 2015)
Hubby, kids and the puppies are very close! Family is
everything
(Sara Ford 11:27pm April 24, 2015)
my family is very close.
tammy ramey
trvlagnt1t@yahoo.com
(Tammy Ramey 1:57am April 25, 2015)
Very close. I live just around the corner from my parents and see them several times a week and I meet up with my brother and his family once a week.
(Lesley Walsh 7:15am April 25, 2015)
I've been fortunate and have had a loving family.
(Anna Speed 12:52pm April 25, 2015)
Sounds like a fun book. I am a hallmark addict too. Hope your book gets on
it as well.
Kantu
(Kantu Malhotra 1:41pm April 25, 2015)
I am extremely close to my daughters and grand-daughters. I am
not close to my sisters or mother though!
(Denise Austin 2:39pm April 25, 2015)
There's no place like home and FAMILY 1ST - ALWAYS!
(Debra Wolsleben 8:16pm April 25, 2015)
We have a close family--we tease each other out of love!Thanks
(Tracy Simms 9:33pm April 25, 2015)
I am the family favorite with several of my aunts and
uncles that I dont really talk with. My grandfather
spoiled me. My mom is my friend, my kids and grandkids are
important to me. My brothers and sisters think of me as the
odd man out.
(Tina Ullrich 11:46pm April 25, 2015)
Some of us are closer than others. In thirty years I've only been more than
30 minutes from a family member only a handful of times.
(Laura Gullickson 11:59pm April 25, 2015)
Registered users may leave comments.
Log in or register now!