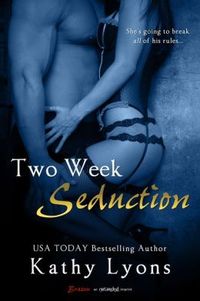 Purchase
Entangled Brazen
July 2014
On Sale: June 30, 2014
Featuring: John O'Donnell; Alea Heling
ISBN: 1622666410
EAN: 9781622666416
Kindle: B00KUYCEZK
e-Book
Add to Wish List

Romance Erotica Sensual | Romance Contemporary
She's going to break all of his rules…
Tech Sergeant John O'Donnell was never fond of his hometown. Too many reminders of poverty, his rocky family life, and the girl he was never allowed to have. Now he has exactly two weeks to sort out his mother's finances before he heads back overseas. Two weeks that he's determined to spend as far from his best friend's little sister as possible.
Alea Heling has a naughty streak a mile wide. Sweet and simple? Boring. She's been craving a bad boy like John since their wild days together in high school, and this time, she's not taking no for an answer. But with every panty-meltingly hot encounter, Alea forgets one hard, cold reality—this soldier won't let a fortnight turn into forever...and forever might be exactly what they both need.
Comments
61 comments posted.
yes!
(Denise Holcomb 6:51pm July 5, 2014)
you're so funny--and a great writer!
(Denise Holcomb 8:58pm July 23, 2014)
I'm still smiling reading about your escapades with the
Fitbit and it's visit with water in the toilet. Did you
know a lot of people drop their cell phones in the toilet?
My son took a shower with his because it was water
resistant. They gave him another when he brought the box in
that said water resistant and because he was still a teen.
(Alyson Widen 5:51pm July 31, 2014)
I always love your columns, but this one was especially
cute. It made me laugh in spots, which I knew was your
goal, and in other spots, I could feel the love you have for
your Daughter, since you're starting to get a bit
sentimental. Your speech should be a big hit, and I can't
wait to hear about the big day!!
(Peggy Roberson 9:29am August 6, 2014)
love it
1
(Denise Holcomb 2:17pm August 6, 2014)
I'm taking notes, just in case one of my three ever decides to get married and I need to make a speech! This will be a wonderful event - are you going to be in that hot little number when you give The Speech?
(Beth Fuller 12:38pm August 8, 2014)
As soon as I find someone who took a picture of me in my
dress, I'll show everyone. But as of now...it only appears in
my memory!
(Jade Lee 2:34pm August 10, 2014)
Women like quizes, but the opposite sex can't stand them as a
rule. You made me laugh with the tipping cows choice.
(Alyson Widen 4:04pm August 10, 2014)
I love the Starbucks game. I got addicted to it myself and am
not much of a game player. It was a long hot summer for me. I
did spend a lot of time with my Mom so that was fun. Got to
go to WA and see my daughter, Grandson, and stayed with my
brother. Wish I were going back.now. I guess next summer.
Congrats on lots of writing. And definitely no bathing suits
for me, 1 nor 2 piece. Wouldn't want to scare everyone!
(Vicki Hancock 1:17am September 9, 2014)
I had a few things planned this Summer, for a change, but
that all changed with the sudden passing of my Father. It
sort of put a bit of a crimp in things, so our Summer turned
out to be a little more low-key. We did take in a huge
garage sale that is held in our State once a year, and goes
on for miles. We also went to the lake for a while, just to
sit in the park and unwind from everything, if even for a
few minutes. It was nice to watch the boaters, along with
the oil tankers, and all of the people there.
Congratulations on the wedding of your Daughter!! It sounds
like she had a beautiful ceremony, and that you managed to
have a great Summer!! You needed the break to recharge your
creative streak, and that's all that matters!! I'll be
looking forward to reading your book as well!!
(Peggy Roberson 10:43am September 9, 2014)
crazy squidge
(Denise Holcomb 12:08pm October 7, 2014)
Love your posts :)
(Colleen Conklin 12:39pm November 5, 2014)
I love autumn's cooler weather. Thanks for a fun post.
(G S Moch 12:55pm November 5, 2014)
I like the different colors of the leaves, but I don't like gathering them from the yard.
(Kv H 5:01pm November 5, 2014)
i love the foliage
(Debbi Shaw 9:35pm November 5, 2014)
I love the cooler weather, but I hate the fact that it gets dark so early.
(Abby Thorne 10:54pm November 5, 2014)
I love the changing color of the leaves and the crisp smell in the air.
(Marcy Shuler 12:11pm November 6, 2014)
This time of year, I love looking out of my windows, and
looking at the beautiful colors of the trees, of every color
imaginable. I enjoy watching the farmers with their heavy
equipment, harvesting the corn and soybeans on part of the
property I live on. It's amazing to watch. I also love
watching the new birds who have come here to eat at our
feeders for the Fall and Winter. I don't care for the
cooler temperatures, because it affects part of my health
problems, so I hibernate more. I also miss some of my
favorite birds like the Hummingbirds and Grosbeaks, who have
migrated to warmer climates. When you live in the country,
it gets dark so early, you have a hard time staying awake
after 5 pm!! lol The last thing I hate is when you can't
get a choice between e-book and print copy!! I have an old
computer, and volunteer to teach a knitting class. Since I
don't own an e-reader, this computer would have to do for
downloading, and I'm also on dial-up, living in the country.
I don't have room on my computer, since my class material
has taken up the space on my computer!! I would love to
read your book this upcoming Fall/Winter, but guess that
leaves me in the bag of toilet paper with Squidge!! lol
Take care.
(Peggy Roberson 10:06am November 6, 2014)
love autumn--my birthday and thanksgiving!
(Denise Holcomb 11:25pm November 6, 2014)
love the snow
(Kent Cook 7:58pm November 25, 2014)
I don't like autumn at all, I can't stand the cold!
(Jen Barnard 4:24am November 26, 2014)
where I live, logging companies and farmers burn fields starting in fall. I
hate the smoke and how it gets dark early.

But I love the moderate weather, sweaters, and my birthday.
(Leann Griffiths 5:36am November 26, 2014)
I am more of a spring kind of gal
(Donna Antonio 10:11am November 26, 2014)
Autumn is the start of cold weather so no, not my favorite time
of year. It seems this fall we've jumped right into winter.
(Glenda Hefty 11:23pm November 26, 2014)
Awesome post #Squidge and Cinnamon. Your human Mom writes such cool books:) I like the cooler weather of Autumn and the leaves start changing color.

Mindy :)
[email protected]
(Mina Gerhart 8:50am November 27, 2014)
Enjoyed the post. Favorite thing about autumn is the crisp cool
temperatures and the leaves changing colors.
(Michelle Anderson 10:16pm November 27, 2014)
Love Fall will all the different colored leaves. My sweet gum trees are turning now.
(Vera Wilson 7:01am November 28, 2014)
I love the cooler weather (although here in Houston it's not that much cooler)
(Lisa Avila 8:34am November 28, 2014)
I love the fact that it's not 100 degrees out anymore, and
I love the amazing colors.
(Terrirri Chlapek 5:12pm November 28, 2014)
What a great post! Loved it!
(Ashley Applebee 9:41pm November 28, 2014)
I love the changing colors of the leaves and that I can start
wearing my sweatshirts again!
(Kim Perry 11:55pm November 28, 2014)
November is the month of my birthday and Thanksgiving and the
fall colors are lovely but....often it gets cold and snowy and
I'm not a fan!
(Glenda Hefty 2:30pm November 29, 2014)
I love the somewhat cooler temperatures in autumn.
(Janie McGaugh 8:48pm November 29, 2014)
The colours of autumn are what I love the best, especially when I can get out with the camera to try to capture them!

Later,

Lynn
(Lynn Rettig 5:25pm November 30, 2014)
I live in Florida so the weather gets just a little cooler (people start wearing gloves, hats, winter jackets cause they still think they live in the North!) I am still in shorts & flip flops!
(Nancy Ludvik 10:28pm November 30, 2014)
thanks for the posts!
(Stefany Burroughs 1:38am December 3, 2014)
I love the colder weather,but not the snow. Autumn is my
favorite season. It is so beautiful and the crisp air is
invigorating.
Marilyn Collins
(Marilyn Collins 5:36pm December 9, 2014)
I love the colors and weather of fall until it starts veering
toward winter. Winter is not a favorite living in this area of
the country. Spring is my most favorite though because winter
is over!
(Glenda Hefty 6:25pm December 10, 2014)
I love to win your contest!
(Susan Mahaffey 10:36pm December 11, 2014)
I love autumn because the weather is just cool enough (and not too cold) and I
don't have to put up with the heat in the summer! I'd rather feel the heat when I
read romance!
(Shelly Ash 4:23pm December 12, 2014)
I like when the summer humidity is gone with the autumn air.
(Diane Sallans 8:58pm December 12, 2014)
I love Autumn...Cool, crisp and clean...a nice change from the Texas heat...and helps get us ready for the Winter temps...40's and lower sometimes. LOL Loved your post
(Kimberley Coover 6:57pm December 13, 2014)
I love the cooler temps.
(Angela Daffern 12:03pm December 14, 2014)
Oh my goodness... I have no idea... never had evil thoughts like that, lol. Always enjoy seeing what you post!
(Colleen Conklin 1:23pm January 5, 2015)
I think I'd want to control which books got made into films or
tv series. I'd especially want to control that it didn't
differ from the book AT ALL!
(Jen Barnard 3:46pm January 5, 2015)
the b sound great and now your book they are great reads but is that your house what happen with oil what is it did it do damage
(Desiree Reilly 5:36pm January 5, 2015)
I would love to control bookstores and libraries, that way
I would never have problems finding a book I wanted.
(Lisa White 10:03pm January 5, 2015)
Coffee or chocolate! I figure that you could make a killing in
either one! And I want to know why you have the ugly oil
outside your house too!!
(Marcia Berbeza 11:13pm January 5, 2015)
chocolate and books ;)
(Denise Holcomb 11:24pm January 5, 2015)
Gold for sure!
(Vicki Hancock 11:31pm January 5, 2015)
Sorry to confuse everyone! That picture was NOT my house. My backyard
is fine right now, though it is covered in snow. It was just a picture pulled
from the Internet. And good ideas on books, chocolate, and coffee!
(Jade Lee 12:45pm January 6, 2015)
Gold market of course or diamond It takes a lot of gold to be
as powerful and invisible as I would be if I was an evil
genius.
(Vikki Wright 1:34pm January 6, 2015)
the chocolate or coffee market. just think of all the heck that would be raised if prices tripled on a small cup of coffee.
(Angela Parrish 5:30pm January 6, 2015)
Emeralds :). They're really rare and good ones are expensive and I'd love to take my pick of
them, lol. Thanks for the giveaway and I'm looking forward to your next release!
(Lenna Hendershott 7:23pm January 6, 2015)
Diamonds and chocolate!
(Janie McGaugh 9:37pm January 6, 2015)
your book seems interesting! thanks and Happy 2015!
(Tracy Simms 10:14pm January 6, 2015)
Tech market. So many variables to play with. Soybeans can be evil. The
Asian beetles that live in them bite. We always get tuns when they plant
soybeans around the house. They also stink when you squish them.
(Laura Gullickson 12:14pm January 7, 2015)
You have to vacuum up the beetles with the hose or dust buster. They also
crunch when they fall to the floor after they die and you step on them. They
still stink.
(Laura Gullickson 12:16pm January 7, 2015)
Books and Chocolate!
(Denise Austin 12:03pm January 7, 2015)
Ohh.. you ask the tough question. What Market?? Indeed.
I would say the soda market since I am a Pepsi drinker
(my Coffee) and I do not care for Coke/products. As well
as the chocolate and book market. I would want to make
sure that there were enough books to let everyone read
something and have a refreshing drink and you can't read
a good book without CHOCOLATE! that would be just wrong!!
(Tina Ullrich 10:48pm January 7, 2015)
Lucky that picture isn't of the oil spill you had cuz that looks serious!

Hmmm I don't think I'd want to control ANY market--it'd be too much work for me to hold back on the control haha
(Lisa L. 1:22pm January 8, 2015)
Registered users may leave comments.
Log in or register now!