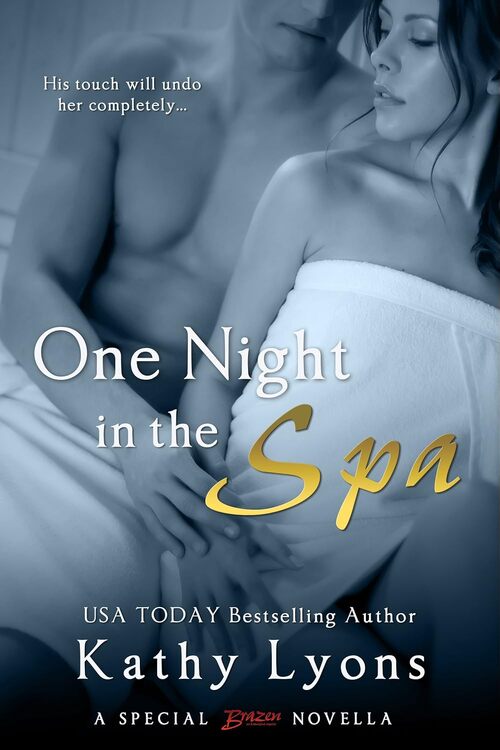 Purchase
Entangled
September 2013
On Sale: August 26, 2013
77 pages
ISBN: 162266244X
EAN: 9781622662449
Kindle: B00EGJE2WS
e-Book
Add to Wish List

Romance Erotica Sensual | Novella / Short Story
A sexy category romance novella from Entangled's Brazen imprint...

His touch will undo her completely...

Fitness gym manager Kim Castillo is in trouble. During her years of rigorous training as a pro racquetballer, her libido was all but shut down. Now that she's "retired" and surrounded day after day by hard male bodies, she's drooling over every guy she sees. Including the spa manager next door-her best friend, David Pepke.

David is determined to show Kim everything she's been missing, one sensuous treatment at a time. Their chemistry is explosive, and every line of friendship (not to mention professionalism) is crossed in a storm of heat and longing. Now he just has to find the right time to confess that he's actually a corporate spy...and convince Kim that their happy ending might actually be the real thing.

Previously released on Entangled's Ever After imprint - August 2013.
Comments
34 comments posted.
Sorry for any confusion over the weekend. The comments were not working. If you have words of encouragement for Kathy, please repost them.
(Sara Reyes 11:22am October 7, 2013)
lol lookin' good there! best of luck!
(Cherie Durbin 11:28am October 7, 2013)
It has been years since I played racquetball... looks like fun!
(Colleen Conklin 1:10pm October 7, 2013)
Hope you have a great time. Looks like a very physical sport. Good luck
(Jai Clark 2:27pm October 7, 2013)
Go Kathy, go!
(Marcy Shuler 2:36pm October 7, 2013)
Enjoy yourself!
(Cheryl McEwen 5:01pm October 7, 2013)
I had a great time. Sadly, my knees went out on the second to
last match. I had to withdraw. I'm just not physically able to
play at the level anymore. Spent a night crying, then got up
and started a new book. Door closed. Another opened. All in
all...it's okay.
(Jade Lee 5:03pm October 7, 2013)
Ah Jade, sorry about your knees but we arn't getting any younger alas...I can't even
handle yoga full bore. I'm starting out with old ladies chair yoga and hurting...I'll
get there with time and exercise =). My DH loved racketball and played a lot in our
youth. His knees got the better of him too. We also had to quite square dancing =( I
miss that but we danced "plus" with lots of flourishes and had a blast! We even messed
with the callers and got them to mess up on their calls. It was so much fun. Now we read
and forget to go to bed at night. Ah the joys of getting older ;-)
(Lenna Hendershott 7:51pm October 7, 2013)
Kudos for entering the tournament - you gave it your all!
(Mary C 8:04pm October 7, 2013)
What a great opportunity. I am sorry your knees didn't cooperate with you but just think, you got to do something you always loved and now you have moved on to the next project. Go Girl!!!!!
(Melanie Backus 9:04pm October 7, 2013)
Sorry about your knee and the tournament. As the saying goes, when one door closes, another will open. Things are getting brighter for you. Take care.
(Kai Wong 10:22pm October 7, 2013)
Despite your knees I hope you had a great time.
(Mary Preston 11:48pm October 7, 2013)
It must feel great to return to something you love. I hope you do well and
have lots of fun! One Night in the Spa sounds wonderful, and the cover is
beautiful! Thanks for the chance to win!!!
(Linda Brennan 11:58pm October 7, 2013)
Wow, Congrats on your new book: ONE NIGHT IN THE SPA. I like
the hot book cover too! You can still have fun with
racquetball and remember you are as young as you feel. I
would love to win and read your book this Fall. Thank You
very much. Cecilia CECE
(Cecilia Dunbar Hernandez 12:41pm October 8, 2013)
I admire your enthusiasm for doing what you love, truly. It is a great motivation for a people like me , my kids even sometimes tell me, "mom, live a life"..I will keep reading your post. Thank You.
(Hetal Gandhi 9:03am October 8, 2013)
wow that does look like fun and very physical lots of
exercise take care
(Denise Smith 9:24am October 8, 2013)
The one thing to be proud of, besides being an accomplished Author, is the fact that you did something that so many women only wished they were able to do!! I've always wanted to try racquetball, but was unable to do so, due to nerve and tendon damage in my hand and wrist. You took it one step further, and made it to the US open, of all things!! Not many Women can say they've been there, and you were a beacon to all of your fans!! We know you did your best, and we're all proud of you!!
(Peggy Roberson 9:43am October 8, 2013)
Looks like fun!
(Summer Grinstead 10:45am October 8, 2013)
I can relate to this!
(Richard Proctor 10:48am October 8, 2013)
This book sounds wonderful!
(Maria Proctor 10:56am October 8, 2013)
Congrats and good for you! My hubby played a lot of racquetball in his 20's. He was in a league and I used to just watch. I played a few times but it was never my thing. I enjoyed softball better. Good luck in your competition!
(Sue Galuska 10:58am October 8, 2013)
Sounds like a good read.
(Charlotte Wills 11:55am October 8, 2013)
its looks like fun
(Ann Unger 12:57pm October 8, 2013)
You go, girl! Hope you win!
(Cathy Phillips 2:00pm October 8, 2013)
I wish you much luck and health! I only manage to hit myself with the darn racquet!
(Sally Hannoush 4:59pm October 8, 2013)
Stay active and you stay young
(Mike Mosley 5:16pm October 8, 2013)
It looks like a great book :)
(Meredith Richardson 5:24pm October 8, 2013)
Never play it before, i prefer play tennis or basketball
(Rina Darmayanti 5:38pm October 8, 2013)
Good for you! Play your best, have a lot of fun & don't hurt
anything - especially those fingers you need for typing your
books!
(Diane Sallans 9:12pm October 8, 2013)
Never played. But I'm totally helpless at things like that. I used to be ok at
volleyball (til knees & asthma set in) but it has a nice BIG target. :)
Look forward to you taking your frustrations out on the page even more.
(Penny Mettert 12:08pm October 9, 2013)
Am resting now and thanks to ibuprophen, am no longer in pain.
Except when I step wrong, so I'm sitting on a couch and
internet surfing. Life is...yup...it's good!
(Jade Lee 11:40am October 9, 2013)
good for you.if you love something keep doing it regardless if
your older or not in as good a shape as you use to be.just
have fun
(Angela Smith 5:25pm October 9, 2013)
Sorry I have not read any of your books.Just have fun.
(Judy Ferguson 1:34pm October 10, 2013)
Do they call the older competitors part of the Master's
division like in swimming. Good luck in this fast-paced sport
that gives you a real workout. I last played racquetball in
college with younger knees.
(Alyson Widen 5:59pm October 31, 2013)
Registered users may leave comments.
Log in or register now!