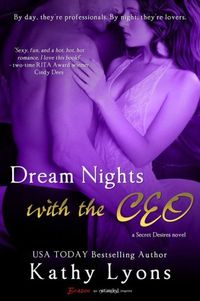 Purchase
Dream Nights with the CEO
Kathy Lyons
By day they're professionals. By night, they're lovers.
Dream Nights #1
Entangled Brazen
June 2013
On Sale: May 27, 2013
Featuring: Wyatt Monroe; Megan Bradford
163 pages
ISBN: 1622667808
EAN: 9781622667802
Kindle: B00CGFEI0U
e-Book
Add to Wish List

Hotel chain CEO and millionaire Wyatt Monroe is a stick in the mud. Sure, he's hot as sin, even with the tie, but free-spirited assistant Megan Bradford refuses to jeopardize their perfect working relationship. Why mess that up with sex? She knows he's the love 'em and leave 'em type, and she's determined to find a family man.
Wyatt would never cross the line between boss and employee with Megan, no matter how hard it might be to resist the temptation. But when they visit a mysterious B&B in a bid to acquire the property, he starts having erotic dreams about the sexy brunette that make it hard to resist her in daylight.
Soon the line between reality and dreams further blurs when they learn they were sharing the same erotic dreams…
Dream Nights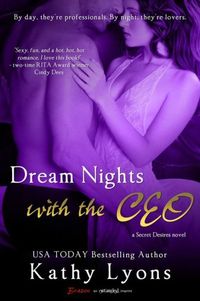 Dream Nights with the CEO
#1.0
Kindle | BN.com | | |
Comments
16 comments posted.
I enjoyed sharing your day. Surprised that you and hubby rescued the mouse. Most folks would have bid it farewell. LOL
(Gladys Paradowski 5:45pm June 5, 2013)
When we used to work we would wake up at 5:00 am every
morning and then commute to go to work at the Texas State
Govt. and would get to the job early so we had time to eat
breakfast before going to our 2 state agencies. Now, that we
are Retired, we are more laid back and can sleep in past
5:00 and now usually up before 7:00 am and then I get on
facebook and check emails and do hundreds of online contests
everyday. Yes, I have won some great contests here on
freshfiction.com too. Thank You for the great book and I
would love to read it and win it too. Thanks, Cecilia CECE
(Cecilia Dunbar Hernandez 7:06pm June 5, 2013)
Sounds like you had a busy day! Love a funny and hot book. This sounds like a good one. Maybe, I could compare you with author, Karen Kelley. Pretty sexy purple book cover! I will have to be sure to read this one.
(Linda Luinstra 7:16pm June 5, 2013)
Wow, I thought I started my day early @ 4:10am.
(Shauna Rivera 7:16pm June 5, 2013)
im busy with kids all day long
(Denise Smith 7:43pm June 5, 2013)
Love your day... Mine starts at 6:30 am when my alarm tells
me i have to wake my oldest up for school... 7:15 he tells
me he is going to school... Back to bed till the youngest
(evil) wakes up normally between 8 and 9... Do mom stuff all
day, kids go to bed, then homework till about 2 am... Start
over... This is my life at least until Oct when i graduate
then i can have a good sleep and will have a job while my
kids go to school :)
(Jeannie Platt 7:55pm June 5, 2013)
Busy day, busy cat! Your book sounds wonderful and I can't
wait to read it. My day starts about 10 am. I take care of
my elderly mother and she stays up late and sleeps late.
(Cheryl Sanders 7:59pm June 5, 2013)
Love this post. I want to be an empty nester but they won't leave. No fair!!!!
(Vicki Hancock 8:09pm June 5, 2013)
I get up at noon. That's still too early
(Susan Falkler 8:41pm June 5, 2013)
Woke up at7:09am without an alarm. Checked my weight. Took my 1st med of the day. Did my pre-breakfast physical therapy workout. Ate breakfast, showered, and went out to do errands...including buying 3 new books. Lunch with hubby.Then home to take a "time out". Due to Fibromyalgia I have to listen to my body's signal to rest. A lite dinner followed by watching game 3 Boston-Pittsburg hockey game.
(Joanne Hicks 9:08pm June 5, 2013)
My husband's alarm goes off at 4am. I give him a barely conscious kiss good-bye, roll over and go back to sleep for a couple more hours until the dog starts barking and whining announcing that he's awake and would like to be let outside.
Can't wait to read this! :)
(Kristin Bingham 10:27pm June 5, 2013)
I'm awake at 5:00am. I hear my sister in the bathroom getting ready. As soon as she's out, I hear my brother going in. My alarm clock goes off at 5:30a.m. I hit the snooze button to give me 8 more minutes of sleep. I let the snooze goes off two more times before I decide I better get up. I get the coffee going and head on to the bathroom to get ready for work. I checked my email on my iPod. I clean the litter box before I get dress for work. I go back to the restroom to wash my hands and then pour a cup of coffee in the travel mug. I look at the time to decide if I have time to pick up breakfast. I get dress and get my car key before I head off to work.

Heading to and being at work is another story for another time. And of course, there's the evening story before my day is finally over.
(Kai Wong 10:52pm June 5, 2013)
Wow! We're all busy people, aren't we?! Keep the stories
coming! I love reading about other people's lives
(Jade Lee 11:19pm June 5, 2013)
busy with kids and getting through the Monday to Friday grind, look forward to a weekend downtime!
(Darci Paice 1:01am June 6, 2013)
I prefer to write when I feel that if I don't write I'll explode. Sighing and flicking through other stuff wouldn't be a good writing day - I would rather get the housework done if I didn't have words inside me scraping their way out.
(Clare O'Beara 7:52am June 6, 2013)
What is my day like? Depends on the day...MWF I'm up and off tho the pool for an hour of
deep water aerobics and then 3 miles on the treadmill (usually takes an hour), shower
and home. It's now noon & I finally get breakfast. Then computer internet & email trying
to win books or keep up on my authors. Then housework & errands with dinner sometime
after my husband wanders home (self employed). Evenings are reading & TV. Then to bed
sometime around 11pm. Tu/Th are without the exercise and more errand running. Housework
is put off as long as possible ;-). I hate housework but I love books, lol.
(Lenna Hendershott 2:56pm June 6, 2013)
Registered users may leave comments.
Log in or register now!