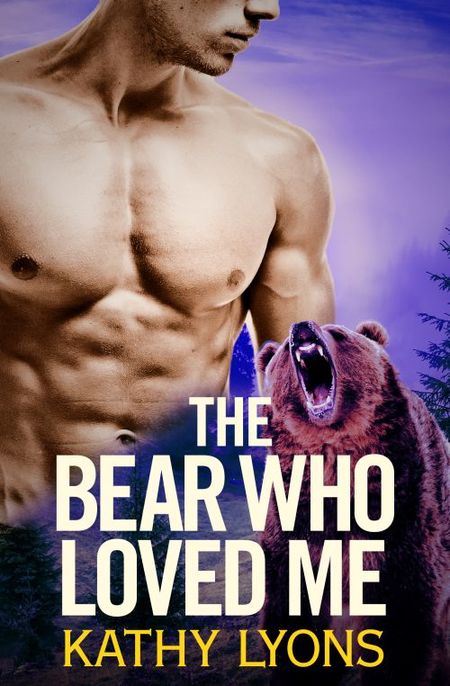 Purchase
Grizzlies Gone Wild #1
Forever Yours
September 2016
On Sale: September 6, 2016
Featuring: Carl Carman; Becca Weitz
240 pages
ISBN: 1455540919
EAN: 9781455540914
Kindle: B01EFL9BMM
e-Book
Add to Wish List

Other Editions
Paperback (reprint - August 2020)
WHEN AN ALPHA MEETS HIS MATCH . . .
Between single-handedly running her bakery and raising her teenaged nephew, Becca Weitz thought she had a decent grip on "normal." Then her nephew vanishes, and life as she's known it changes forever. Local legends are true: bear shifters exist . . . and her nephew is part of their clan. As is Carl Carman, the sexy, larger-than-life man who has sworn to find her nephew-and the other young shifters who've gone missing.
As the leader of his clan, Carl is surrounded by enemies. He's learned the hard way that keeping a firm leash on his inner beast is key to survival, though his feelings for Becca test his legendary control. Then danger stalks too close, and Carl realizes he must unleash the raging, primal force within to protect everything he holds dear. But can Becca trust his grizzly side with her life-and her heart?
Additional Reviews
"Diary of a Book Addict calls it, "...exciting and well-written.""

"Addicted to Romance says, "The Bear Who Loved Me is a thrilling PNR romance that is engaging and tugs at your emotions!! EXHILARATING!""

"Scandalisious says, "I enjoyed the hell out of this book!""

Grizzlies Gone Wild
Comments
20 comments posted.
I spent time with family... had a BBQ.
(Colleen Conklin 12:46pm September 8, 2016)
DragonCon must have been a real hoot! Loved the video! I won't
say what I did!?!
(S W 1:31pm September 8, 2016)
Celebrated #60. Yuck. And read when people weren't
popping in to say Happy Birthday.
(Deb Diem 6:10pm September 8, 2016)
I have always wanted to go to one of the con.. I think they would me so fun.
(Jennifer Beck 11:04am September 9, 2016)
I spent the weekend sewing costumes for the Historic Romance
Conference in Spokane WA in 2 weeks. We're going to have a
blast. Thanks for the giveaway!
(Lenna Hendershott 1:23pm September 9, 2016)
I spent a lot of time with my husband and celebrated our
45th wedding anniversary.
(Janie McGaugh 1:14am September 10, 2016)
Camped in the rain!
(Richard Burr 9:47am September 10, 2016)
Read books!
(Eva Millien 10:31am September 10, 2016)
Grocery shopped. Then I had time to read.
(Donna Graham 2:15pm September 10, 2016)
We spent time with family and celebrated our daughter's
birthday. Had a wonderful time as we don't get all together
often.
(Sharon Shearouse 11:21am September 12, 2016)
I Netflixed and...okay I just Netflixed.
(Richard Brandt 9:17pm September 12, 2016)
Cooked out with family & friends.
(Jana B 5:23pm September 13, 2016)
I didn't really do anything on Labor Day weekend, but did do a little bit of
online shopping (books and clothes). The Grizzlies Gone Wild series
sounds awesome, can't wait to read the first book :)
(Amy K 2:38pm September 14, 2016)
On Labor Day I went on a boat tour in the upper peninsula
of Michigan.
(Erica Green 11:59pm September 14, 2016)
I'm sad to say that I also experienced depression. I feel
like depression cycles throughout the year. Not sure yet what
method I want to incorporate to combat it, but I have some
solutions I can try in the near future.
(Ela Raymundo 11:41pm October 5, 2016)
I've also experienced depression (bipolar). It is tough.
(Cheryl Bradley 7:54am October 6, 2016)
No I'm can't say that I have experienced depression.
(Valerie Miller 4:01pm October 6, 2016)
I feel blessed that I have never experienced depression.
(Jana B 6:01pm October 7, 2016)
I've been struggling with depression for over 40 years. Everyone was of the opinion that it was my idea to be depressed. About 10 years ago I finally got some help in form of an antidepressant. It's still a battle. Sometimes instead of fighting it I just let myself wallow a day or two. I know I will always fight with self loathing but I will also have good times.
(Melanie Rosen 8:19pm October 8, 2016)
Thanks for sharing, I have found this post to be very
helpful and informative as I suffer with periods of
depression as well
(Eva Millien 11:41am October 9, 2016)
Registered users may leave comments.
Log in or register now!