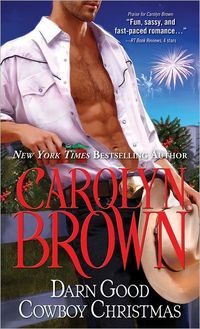 Purchase
Darn Good Cowboy Christmas
Carolyn Brown
Spikes and Spurs #3
Sourcebooks
October 2011
On Sale: October 1, 2011
Featuring: Liz Hanson
384 pages
ISBN: 1402261578
EAN: 9781402261572
Kindle: B005EU50QK
Paperback / e-Book
Add to Wish List

He's One Hot Cowboy
Raylen O'Donnell is one smokin' hot cowboy. He could have any woman he wants, but he's never been able to forget a certain dark-haired girl who disappeared from his life. So when she suddenly returns to the ranch next door, Raylen's not fixing to let her get away again...
And She's Out for a Sizzlin' Christmas
Raised in a traveling carnival, Lizelle Hanson thought all she wanted was a house that didn't have wheels and a sexy cowboy for her very own. But settling down's going to take some getting used to, and cathing Raylen, the hotter-than-hell cowboy next door, might just take a little holiday magic... Â 
Spikes and Spurs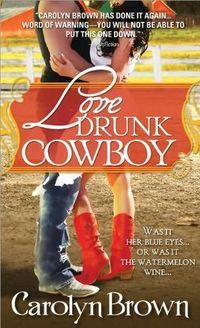 Love Drunk Cowboy
#1.0
Amazon.com | BN.com | | |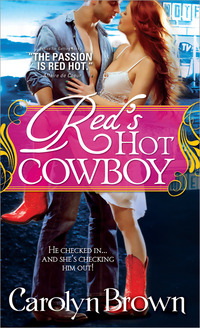 Red's Hot Cowboy
#2.0
Amazon.com | BN.com | | |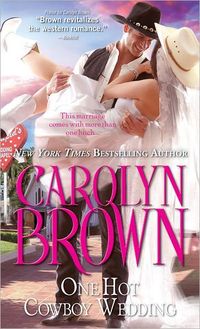 One Hot Cowboy Wedding
#4.0
Amazon.com | BN.com | | |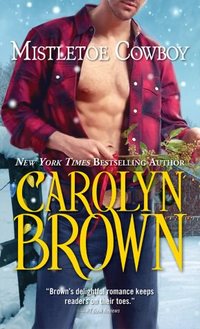 Mistletoe Cowboy
#5.0
Amazon.com | BN.com | | |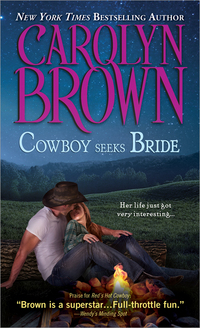 Cowboy Seeks Bride
#7.0
Amazon.com | BN.com | | |
Comments
74 comments posted.
Re: Darn Good Cowboy Christmas

Santa.....want to travel the world again and, even more, want a dear friend's failing battle with cancer to be won instead. Already married my cowboy!
(Carla Schuller 12:39pm November 4, 2011)
P.S. Santa.....want a copy of "Darn Good Cowboy Christmas" as well!!!
(Carla Schuller 12:42pm November 4, 2011)
I would whisper in Santa's ear how much I want a big, loud, old fashioned, family Christmas with both my kids home.
(Lisa Kendall 1:55am November 4, 2011)
I want my mother in law to leave more paperbacks when she visits. The reading is very interesting.
(Craig Clarkson 2:10am November 4, 2011)
Merry Christmas (early) and good morning, everyone. First, Thank you Sara and everyone at Fresh Fiction for letting me catch a breather here at Fresh Fiction on my blog tour. It's great to be here again.
Carla: What a sweet gesture to wish something for your friend. You definitely deserve a copy of Darn Good Cowboy Christmas!
Lisa: May Santa work his magic and your kids arrive with smiles and hugs on Christmas day.
Craig: Bless your mother-in-law's heart!
(Carolyn Brown 8:02am November 4, 2011)
I think you already heard this on the Casababes blog, Carolyn, but I'd love a dishwasher or half bath (after 30 years without either) or an e-reader. LOL! I've given away plenty in contests, but it's not in the budget for me.

I LOVED reading DARN GOOD COWBOY CHRISTMAS. The characters are down-to-earth and so real. Spending time with them was like visiting with friends. You have a special gift. Thanks for sharing it with readers. :)
(C.H. Admirand 8:33am November 4, 2011)
Colleen: It's awesome that you took time out of your busy writing schedule to stop by this morning. Thank you for the sweet words about Darn Good Cowboy Christmas! So glad you liked it. For those of you who don't know C. H. Admirand, she's a fantastic author who will have a brand new cowboy romance (another addition to the Secret Life of Cowboys series) on the market in a few weeks!
(Carolyn Brown 8:45am November 4, 2011)
I would LOVE to be a winner of your books. I have to admit that I've never read anything by you, but now that I've read these descriptions (and I LOVE cowboy stories), even if I don't win, I'll have to get them and read them. I feel like a winner already for having discovered a "new" writer today. Thanks. Nancy
(Nancy Reynolds 10:02am November 4, 2011)
We've had a few major illnesses this year and I would wish for better luck next year.
(Barbara Hanson 10:16am November 4, 2011)
More time, more chocolate, more books and a happy and healthy family.
(Sandra Spilecki 10:29am November 4, 2011)
Nancy: Bless your heart! It's readers like you that keep writers encouraged!
(Carolyn Brown 10:33am November 4, 2011)
Barbara: I'm so sorry. May your luck turn around this next year and everything be wonderful!
(Carolyn Brown 10:34am November 4, 2011)
Sandra: Oh, yes! I could agree with every bit of that wish.
(Carolyn Brown 10:34am November 4, 2011)
I always want everyone else to have a great Christmas its the most important thing to me. If you want you can give me a cowboy for Christmas because I love them so.
(Gail Hurt 11:33am November 4, 2011)
I'm going to whisper in his ear asking for more good books to read---and good health for the whole family in the upcoming year.
(Sue Farrell 11:42am November 4, 2011)
I would ask that my daughter realize her worth and realize that her 18 month old son could not have a better Mama. I would ask that her fiance would realize the same and how lucky he is that he has won her heart and start acting accrodinly.
(Kimberley Coover 11:49am November 4, 2011)
oops! not accrodinly ACCORDINGLY sorry
(Kimberley Coover 11:50am November 4, 2011)
Santa--Please help my grandkids get better acclimated to daycare. Thanks.
(G S Moch 12:03pm November 4, 2011)
Santa - I would like to have all my family live close enough to visit frequently! Or, lots of air miles so I can go visit those who live far away! p.s. please... NO snow this winter!
(Marguerite Guinn 12:21pm November 4, 2011)
I just wish that this wonderful world of ours could be a safer and happier place.
Blessings,
Marjorie
(Marjorie Carmony 12:23pm November 4, 2011)
I would wish for less hatred and more kindness in the world.
(Cathy Phillips 12:28pm November 4, 2011)
I would ask for Santa to bring continued good health and help my grandchildren find their niche in life.
(Anna Speed 12:30pm November 4, 2011)
Santa please, please let my husband get off work for Christmas.
(Kathleen Bianchi 12:56pm November 4, 2011)
Hello everyone again. I came back for doing some writing on my WIP to find all of you wonderful folks. I'm amazed at how antimaterialistic your wishes for Christmas are. If I had some pixy dust I'd sprinkle it on the computer screen so that all of your sweet wishes would be filled. May your holidays be filled with joy!
(Carolyn Brown 1:16pm November 4, 2011)
Hi Carolyn, I am just know reading My Give a Damn's Busted and then I have Honky Tonk Christmas to reaad... I have read the second book in the Cowboy's and SPurs series, so I have to go back one.. I am trying to play catch up with all the books... As I just started reading your books in the summer...
As to what I want to ask Santa for...well I would really like a new car. It would make getting around in the cold northern winters here in Ontario Canada a little easier...
(Kathleen O'Donnell 1:34pm November 4, 2011)
Santa... I would not mind a handsome cowboy under my tree this year! ;) and lots of books to enjoy!
(Colleen Conklin 1:39pm November 4, 2011)
Peace on earth and goodwill to all mankind... and have people around the world rejoice in their sameness and celebrate their differences..
(Cate Sparks 1:56pm November 4, 2011)
Kathleen: Welcome to the Honky Tonk. Hope you are enjoying your time there! When you get up Christmas morning, here's hoping there's a new car in your garage!
(Carolyn Brown 1:56pm November 4, 2011)
Cate: What a lovely wish!
(Carolyn Brown 1:57pm November 4, 2011)
YES, I would say to Santa that I would love to have a great
Family Christmas like we used to have when I was young. My
parents have passed away before Christmas so Holidays are
now hard for me since then. Also, going through financial
and health problems makes it hard to travel out of state to
see other family members. Also, Santa, Please let me Win
this great book: A Darn Good Cowboy Christmas which sounds
like fantastic reading. Thanks so much. Cecilia CECE
(Cecilia Dunbar Hernandez 3:02pm November 4, 2011)
Santa, please bring me a kindle, doesn't have to be the Kindle
Fire, just a regular one would do.
(Anne Muller 3:19pm November 4, 2011)
Hi, Carolyn!! I wanted to start out by saying that I really enjoyed your posting so much today, that I hated to see it end!! It's no wonder that you have all of those writing accolades - you truly are a wordsmith!! I have no idea where you've been hiding, but you shot up to the top of my TBR list, and I'll have to start seeking out your books from the beginning. As for whispering in Santa's ear, at this point, all I would want are simple things. I could use a real mattress and box springs instead of an inflatable mattress to lay on at night, and would adore having a loveseat for my living room again. We lost our house 4 years ago after my Husband lost his job, and lost most of our belongings. We were living out of our pop-up camper for a while. Now we have a place to live, but I doubt if we'll be able to replace these items, as well as a couple of other things. It would also be nice to spend Christmas with my family, since we haven't done so in 5 years. Like I said, not much, just simple things. I love the hot cover, and I'm sure I'll love your books. Have a wonderful Christmas!!
(Peggy Roberson 3:19pm November 4, 2011)
Cecilia, Anne and Peggy: Bless your hearts for stopping by and being so forth coming with your comments. May the holidays be good to you all and may your wishes all come true. Santa often has a way of taking care of things that seems magical!
(Carolyn Brown 3:36pm November 4, 2011)
Oh Dear Santa, Make this wish come true------
Please have your magic elves decorate my house for Christmas this year. I'll bake the cookies and even share.
My blessings have been good this year, I'm just getting a
bit tired and could use extra help.
(Rosemary Simm 3:43pm November 4, 2011)
I just all of my family to be healthy, and all of us to be together for Christmas. Thanks I would love to win your book.
(Linda Hall 3:51pm November 4, 2011)
Books... books of course! And maybe a little baby sister next yr for my 2 yr old to play with....
(May Pau 4:26pm November 4, 2011)
Rosemary: And then bring the elves back to un-decorate it, right? LOL
Linda: Family...yes! It's a zoo at my house when they are all together and we love it.
May Pau: Betcha Santa can arrange that baby sister idea...and being a writer, I love the idea of more books in your stocking.
(Carolyn Brown 4:42pm November 4, 2011)
I love cowboy stories, so I hope Santa will keep that in mind and bring me a few paperback books from Carolyn and maybe a Kindle or Kindle Fire also. I want all my family and friends to be healthy and happy and for people to be at peace in the world! Thanks for the opportunity to have a chance to win your new book (which sounds like a terrific one to read)!
(Linda Luinstra 4:55pm November 4, 2011)
I would whisper in Santa's ear that I want to write full-time and not have a day job.
(Edwina Cowgill 5:16pm November 4, 2011)
What I want most is good health for me and my family and friends!!!!!!!!!!!!
(Joanne Bozik 5:53pm November 4, 2011)
what i am whispering is i want more books to read to keep the winter going and the me layed up in bed i love t read and blog on boos i have the book sound great and would love to read it
(Desiree Reilly 6:19pm November 4, 2011)
I would like a complete Carolyn Brown library for Christmas...
(Susan Shapley 6:40pm November 4, 2011)
What I want for Christmas is a day with all the family gathered together for a happy day.
(Betty Breithaupt 6:47pm November 4, 2011)
I love Carolyn's books!

What I want is for everyone for everyone to be healthy and to have a bunch of good books by my side.
(Pat Lieberman 7:09pm November 4, 2011)
We are having a small Christmas this year. Just bring one gift for each of us. Maybe a winning lottery ticket!
(Jennifer Beyer 7:58pm November 4, 2011)
Hi Santa! I would like some warm fuzzy pink pajamas for Christmas! And for it to be cool enough in Oklahoma to actually wear them! :-)
(Sondra Nash 8:20pm November 4, 2011)
I'm either sighing or giggling at your wishes. Bless your heart Susan for wanting a whole Carolyn Brown library! Love the idea of a winning lottery ticket, Jennifer. I'll take one of those too, please! This has been such a fun day with you all!
(Carolyn Brown 8:22pm November 4, 2011)
Dear Santa - can I have a cowboy like the one on the cover of "Darn Good Cowboy Christmas". I just want to lick those abs (don't tell my husband) :)
(J. Lee Chase 8:25pm November 4, 2011)
Dear Santa, Can you please give me the ability to stick to a diet of healthy foods and exercise for me and my hubby so that we can be thinner and sexy like we used to be?
If not can you at least get him thinner and sexier and make sure he still thinks I am?
Thanks,
(Patti Paonessa 8:37pm November 4, 2011)
J. Lee Chase: I won't tell but keep an eye out for Liz. She's pretty possessive of Raylen. LOL
Patti: If Santa answers that you let me know how it works. I don't let Husband see me weigh in at the doctors and I make the nurse sign an affadivit in blood saying she will never say the numbers on that lyin' scale out loud. He still thinks I weigh only slightly more than I did when he married me, and that's why he will always have glasses and not contacts!
(Carolyn Brown 8:40pm November 4, 2011)
I'd like to whisper I've been a good girl. I like the old -fashioned song, Santa Baby, which just about covers everything necessary to live in style.
(Alyson Widen 8:47pm November 4, 2011)
I love these cowboys! I can't wait to read this one.
(Theresa Russell 9:17pm November 4, 2011)
Santa, please help those who are in need of food and shelter. For myself, I'd like all the books on my wish list and the time to read them!
(Mary C 9:28pm November 4, 2011)
I would love a nice family celebration and some great books to read.
(Maureen Emmons 9:51pm November 4, 2011)
Hi Carolyn,
first i want to say how much i love this series. i have the first 2 books and i have read them alot. each time i find something new that i like about them. for my christmas wish i would wish for my family to have some financial relief and for my health to improve. see in 2007 i injured my back and my family is supporting me and so it is a bit of a finacial strain at times while we wait for the lawsuit to get settled. but it should be anytime now so that is another thing i would wish for.

most of all i would wish for all of my family to be happy and health and to get the thing that they need and want in life.
(Tammy Ramey 10:07pm November 4, 2011)
I really like the name of your new book.
(Chris Mickels 10:16pm November 4, 2011)
Holyday Greetings, Carolyn, as you are ready to Celebrate Christmas already. I have to admit that I don't knowingly remember reading any of your books, but again, I'm really bad with names, so I might have I don;t remember. Your book sounds interesting & I love series books. Right now I'm in the financial situation of needing what I have in my TBR pile or nothing. If Santa was to grant me a couple of wishes it would be 1) all our family with kids (nephews & nieces) & grandkids able to be together for one massive Christmas gathering (with presents for the youngsters). We haven't had one in about 20 years & my mom isn't going to last much longer. My niece's & nephews kids haven't even met each other yet, so that would be good for them. 2) Would be enough money to have either my mortgage paid done enough to not worry about which peter you need to rob to pay whichever paul needs the money now & make some needed house repairs so less energy is going out the door all the time. And if there was a three it would be 3) more money to be coming into animal rescue which has donations for all is way down this year - less than 1/2 of what was given last year for many and several shelters have closed because of lack of $$$$.
I wish every family good health & freedom from so many woes & worries that they can afford to be happy. I hope that 2012 is an improvement for all everywhere.
(A.I. Lehl 10:33pm November 4, 2011)
Dear Santa, I'd like to have both of my foster daughters realize their potentials and figure out that they are wonderful, intelligent and loving people and that they shouldn't allow anyone to belittle them.
(Norma Storms 11:01pm November 4, 2011)
This book sounds like a good read. I hope that I win!!
(Shirley Akins 11:06pm November 4, 2011)
Santa, I want to retire!
(Lisa Garrett 11:15pm November 4, 2011)
Santa, I'm seeing some very important wishes among this list, and it looks to me like these folks have been pretty dang good this year. So please grant them their wishes, especially those having trying or difficult issues in their lives!
(Carolyn Brown 11:21pm November 4, 2011)
Hey, Santa, I'd like to find a Darn Good Cowboy under the Christmas tree. Can't say I've been a good girl, but I'm not so sure that's what a cowboy would want anyway.
xx
(Lori Howe 11:42pm November 4, 2011)
Dear Santa,

If it pleases you, I would like a place of my own, with the right amount of money to keep it up and not to have to worry about paying bills, and to be able to get my life out of storage. Also, after that is taken care of, please grant me the wish of having enough to be able to give back to my family of choice. With the three women I consider sisters, I have 7 nieces and nephews, and I would dearly love to be able to set up education accounts for all of them, just to help, so that their parents don't have to worry about that looming expense.

After all, they have given me so much, and I haven't been able to give back enough, so please?

I promise to make the very best cookies you would find anywhere in the world, and put them under my tree if you could somehow see your way to help me out.

Oh, and in your spare time? Peace on earth would be icing on the cake!

Later,

Lynn, who fell in love with Carolyn's writing at the first words of "Hell, Yeah!", and has kept the love affair going throughout that quartet, but hasn't been able to afford any of her other books, but will buy them as soon as she is able!!
(Lynn Rettig 11:45pm November 4, 2011)
I'd like Santa to watch the kids so I can have a little time
to myself, at a quiet hotel! If just for one day and night! I
just want peace and quiet, and Santa can have whatever he
wants in return!
(Stephanie Bondlow 5:01am November 5, 2011)
To Alen Michelle: Why are you advertising on Carolyn's book comment blog site???? We're not interested in reading all that which is just plain ridiculous and wasting space, in my opinion, or do you think you're 'SANTA'? We don't buy for ourselves at Christmas anyway!! Too bad, we can't delete your garbage! Carolyn, it's a shame that people take advantage of a good thing. Maybe he needs more 'ka-ching' (sp.) in his stocking! I'm planning to read all of your books and love the library idea (since I have one in my home) and I wish you and your family an early 'Merry Christmas'.
(Linda Luinstra 3:44pm November 5, 2011)
I'd ask Santa to help my two adult keep their fulltime jobs and not be downsized. All I need are a few of Carolyn Brown's books.
(Joanne Hicks 5:10pm November 5, 2011)
Linda: You are a sweetheart!
Joanne: I betcha Santa can do that!
Lori: You got it, girl!
Lynn: So glad that you liked visiting the Honky Tonk.
Stephanie: I betcha if you leave that comment lying on Santa's nightstand, he'll darn sure come up with a hotel room!
(Carolyn Brown 5:31pm November 5, 2011)
I would ask for a good old-fashioned Christmas like we had when I was a
kid. It was all about family and getting together to celebrate Jesus's
birthday. Too much commercialism anymore.
(Diana Smith 7:28pm November 5, 2011)
Forgot to check box for contest. Ha! You
have quite a few new books out I want
to read. We talk about them on Robyn
Carr's chatgroup. Keep them coming.
(Diana Smith 7:31pm November 5, 2011)
Diana, thank you for talking about my books on the chatgroup! And I agree about commercialism. Family and food is sure fun, isn't it?
(Carolyn Brown 8:34pm November 5, 2011)
Santa, I would love to be able to take a real vacation with my family.
(Lisa White 12:17pm November 6, 2011)
I wish for all the dogs and cats to find good homes.
(Susan Navidad 7:24am November 6, 2011)
Lisa: Maybe you'd better kiss Santa on the earlobe when you whisper that one in his ear.
Susan: You are so sweet to use your wish for homeless animals. I bet Santa works extra hard on that one!
(Carolyn Brown 8:32am November 6, 2011)
Carolyn-I know the contest is over, but I just wanted to make a comment in case you did come back to this site. I just love all the covers on your books so much, not to mention to you that your books are just fantastic! I'm currently reading, 'Love Drunk Cowboy' and love it. I just got 'Honkey Tonk Christmas'. I love how detailed or descriptive your writing is and I must say, your are now one of my very favorite authors and I am planning to read all of your books. I always loved LaVerle Spencer (who retired from writing), because she wrote similar to the way you do, and so does Susan Elizabeth Phillips. It makes the reader feel so engrossed as if being there with all the visual details! Keep writing the romantic cowboy stories, since there aren't enough of that type out there. I LOVE THEM! I will be watching for all your new ones to come out! Thanks so much!
(Linda Luinstra 4:19pm November 15, 2011)
Registered users may leave comments.
Log in or register now!