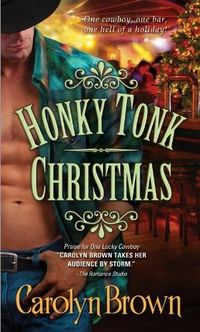 Purchase
One cowboy, one bar, one hell of a holiday!
Honky Tonk #4
Sourcebooks
November 2010
On Sale: November 2, 2010
Featuring: Sharlene Waverly; Holt Jackson
384 pages
ISBN: 1402242018
EAN: 9781402242014
Kindle: B0040RKX42
Mass Market Paperback / e-Book
Add to Wish List

Other Editions
Mass Market Paperback (October 2010)
She Means Business...
Sharlene Waverly is determined to have the new room she's adding to the Honky Tonk up and running before it's time to hand the mistletoe. For that, she'll need Holt Jackson, the best darn carpenter in the state, but his warm whiskey-colored eyes make her insides melt and make him the only person she can talk to about her military career and her nightmares...
He's Determined to keep things with her Strickly Professional...
With his young niece and nephew depending on him, Holt Jackson would take any job he could get. But when Holt shows up at the Honky Tonk, he's completely unprepared for the sparks that fly between him and the beautiful new bar owner, and what started out as a routine job turns into anything but!
Sharlene and Holt try like crazy to deny the electricity crackling between them, but their love might just be the best Christmas present either one of them ever got...
Honky Tonk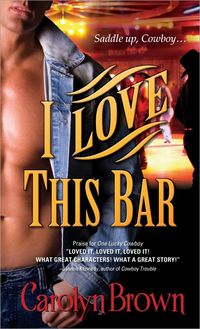 I Love This Bar
#1.0
Amazon.com | BN.com | | |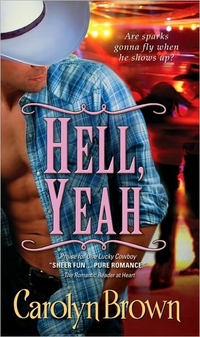 Hell, Yeah
#2.0
Amazon.com | BN.com | | |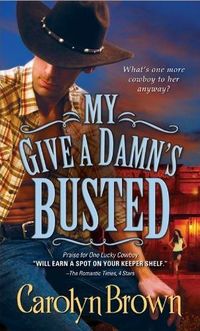 My Give A Damn's Busted
#3.0
Amazon.com | BN.com | | |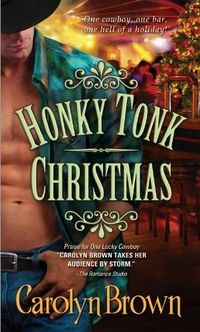 Honky Tonk Christmas
#4.0
Amazon.com | BN.com | | |
Comments
52 comments posted.
I am a punk era gal myself but after 2 Marines in my life I have a secret love for Garth Brookes. Don't tell anyone...lol.
(Michele Powell 2:17pm November 17, 2010)
Love your attitude!
Blessings,
Marjorie
(Marjorie Carmony 6:14am November 19, 2010)
I am thankful for my hubby and all his support! And I love Shania Twain. STRONG Women! Ourselves or supporting others, strong women make this world better!
(Victoria Colyer-Kerr 7:31am November 19, 2010)
I'm so thankful they caught my cancer early and I just got a clean bill of health with the pathology report. I'm thankful for the love and support of my wonderful family. I wish you a most happy and blessed Thanksgiving with your family.
(Karen Gervasi 7:52am November 19, 2010)
wow hot cover and i absolutely love cowboy story. as for county music i love it all grew up w/ willie and b. shelton is awesome
(April Strength 8:34am November 19, 2010)
We love a variety of music in our house and my children aging from 24-17 can sing to alot of the old songs (as they call them) from my teenage years. Love they books, they are a hoot!
(Barbara Hanson 8:38am November 19, 2010)
Good morning everyone! It's great to be here today.
Mischele: What goes on in the Honky Tonk stays in the Honky Tonk. Come around and listen to Garth anytime you want to!
Marjorie: Thank you!
Victoria: Amen! On both a supportive husband and strong women. Both are a blessing!
Karen: Family is truly wonderful. They half the sorrows by taking our burden on their shoulders and double the joys by sharing in our happiness.
April: My daughter thinks they should package the Honky Tonk Series with bibs for the drooling that the hot covers cause. Gotta love Willie, Waylon, Merle and the new fellers, Blake, Josh and Jamie, too! Country music is life in a song.
(Carolyn Brown 8:46am November 19, 2010)
I grew up in up-state New York and my first introduction to country music was in 1967 when I went the the University of Arizona and did I fall hard! It became the new love of my life at a time when I was working full time and going to school nights only. Back in the 60's that wasn't the norm like it is today. Those country songs kept me going and my favorite singer was Loretta Lynn and Johnny Cash their wonderful songs that helped teach me to hand in there thru the hard times.

I live in New England now and took me to Nashville last year to fufill my dream of going to the Grand Ole Opry at the Ryman which had been my dream and we also got to visit my niece who lives in Hendersonville. Our hearts and prayers went out to the wonderful people of Nashville during the floods but know they found solace thru their wonderful songs and heritage.
(Jeanne Miro 8:48am November 19, 2010)
Barbara: I'd love to hear them sing ... especially those "old" songs". Glad you liked the books. I loved the characters in them.
(Carolyn Brown 8:51am November 19, 2010)
Jeanne: What a wonderful story. Isn't Nashville great! We had the privilege of attending the last Fan Fair festival at the old fair grounds in 2000. Now it's called something else and held at the football stadium but it's still got the same great stars, the same great music and the same hospitality. I was heartsick for those folks, too, and am glad to know that things are slowly getting back to normal.
(Carolyn Brown 9:13am November 19, 2010)
I love the titles of your books! I can't wait to read them.
(Michele Lawrence 9:57am November 19, 2010)
Hi,

I'm a rock gal myself but I loved reading this post.

I am thankful for all of every day's little miracles.

Valerie
in Germany
(Valerie Bongards 10:00am November 19, 2010)
I'm fr. a little town called Stratford, Ok. Love country music, especially all the ones fr. Okla. Listen to Country every time I'm in the car.
(Pat Wilson 10:08am November 19, 2010)
Michele: Pick up I Love This Bar and enter the Honky Tonk ... have fun:
Valerie: Little miracles are wonderful ... My husband was in Germany when we met ... via the mail service.
Pat: You are in my part of the world. Great place to be!
(Carolyn Brown 10:24am November 19, 2010)
Speaking of country music...I would have to be thankful for my husband who introduced me to country music: 30 years ago!

I so want this series. Not only the covers, but the titles rock!
(Cynthia Netherton 10:34am November 19, 2010)
Country music always reminds me to be thankful...whether it's because the song is so sad and talking about what is missing or just thankful for the memories of the great nights with friends and listening to Toby Keith
(Amanda Boyer 12:05pm November 19, 2010)
I am thankful for my family... love that cover for HONKY TONK CHRISTMAS!!!
(Colleen Conklin 1:44pm November 19, 2010)
Honky Tonk Christmas sounds great.
(Robin McKay 2:38pm November 19, 2010)
Cynthia: Good luck on the contest. Titles were a joint effort with my editor, Deb Werksman. I have to admit, I had other titles in mind, but when she wanted to do songs as titles, I was on board one hundred percent.
Amanda: Yes, ma'am. I'm in total agreement.
Colleen: Family is precious! Sharlene finds out how much in Honky Tonk Christmas!
(Carolyn Brown 2:40pm November 19, 2010)
You write great books.
(John Ferris 2:48pm November 19, 2010)
I'm thankful for my health and having great people in my life. I don't have a specific song, if it's good I love it.
(Leni Kaye 3:00pm November 19, 2010)
What great books...I just found you on the bookstore shelves..my hubby plays the fiddle mainly the old songs,dancing jigs and such...blessings,keep writing!
(Marlene Hustvet 3:02pm November 19, 2010)
I am thankful for my husband who is my best friend and right now i enjoy all x-mas music. I would love to read your book.
(Natalie Kozaczka 3:10pm November 19, 2010)
Robin: Step inside the Tonk and meet Sharlene and Holt!
John: Bless your heart. I'm glad you like them.
Leni: Those are precious things to be thankful for!
Marlene: My grandpa played the fiddle. Laid it down and came home the night I was born because I was his first grandchild. Family story is that I broke up the dance!
Natalie: 'Tis the season. Good luck on the contest!
(Carolyn Brown 3:31pm November 19, 2010)
ooh these books sound great.
(Helen Livermore 3:52pm November 19, 2010)
I'm thankful for so many things, but mostly the good health of my family. I've always enjoyed all types of music, but my hubby is a real country music fan--old time country, that is---so I've got hooked on the Patsy Cline and Loretta Lynn music that he loves so much.
(Sue Farrell 3:53pm November 19, 2010)
I enjoy the old bluegrass songs, but not the current country ones. My favorite song growing up was The Tennessee Stud, my sisters was Dark as a Dungeon.
(Anne Jones 3:59pm November 19, 2010)
Helen: Thank you ... they were sure a lot of fun to write. Seemed like the characters were right there with me the whole time.
Sue: I cut my teeth on Miss Loretta and Miss Patsy. Still love them. Both of them have songs on the old juke box at the Tonk.
Anne: Those old songs just tell the tale of life, don't they?
(Carolyn Brown 4:05pm November 19, 2010)
I'm grateful that we've made it thru all this mess of the past 2 yrs. intact. My boys are all healthy. We're employed. So many things I'm grateful for. I remember Uncle Jimmy listening to Your Cheating Heart ~ Hank Williams. I grew up listening to country & rock from the 50's & 60's. My tastes are all over the place. I just love music.
The covers for your series are wonderful, I just love them!! I've noticed a few that are copying them now too..
(Ivy Truitt 4:38pm November 19, 2010)
Music has the ability to inspire, to heal, to soothe and so many other things. Thanks for sharing your story.
(Maude Allen 4:41pm November 19, 2010)
Ivy: Glad you like those covers! I squealed when I saw them the first time.
Maude: You are so right about music being able to inspire and heal. It's a wonderful thing!
(Carolyn Brown 4:47pm November 19, 2010)
We are not a country music household - more jazz, blues. I do appreciate a great country tune though.
(Mary Preston 5:00pm November 19, 2010)
Country music reminds me of those times that were good for love, lousy for relationships and hopeful for the future. You have quite a sexy cover on the front of the book. I like his cowboy hat tipped and casual attitude.
(Alyson Widen 6:26pm November 19, 2010)
I'm thankful for my family and looking forward to seeing everyone on Thanksgiving. One of my favorite songs is Fireflies by Faith Hill.
(Maureen Emmons 6:36pm November 19, 2010)
I'm thankful for my family and that all is going good for everyone!
(Linda Pillow 6:57pm November 19, 2010)
What a great series this has been. I have read them all and would highly recommend them to anyone who enjoys romance, spunk, cowboys, country music and sassy women.
(April Renn 6:58pm November 19, 2010)
I'm so thankful for my beautiful
daughters! They are the air I breathe.
I love all the in your face kind of
country like "I think I hate her." But
the one song that gets to me around
this time of year, and I know it's not a
Thanksgiving song, but the song
"Christmas Shoes". It really shows you
that you need to look beyond yourself
and think of others you know? Thanks
so much for the awesome contest. I
can't wait to read your books!
(Val Pearson 8:27pm November 19, 2010)
I'm thankful for my family!
My Mom is coming to town this weekend I look forward to seeing her.
(Brenda Rupp 9:18pm November 19, 2010)
Right now I'm thankful for having a roof over my head. A couple of years ago, my husband lost his job, we lost our house, and we were living in our pop-up camper in a campground!! I would have to say one of my favorite songs is Crazy by Patsy Cline, but I love Reba McIntyre, Garth Brooks, Vince Gill, Marty Stuart, Travis Tritt, Rascal Flatts, the list goes on and on, as do the songs. I'd take up so much room!! I'm thankful I can hear so many wonderful country songs, as well as other genres of music. I hope everyone has a very Happy Thanksgiving!! I'm looking forward to reading your latest book!!
(Peggy Roberson 10:22pm November 19, 2010)
Mary: My daughter's second favorite music is blues so we get a dose of it pretty often, too.
Alyson: You got it! That cover does a fine job of showing everyone Holt's attitude.
Maureen: I saw Faith and Tim at Fan Fair in Nashville. They are as real as their music!
April: Bless your heart for reading my work! Hope you like the next series as well.
Val: Have a good time with the Honky Tonk ladies and the men who win their hearts.
Brenda: Enjoy your holiday and time with your mom and family. That's so very important!
Thanks to everyone who has commented today. You've all been great to visit with! I always love coming to Fresh Fiction for a stop on my blog tour. Visit me anytime at www.carolynlbrown.com
(Carolyn Brown 10:25pm November 19, 2010)
I love the honky tonk series and the lucky series
[email protected]
(Jennifer Mathis 11:02pm November 19, 2010)
I just discovered your books today and look forward to reading. Thank you
(Barbara Ryan 11:10pm November 19, 2010)
I love cowboy stories, and Country music, I would love to win the series,thank for giving me a chance to win it.
(Linda Hall 12:48pm November 20, 2010)
Fond memories of Crystal Gale...
(Darci Paice 3:05am November 20, 2010)
I've always loved me a good cowboy
story.
(Sue Ahn 5:06am November 20, 2010)
Ahhh good music I love the really classic country, but enjoy hearing new people like Rachel Timberlake.
(Cate Sparks 8:06am November 20, 2010)
Jennifer: Thank you! Glad you liked them.
Barbara: Have fun getting to meet my sexy cowboys and sassy ladies.
Linda: You are my kind of lady if you like both cowboy romance and country music. Good luck!
Darci: Amen ...
Sue: Then you'll get right into the Honky Tonk series ... and the Lucky series.
Cate: Yes, ma'am. Old and new, all country and still great!
(Carolyn Brown 8:15am November 20, 2010)
I love country music too. Your books sound wonderful. Love the titles.
(Barbara Smith 9:54am November 20, 2010)
I've never read you but what I see intrigues me to look for you on my next book shoppin trip on foot or computer. Thanks for the chance. jac
(JaneAnn Railey-Clear 1:58pm November 20, 2010)
Ever since Carrie Underwood won American Idol, I became a huge country music fan thru her.
(Kai Wong 2:28pm November 20, 2010)
Thanks for the contest...

Carrie Conley
(Carrie Conley 4:13pm November 20, 2010)
Barbara: Thank you! Those are some eye catching covers, aren't they? The folks at Sourcebooks really did a wonderful job.
JaneAnn: Happy Reading! Hope you like them.
Kai Wong: Carrie Underwood is fantastic. She has songs on my jukebox inside the Honky Tonk!
Carrie: Good luck.
(Carolyn Brown 12:36pm November 21, 2010)
Registered users may leave comments.
Log in or register now!