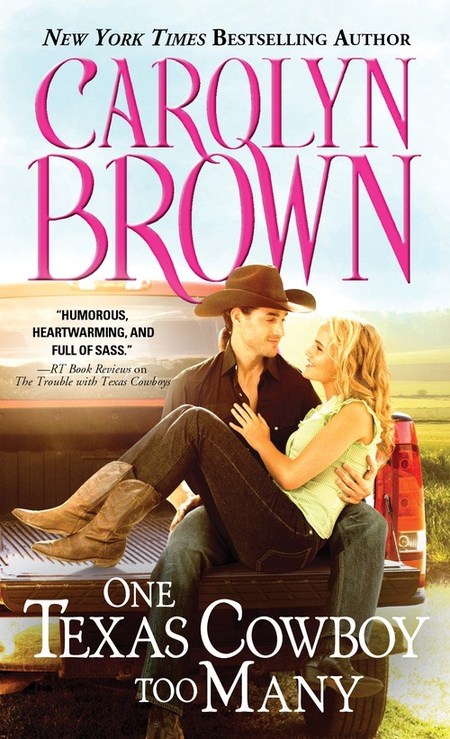 Purchase
Burnt Boot, Texas #3
Sourcebooks
March 2016
On Sale: March 1, 2016
Featuring: Leah Brennan; Rhett O'Donnell
352 pages
ISBN: 1402296118
EAN: 9781402296116
Kindle: B017HX12U4
Paperback / e-Book
Add to Wish List

Carolyn Brown's New York Times and USA Today bestselling cowboys prove that love is bigger in Burnt Boot, Texas
She's got too many cowboys on her hands
Leah Brennan has always been the good girl of the Brennan family, groomed to become the matriarch of the clan. When a dark-eyed, tattooed, ponytailed bad boy saunters into her life, Leah knows he's off-limits-but his mesmerizing gaze makes her forget everything she used to think was important. As town-wide tension rises, Leah wonders if love really can conquer all...
And the whole town's taking sides
When Rhett O'Donnell roars into Burnt Boot on a hot July evening, the first thing he sees is a beautiful blonde. She puts a little extra giddy-up in his heartbeat, but when Rhett's desire throws him into the middle of a love triangle and a hundred-year-old feud, he realizes that winning his cowgirl's heart will be a lot more complicated than he thought.
Burnt Boot, Texas
Comments
26 comments posted.
I love all of Carolyn Browns books and this one I am sure will be no exception.
That shit storm is so funny for us readers to read! Sorry Rhett, Leah and Betsy.
I almost choke on my tea while reading it on here. This book is on my wish list.
(Millie Swank 8:48am March 2, 2016)
Oh Lord I laughed so hard just reading the teaser . I have never ever read anything like this before . I can only imagine what the book will have in it . This is certainly a must read . I know when I was a kid , teenagers , I lived out in the country in a small community and one Halloween night I was with the group of boys that turned over a couple of outhouses . That was bad but to blow up a septic tank !! Oh boy ,I'm still laughing . Love this !! Thanks for giving me the laugh of the day . No one could beat this .
(Joan Thrasher 10:57am March 2, 2016)
Thanks for this amazing and hilarious excerpt which captured
my immediate interest. Absolutely great.
(Sharon Berger 11:21am March 2, 2016)
Ahhh!!! This is great!!! lololol I would love to see what the rest of the story
has there!
(Lily Shah 3:12pm March 2, 2016)
I love it & have got to read the rest!!
(Teresa Miller 5:01pm March 2, 2016)
Oh my goodness! LOL, so entertaining to imagine!
(Colleen Conklin 5:08pm March 2, 2016)
love it.
(Emily Stemp 9:10pm March 2, 2016)
i have to read the rest.
(Ann Unger 9:43pm March 2, 2016)
I just got the book today and will start it this evening!!! Thanks, I love your books!
(Suzy Slining 9:51pm March 2, 2016)
I loved your teaser and have got to read this book!!!!
(Bonnie Capuano 9:34am March 3, 2016)
I really like cowboy stories!
(Laurie Bergh 9:37am March 3, 2016)
Oh my goodness! Gotta get me this book for sure!! I've
only read the first book in the series, gonna go find the
2nd one today -- thanks!!
(Sandy Haber 11:11am March 3, 2016)
I love it!
(Karin Anderson 1:26pm March 3, 2016)
Was hooked on your books after my cousin gave me one. They
are great and I love every one.
(Sharon Baker 8:30pm March 3, 2016)
Just gross!
(Sharlene Wegner 10:50pm March 3, 2016)
The teaser was GREAT! Looking forward to reading the rest.
(Timberlee Ramsey 12:31pm March 4, 2016)
that was so funny and if your from Texas you understand. can't wait to read. thanks for sharing
(Jennifer Beck 5:00pm March 4, 2016)
Sounds like my kind of book, hope I win it.
(Wilma Frana 1:21pm March 5, 2016)
Oh, I love a good resolution to a nasty feud!
(Kathleen Bylsma 2:03pm March 5, 2016)
why are all the giveaway only for Usa NOw??
(Emily Stemp 2:45pm March 5, 2016)
well that was certainly different - very funny when it happens
to someone else!
(Diane Sallans 7:34pm March 5, 2016)
I am just finishing a book in the Spikes and Spurs series
on audio. I'll be taking a break from that series to read
this one, for sure. Too darn funny!
(Terrill Rosado 5:59am March 6, 2016)
I love reading your teaser and I can't wait to read your book!!
(Bonnie Capuano 9:53am March 6, 2016)
This sounds very good I can't wait to read it
Penney
(Penney Wilfort 1:40pm March 6, 2016)
The "shit storm" is quite descriptive. I read about the rumbling effect when the oil is ready to explode from the ground below and how people get excited about it. But then again it is quite difficult from drilling or oil and having it suddenly come gushing up unexpectedly.
(Kai Wong 4:50pm March 6, 2016)
OH YUCK!! However, I will agree. Shit storm describes it
perfectly! Very vivid visuals! Cannot wait to read.
(Marcia Berbeza 10:52pm March 6, 2016)
Registered users may leave comments.
Log in or register now!