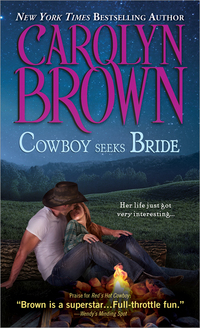 Purchase
Spikes & Spurs #7
Sourcebooks Casablanca
August 2013
On Sale: August 6, 2013
Featuring: Dewar O'Donnell; H.B. McKay
384 pages
ISBN: 1402270216
EAN: 9781402270215
Kindle: B00CA3SHCS
Paperback / e-Book
Add to Wish List

He's tough as nails and ready to ride...
Rancher Dewar O'Donnell is a just an old-fashioned cowboy at heart, and he can't wait to reenact the historic Chisholm Trail ride with his buddies. The trial-run cattle drive for a reality TV show sounds like a great time—until H.B. McKay pulls up in her slick red sports car...
She's way out of her element...
Haley McKay is a feisty, high-powered businesswoman with the power suit and stiletto heels to prove it. She's keen to research her company's hot new idea for a reality TV show—but mount up with a bunch of modern-day cowboys? Are they kidding? It's too late to back out now, so Haley sets out to prove that it will take more than snakes, storms, and stampedes to make her back down.
Besides, sleeping under the stars with Dewar O'Donnell could prove mighty interesting...
Spikes and Spurs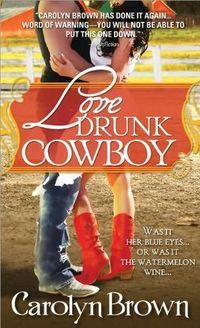 Love Drunk Cowboy
#1.0
Amazon.com | BN.com | | |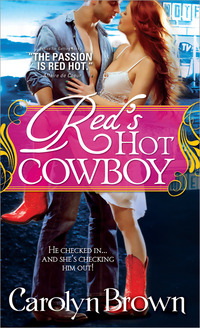 Red's Hot Cowboy
#2.0
Amazon.com | BN.com | | |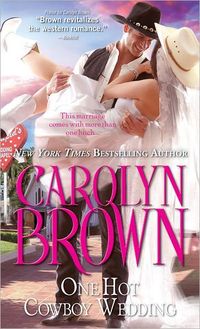 One Hot Cowboy Wedding
#4.0
Amazon.com | BN.com | | |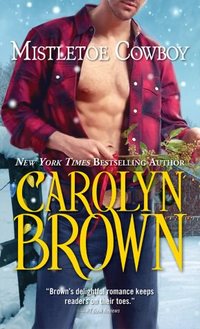 Mistletoe Cowboy
#5.0
Amazon.com | BN.com | | |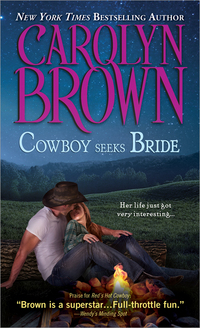 Cowboy Seeks Bride
#7.0
Amazon.com | BN.com | | |
Comments
55 comments posted.
Loved it! Anything Carolyn does is wonderful!
(Kim Cornwell 9:29pm August 2, 2013)
First thing I think of when I think of city folk on a cattle
drive is the movie "City Slickers" with Billy Crystal. That
was a very funny movie - and there wasn't any romance. I
would think COWBOY SEEKS BRIDE would also bring laughter to
my mouth, and maybe tears to my eyes, as the city girl shows
them all what she's made of. Go, Carolyn Brown!
(Donna Durnell 1:38am August 3, 2013)
Good morning to everyone at Fresh Fiction and all you readers...y'all come on in and pull up a chair. We'll visit. Got questions? Dewar and Haley are here with me and we'll be around all day to answer anything you want to know about.
(Carolyn Brown 8:14am August 22, 2013)
Dewar is such a cool name!
(Lynn Anderson 8:24am August 22, 2013)
Oh my (wipes tears) hate to see a awesome series come to an end. I have
traveled this journey with you Carolyn and will miss it, but you always have
another one in the making! Looks like the rest if 2013 and 2014 will be
great! My best friend Lisa introduced me to your books several years ago
and I was hooked! We usually read together so we can have a good laugh
togther. I can't count the times we have nearly wet our pants reading and
talking about your books. I think we need our bladders tacked up! I really
enjoyed meeting you at the RWA this year and hope to meet you again
someday. I would love to spend a little longer talking with you!
(Kim Cornwell 8:48am August 22, 2013)
Lynn: Dewar is blushing but he does love compliments. Folks in some places pronounce it Dew-Are, like the liquor; but most cowboys just say Dee-War. He answers to either one.
(Carolyn Brown 8:49am August 22, 2013)
Kim: Seeing you in front of my table at the book signing was one of the highlights of RWA this year! Give Lisa a big hug for me for introducing you to my books. We might get into a lot of trouble, girlfriend, if the powers that be saw fit to let us spend too much time together. Oh...keep your boots on...and put away that hanky...Finn and Sawyer are coming back in a spin-off in 2014-15!
(Carolyn Brown 8:54am August 22, 2013)
I hate to see a series end. You do become attached to the community. Case in point is Debbie Macomber's Cedar Cove series. I just love that feisty Olivia.

I haven't read your books but this one sounds good. Thanks.
(Sue Galuska 8:56am August 22, 2013)
This sounds like a really good series:), I will definitely have to check them out.
(Lynne Pearson 8:57am August 22, 2013)
This is the series that introduced me to your books. Therefore, the Spikes and Spurs series will always hold a special place in my heart. Can't wait to get my hands on Cowboy Seeks Bride. Thank you for reminding me about my old stomping grounds.
(Jessica Laas 9:30am August 22, 2013)
This is been a wonderful series... but I love that we will see more of these O'Donnell boys in a new upcoming series and visit maybe with some old friends..
(Kathleen O'Donnell 9:39am August 22, 2013)
In answer to your question, there are times that I'm actually glad that a series comes to an end. You know when that times comes, when it goes on forever, and you get sick of the characters. You're ready to move on. It seldom happens, but does happen occasionally. I refuse to mention names, but it definately isn't you!! LOL Your latest book sounds like it's going to be the best ride yet, and I can't wait to get my hands on it!! I have no idea where you store all of these stories at in that head of yours, but keep them coming!! I love the cover, too!!!
(Peggy Roberson 9:44am August 22, 2013)
This looks like a series I would love to read!!! Count me in!!!
(Bonnie Capuano 9:51am August 22, 2013)
Sue: Debbie is a lovely person and a fantastic writer, isn't she? I'm sure Dewar and Haley would be delighted for you to read Cowboy Seeks Bride!

Lynn: Welcome to the cattle drive. Have fun and don't forget to tuck in a roll of toilet paper.

Jessica: Bless your heart! I spent many a day down in your stomping grounds and believe me the folks there were just as friendly as they are in the Spikes & Spurs series.

Kathleen: Finn and Sawyer showed up with their hats in their hands and their boots all shined up and I just couldn't refuse them when they started telling me their stories.

Peggy: Here's hoping that Dewar and Haley (And Eeyore, the donkey) entertain you for hours. I loved the cover, too...actually squealed when I opened up the email and there it was. All those stars and that fire just flat out told the story that's between the covers of the book.

Bonnie: I hope you love it...there's a promotion going on with three of the first books in the Spikes & Spurs series and they're back on the shelves at Walmart, Costco and other stores, so keep an eye out for them!
(Carolyn Brown 10:10am August 22, 2013)
I'd love to read this book, it sounds exciting.
(Wilma Frana 11:51am August 22, 2013)
Aww... I loved this series! I will be sad to read the last one. They're like
potato chips for me- a guilty pleasure and you can't stop at just one!
(Debbie Burdeen 12:27pm August 22, 2013)
Wilma: Haley had a few boring moments but not many, not when there were that many hunky cowboys on the trail with her.

Debbie: Thank you, thank you! Love that about them being a guilty pleasure!
(Carolyn Brown 1:29pm August 22, 2013)
You have such wonderful characters... whenever I pick up a book with your name on it, I know I am going to enjoy it! Sometimes it is sad to see a series end... I enjoy seeing characters I have already met in others' stories... love epilogues to give me a little bit more.
(Colleen Conklin 1:53pm August 22, 2013)
I haven't read any of your books but after reading about your newest one I am going too. I love to read about romance and cowboys. Will checkout Walmart for the specials you mentioned.
(Nancy Wolfe 1:59pm August 22, 2013)
What a wonderful idea for a reality show! I can't wait to read the book! TY for the opportunity to win a copy.
(Betty Hamilton 2:49pm August 22, 2013)
Colleen: That is so sweet. Thank you! You have just given me my Thursday all-day-ego-trip!

Nancy: Enjoy the O'Donnell family and happy reading!
(Carolyn Brown 2:50pm August 22, 2013)
Dewer ~ what a clever, masculine name for your hero! Good luck on your new release!
(Susan Coster 2:52pm August 22, 2013)
I'll miss this series - glad it grew from the original concept
of a trilogy.
(Diane Sallans 3:46pm August 22, 2013)
Betty: Wouldn't it be something if a reality show picked up on the idea?

Susan: Some folks pronounce the name DEW-ARE but the cowboys in Texas just say DEE-WAR. Either way, just holler and he'll come runnin'.

Diane: Thank you. It was a great series to write and I enjoyed every minute!
(Carolyn Brown 4:04pm August 22, 2013)
Oh, how I love a book series! After reading this, I can't wait to read your Spike and Spurs series!! I just ordered LOVE DRUNK COWBOY! Thanks so much!!
(Britney Adams 4:22pm August 22, 2013)
Nothing better than a series of good books. Thank you so much!
(Melanie Backus 4:56pm August 22, 2013)
I love cowboys---add some romance and it's perfect reading.
(Sue Farrell 5:50pm August 22, 2013)
When I read a writers books I always start with the first book written. So I just order the fist book written in this series. I'm sorry to here that its the last. Thanks for the giveaway
(Felicia Sidoma 6:05pm August 22, 2013)
It really depends on the series. With some stories, I just want to keep "living in that world" so to speak with more books. But others I feel reach a natural stopping point and are better off ending there.
(Pam Howell 6:32pm August 22, 2013)
Britney: Welcome to Texas, darlin'. The O'Donnell's will make you right at home.

Melanie: There's 7 of them to keep you entertained with cowboys and sassy ladies.

Sue: Oh, yes, romance on the rodeo tour, romance on the trail, romance in a watermelon patch...it's everywhere!

Felicia: The first one is Love Drunk Cowboy if you'd like to start reading about the O'Donnell's

Pam: Come on down to Ringgold, Texas and we'll let you "live in that world" for a while.
(Carolyn Brown 6:40pm August 22, 2013)
Hi All I missed this mornings discussion due to little thing called work!
I am going to miss the O'Donnell's something fierce. I part of this family too!
But what an ending Haley, Dewar and Eeyore!
Let's face it.... I haven't met a Carolyn Brown story I haven't fallen in the
live with! Have a goodnight all.
(Cathy Genna 7:03pm August 22, 2013)
That's LOVE, darn auto correct
(Cathy Genna 7:05pm August 22, 2013)
Book sounds good
(Susan Falkler 7:11pm August 22, 2013)
Dear Carolyn,
Your words, your plots, and your characters never disappoint. May your ideas and cowboys continue to enchant your readers!
(Joanne Hicks 8:12pm August 22, 2013)
Cathy: You are totally awesome, girl!

Susan: Thank you so so much!

Joanne: Thank you. I'm just flat out tickled pink to hear that.
(Carolyn Brown 8:55pm August 22, 2013)
Sounds like a terrific book. Looking forward to reading it.
(Karen Blossom 8:56pm August 22, 2013)
I know that I'll never ride a horse, sleep under the stars, rope a cow, but I make up for it in my reading material. Thanks for creating that adventure for me!
(Marcia Berbeza 9:32pm August 22, 2013)
I love to read series because they start to become part of me. Enjoyed reading your blog, book sounds great.
(Sheila True 9:38pm August 22, 2013)
I don't like coming to the end of a series since I'll miss the characters I've
come to know. But it is nice to end the series on a happy note. I don't want
to know if something bad happens to them latter.
(Laura Gullickson 10:17pm August 22, 2013)
Loved your blog post. This certainly sounds like a winner series. I just love this type of story, out in the open under the big blue sky with cowboys, make for a wonderful, exciting, fun read. Can hardly wait to start reading. Thank you for this chance to win. The Best To You.
(Esther Somorai 10:25pm August 22, 2013)
Wow, Congrats Carolyn on all your great Cowboy Books and
your new one: COWBOY SEEKS BRIDE really hits HOME for me
because I grew up on a large farm 65 miles from Dodge City,
KS close to the Santa Fe Trail and I have been riding horses
since I was age 5. My Dad and I used to herd the cattle in
Kansas blizzards and I know personally that a Cowgirl can be
just as tough as any Cowboy when they need to be. I do not
like it when a series ends because when you get used to the
characters they are like family and you want that to go on
forever. God has truly blessed You with over 60 books and I
will have to read them all soon. I would love to win and
read your book this summer for sure. Thank You very much.
Cecilia CECE PS: I hope you got to see Boot Hill at Dodge
City, KS. I rode a stagecoach there and it was so much fun.
My husband Jesus has his Birthday tomorrow August 23 and he
loves Cowboys and their books and movies too. We just cannot
get enough and always watch the western channel on our
Directv. Thanks for the fantastic memories. May God bless
You with another 60 plus books. Thanks, Cecilia CECE
(Cecilia Dunbar Hernandez 10:26pm August 22, 2013)
im sorry that i have not read your books and then i would lvoe to be able to read and blog bout it i amgoing ot be travling and want to take books
(Desiree Reilly 10:55pm August 22, 2013)
I do hate when a series end especially when I have connected with the characters. I do tend to re-read the books just to visit the characters again.
(Kai Wong 11:03pm August 22, 2013)
As a reader, it's always sad when a series ends. We can go back and visit
with the characters any time we want by re-reading, though.
Congratulations on the book, and thanks for the chance to win!!!
(Linda Brennan 11:32pm August 22, 2013)
I can't believe I haven't read this series yet, it sounds
wonderful. I love cowboys and series. Even though this series
is ending, which is always sad, it'll be just beginning for
me.
(Lisa White 11:38pm August 22, 2013)
Oh, this series is great & I have loved all of the characters,
so it is sad to see it come to an end! However, I will look
forward to your future series & I even need to go back & read
some of the older ones!
(Sharlene Wegner 11:48pm August 22, 2013)
i havent read your series yet but i love cowboys they are my
favorite books to read cowboys yummm
(Denise Smith 11:49pm August 22, 2013)
I don't like when series come to an end as I do feel like the characters are almost friends/family by then. I'm all for spin-off books with related characters though. I like the reality TV premise in this story, too.
(Marcy Shuler 3:21pm August 23, 2013)
Carolyn,
It is always sad when one of your series comes to and end, but a new series of yours is something I look forward to. I am a big fan of all your books. They are all very good, have just the right amount of romance and become addicting! I'm looking forward to the Cowboys and Brides series. You're my favorite author in the cowboy/romance genre!
(Linda Luinstra 5:42pm August 23, 2013)
Sounds like a great read. Thanks for giving us a chance to win this book.
(Carol Woodruff 7:32pm August 23, 2013)
I love having a complete series to read back to back.
(Mary Preston 8:45pm August 23, 2013)
I love a series.
(Rita Wray 11:36am August 24, 2013)
Cowboy books are my favorite books to read, and series are great with spin-off series (with some of the previous characters). Your books are GREAT!
(Rich Cook 2:16pm August 24, 2013)
I do hate it when series come to an end! Especially series
that last longer than 3 books! You become so invested in
them that the characters and even their towns become
familiar and beloved. It just makes re-reading the series
all the sweeter but it hurts just a little to get to the
end. However, seeing spin-off series or next-gen series
always make me happy again! Congrats on completing the
series Carolyn!
(Ada H. 11:59pm August 24, 2013)
I'm always sad when a series comes to an end and I have to say goodbye to my friends. Thank you for introducing us to all these characters, Carolyn! Looking forward to meeting more of them in your next series.
(Anita H 2:02am August 25, 2013)
Registered users may leave comments.
Log in or register now!