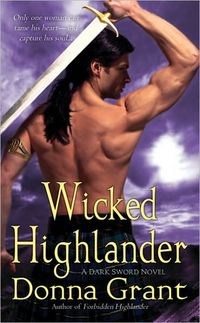 Purchase
Only one woman can tame his heart--and capture his soul...
Dark Sword #3
St. Martin's Press
November 2010
On Sale: November 2, 2010
Featuring: Quinn MacLeod; Marcail Douglas
224 pages
ISBN: 0312381247
EAN: 9780312381240
Mass Market Paperback
Add to Wish List

The most reckless and fierce of the MacLeod brothers, Quinn is a prisoner of the god inside him, tormented by his inability to save his family from slaughter. His fury governs him, and day by day he loses himself to the darkenss in his soul. But Quinn has a profound yearning for a woman's love…. nnnRaised by Druids, the achingly beautiful Marcail is as spellbinding as the ancient magic that surges through her body. To Quinn, she is most desirable woman he has ever known. But to his enemy Deirdre, she is the perfect bait to lure Quinn into her trap. Once the two lovers are in her wicked grasp, their passion will be put to the ultimate test…n
Comments
33 comments posted.
Three cheers for the Scots!
Blessings,
Marjorie
(Marjorie Carmony 6:22am September 15, 2010)
I can't think of a legend that has stymied me, but I love that you have let loose with your imagination and written such an interesting book using that legend.
(Joanne Reynolds 6:23am September 15, 2010)
I'd love to read the book. We've watched Higlander on TV and really enjoy it. Have a great week!
(Karen Gervasi 7:30am September 15, 2010)
I have loved the myths and
lore of the British Islands
since I can remember. I even
pursued a degree in
Anthropology, mostly to
explore the myths that persist
to this day in many parts of
the world. I believe the myths
DO have a reality of a sort.
And I adore books that weave
those ancient legends and
their permutations into a sexy
paranormal romance. I look
forward to discovering your
series!
(Diana Troldahl 7:51am September 15, 2010)
I love the myths of Avalon. Thanks for the awesome giveaway!
(Lisa Garrett 10:55am September 15, 2010)
cannot wait to read this one
(Debbi Shaw 12:30pm September 15, 2010)
I love to read and your book looks wonderful. thanks for the chance to win.
(Danielle Pontow 1:59pm September 15, 2010)
I love to read about Irish and Scots myths and legends and I wonder if Atlantis ever existed. Great sounding book!
(Cheryl Lynne 2:28pm September 15, 2010)
I love Jason and the argonauts. Love to have the story of Hercules and others be true.
(Phyllis Lamken 2:48pm September 15, 2010)
Highlander is one of my favorite movies also. Being from the Southern Highlands/Appalachain mountains we still celebrate our Scotish/Irish/Welsh heritage and the language of the area still has a bit of a lilt of the old languages. Sounds like going home sometimes to read and hear a Celtic accent.
(Vickie McCarter 5:38pm September 15, 2010)
I love books about Scots and books about the Druids. It doesn't get any better than that!!!!
(Beth Kaake 5:39pm September 15, 2010)
There is something so sexy about a man in a kilt.
(Deb Pelletier 8:40pm September 15, 2010)
Hi Donna! I could swear that I have this book already, but I don't have it on my list. Maybe it's because I've been secretly drooling over the cover for months now.... :D

I definitely believe in King Arthur. But the one "fantasy" that I can't shake is Atlantis. Ever since I've been in grade school, I can't help but feel it was real. Steve Berry recently had one of his stories explore this idea and I was so enthralled.
(Molly Wilsbacher 8:41pm September 15, 2010)
Myths about the dragons and unicorns have always kept me searching and wondering if they do exist. Did someone stumble on some fossils or bones and decide to define the that these mythical creatures exist? Did someone misinterpret a cave painting and that how dragons and unicorns were created? I did figure out that it was the bone of the elephant's head is where the stories of the cyclops originated from. It's quite hard to think what the first homosapein's impression was.
(Kai Wong 9:48pm September 15, 2010)
I,too, loved The Highlander & yes I could imagine your hero & his story. OOOO it sounds like a book I'd like to read while tucked into the couch with a big mug of tea!
(Jean Merriott 10:01pm September 15, 2010)
congrasts on t he book the scots and the guys who were kilts wow wow
(Desiree Reilly 10:15pm September 15, 2010)
Looking forward to reading your book,sounds great.
(Sheila True 11:35pm September 15, 2010)
Ive always been partial to the Irish/Scottish tales of the selkies (seals that can shed their skin to become humans. I know they couldn't be real but wouldn't it be exciting if they were true? of course i like alot of greek tales but Scottish/Irish tales are far more romantic wouldn't you say?
(April Kirby 5:55pm September 16, 2010)
I've always wondered about the Loch Ness monster, is it true or not? I can't wait to read your book.
(Linda Henderson 7:39am September 18, 2010)
Hi, everyone! So great to hear that so many people are interested in myths and legends!

And I agree about Atlantis. Love the idea of it. Greek mythology is one of my favorites, but I also love Viking and Egyptian mythology. :)
(Donna Grant 8:28am September 18, 2010)
Greek mythology was always my first love, but since then it has expanded to include other forms as well. There are truths to the telling of the stories ~~ somewhere.

It does make one stop to ponder why Rome stopped.
(Cynthia Netherton 10:59am September 18, 2010)
I have always wondered about dragons ,unicorns and Atlantis. So many other things to wonder about as well. Makes life more interesting.
(Cherie Japp 12:14pm September 18, 2010)
Interesting column. It brought to mind my visit to Hadrian's Wall during my trip to Scotland this summer. The wall was built to separate Roman-controlled England from Scotland, which the Romans could not conquer.
(G S Moch 1:56pm September 18, 2010)
I love Irish Myths and Lore... Nice cover! ;)
(Colleen Conklin 2:18pm September 18, 2010)
How i love the Dark Sword series! Hayden is drool worthy. I have always wondered about Druids, if they were as magical as i read about in books! (Go Cara!)
(Christy Mitchiner 6:54pm September 18, 2010)
Ah, thanks, Colleen! lol. I have to agree, Hayden is definitely drool worthy. :D
(Donna Grant 7:31pm September 18, 2010)
Oops. Meant to write Christy, not Colleen. Sorry, ladies. :S
(Donna Grant 7:31pm September 18, 2010)
Highlanders always make good writing material.
(Diane Sadler 7:52pm September 18, 2010)
Congrats on the new release!
I love the Irish and Scotish myths. My mother was Irish and when I was little she would make up stories about my leprechaun doll Paddy. There was a whole slew of "Mixed Up Paddy" stories. I wish she would have written them down for me - she had a wonderful imagination!
(Kimberley Coover 9:09pm September 18, 2010)
Atlantis has always fascinated me! I love Highlander the movies and the tv show!!
(Martha Lawson 9:28pm September 18, 2010)
Atlantis is a world that intrigues me.
(Sue Ahn 2:02am September 20, 2010)
lol. I really hope you enjoy Hayden's book, Christy. He's one of my top three Warriors. :)

Oh, I so agree, Diane!

Atlantis seems to be one of the myths everyone loves. I can completely understand. :)
(Donna Grant 9:27am September 20, 2010)
Totally in love with "What ifs?"
(Lisa Richards 12:00pm September 21, 2010)
Registered users may leave comments.
Log in or register now!