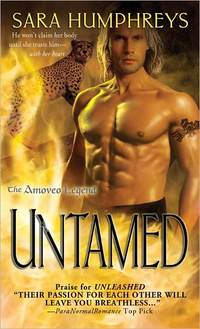 Purchase
The Amoveo Legend #3
Sourcebooks Casablanca
November 2012
On Sale: November 1, 2012
Featuring: Layla Nickelsen; William Fleury
320 pages
ISBN: 1402258496
EAN: 9781402258497
Kindle: B008NCASD6
Paperback / e-Book
Add to Wish List

The Amoveo are an ancient race who've lived secretly among humans for thousands of years. They are beautiful and incredibly strong but their race is extremely fragile—each has until the age of 30 to find their soul mate, before their bodies start to die a slow, painful death.
Layla Nickelsen has spent her life running from a mate she didn't choose, until William Fleury finally confronts her. Normally stoic and unemotional, William finds himself befuddled by Layla: his growing feelings for her and his driving need to protect her. And Layla has to admit that William might be everything she's always wanted after all...
Amoveo Legend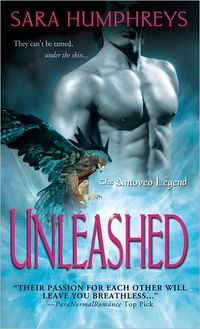 Unleashed
#1.0
Amazon.com | BN.com | | |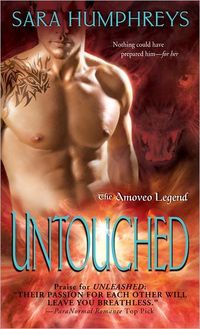 Untouched
#2.0
Amazon.com | BN.com | | |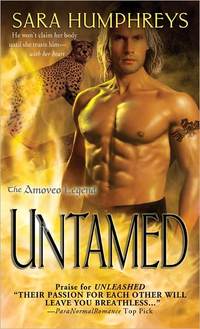 Untamed
#3.0
Amazon.com | BN.com | | |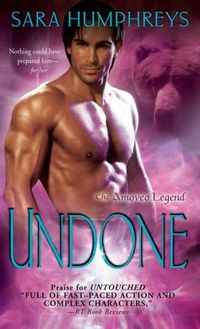 Undone
#4.0
Amazon.com | BN.com | | |
Comments
48 comments posted.
Re: Untamed

In Ireland the tree is a Christmas feature as are decorations of holly, ivy and other green boughs. Christmas is on the date of the ancient midwinter festival when the sun was at its lowest point and would return in strength after that date. Do you have to give presents at Thanksgiving and then again at Christmas? or do you give gifts at Thanksgiving to family you may not see at Christmas?
Here we often take November as an abstemious month. We are saving for winter fuel bills and for the Christmas gifts and party season followed by New Year parties, and many people wind down drinking for all November.
I do feel it is unfair of society to 'force' a festival on those who may not be able to afford it, but Americans always seem to enjoy Thanksgiving and to be glad to be united with family maybe only one time in the year. Memories are made that will be important in years to come.
(Clare O'Beara 8:05am November 23, 2012)
Would love to read your book!!!
(Bonnie Capuano 8:52am November 23, 2012)
our day after Thanksgiving is all about decorating for
Christmas. Thanks for a chance to win a copy of your book :O)
(Carin Walker 11:47am November 23, 2012)
I don't have a day after Thanksgiving tradition but am with
you about not liking the idea of shopping in crowds.
(G. Bisbjerg 11:58am November 23, 2012)
For years, my hubby and I took the day off work and just spent it at home decorating for the winter holidays; however, his new job doesn't allow for this. :-( So no traditions for today anymore.
(Angie Lilly 12:26pm November 23, 2012)
I agree with you completely. I never venture out to do any shopping on
"Black Friday". Even just hearing those words makes me cringe. I do
almost all of my holiday shopping online, because I hate the crowds and
the whole crush of materialism that is prevalent at this time of the year. It
sucks the holiday spirit right out of me too. I love giving gifts, but I have just
never understood the whole need to accumulate "stuff" to the point of
putting yourself into loads of debt. We spend one day being "thankful" for
what we "have", and then the very next day, people are out trying to
accumulate the loads of stuff we don't. I just shake my head at the midnight
sales, the lines outside of stores in the pre-dawn hours, and the overloaded
carts.
We don't really have a "tradition" for the day after Thanksgiving, other than
to just relax and enjoy a quiet day at home. Lately my daughter is into
trying all different types of cookie recipes, so we may do that.
Your book looks great! Enjoy your holidays. :)
(Debbie Burdeen 12:26pm November 23, 2012)
Hi Sara! Untamed sounds like a good book.

I agree with you about the Black Friday sales. We thought we would try it one year and really regretted it. I don't like the huge crowds and all the pushing and shoving that entails.

Our tradition for the day after Thanksgiving is always to just sit back, relax, and enjoy each others company.
(Cathy Phillips 12:37pm November 23, 2012)
I work in retail, so my plans include working the Black Friday
rush. I usually have two jobs that I'm working at, so I'll
open at one and close at the other.
(Karin Anderson 12:37pm November 23, 2012)
My family and I love to relax the day after Thanksgiving. I can't do the Black Friday thing either. All of the crowds and chaos is just to much for me! Thanks so much for the giveaway!
(Christine Mead 12:44pm November 23, 2012)
No black Friday for me...I just got invited to my son's for a
meal...thanks.
(Mary Hay 12:45pm November 23, 2012)
Just like to relax and read a good book.
(Rita Wray 1:03pm November 23, 2012)
I HAV E TO WORK TODAY. THANKS FOR THIS CHANCE.
(Debbi Shaw 1:09pm November 23, 2012)
Ever since we lost our home, and were forced to move about 4 years ago, my Husband and I had to start new traditions of our own. We're a long way away from family now, and our Landlord and his family are usually up at the property, so we usually do something together as a family, which is nice. Every year it's something different, and I think it's nice that they consider us to be part of their family. My Husband is the caretaker here, so I suppose part of it is showing their appreciation, but we all get along well, and have a great time. To me, the Holidays are always special, even if I can't be with my family. We won't be able to put our tree up this year, because we have 2 kittens who like to get into everything, and instead of having a disaster, we're going to come up with an alternative for our decorating, which is a bit disheartening, but for the best. Next year, I'll go all out!! Have a wonderful Christmas!!
(Peggy Roberson 1:18pm November 23, 2012)
We never have Black Fridays in Canada until recently. Too many Canadians go to the states for shopping so Canada has started its own sale too. I don't mind cheap sales!
(May Pau 2:08pm November 23, 2012)
We don't do anythin special on the day after Thanksgiving
(Sandy Giden 2:23pm November 23, 2012)
I used too get plenty of coffee in me and do the Black Friday madness, this year I am relaxing, eating leftovers, going to see the very sexy Daniel Craig in James Bond, mailing off some presents that will take a while to be received.
(Carla Carlson 3:31pm November 23, 2012)
I use the day after Thanksgiving to rest up from all the work the day before.
(Sheila True 4:13pm November 23, 2012)
thanks for a great giveaway. love your books they are
marvelous. love to win its an awesome giveaway.
(Shelly Caggiano 4:25pm November 23, 2012)
The day after Thanksgiving used to be for decorating all day---but we quit with all the decorations a couple years ago so now it's for eating lots of leftovers.
(Sue Farrell 4:49pm November 23, 2012)
We usually travel home and we might brave the stores but I prefer to relax.
(Maureen Emmons 5:01pm November 23, 2012)
Every year my mom & I go out black friday shopping and start figuring out and organizing all our stuff to see what we have for who and what we still need to get.
(Chelsea Knestrick 5:53pm November 23, 2012)
Every year, I go to the Black Friday Sales. It is a traditional trying to find all the stuff that I need for the Christmas presents.
(Kai Wong 6:17pm November 23, 2012)
We do not have a day after Thanksgiving tradition. But, like you, I just can't stand the mobs at the stores either. I am just enjoying a quiet day at home reading my blogs.
(Kathleen Yohanna 6:27pm November 23, 2012)
My tradition is working, I have worked the Black Friday sales for fourteen
years. There is never a dull moment.
(Ann Sheiring 6:49pm November 23, 2012)
My sisters & mother go deal with the craziness of Black Friday... I stay home and enjoy the quiet! :)
(Colleen Conklin 8:13pm November 23, 2012)
Usually we veg out and eat left over turkey and stuffing. Love the cover of your
book.
(Leanne Jacobson 8:23pm November 23, 2012)
Nope, my family doesn't have a day after Thanksgiving
tradition.
(Jan D 8:23pm November 23, 2012)
We all go to the gym and work-out. In addition, my town has a Turkey Run/Jog/Walk, to help everyone get out and about. We meet, donate to the food pantry, and then burn a few calories!
(Debra Mowatt 8:32pm November 23, 2012)
My family doesn't have a after Thanksgiving tradion either.
(Tammy Hilsabeck 8:55pm November 23, 2012)
This year spent it getting the roof redone. Hopefully it is fixed this time?..... Thank you for this give away sounds like a fantastic book..
(Holly Vanderhule 9:04pm November 23, 2012)
Usually, we decorate for Christmas the day after Thanksgiving but this year we were too tired. We've had months of running with my niece's wedding, gobs of company, I could go on. What a great family tradition you have with your family
(Jill Merriott 9:11pm November 23, 2012)
We get together and enjoy family time
(Darci Paice 9:20pm November 23, 2012)
We don't have any family traditions for the day after Thanksgiving.
(Janie McGaugh 9:20pm November 23, 2012)
This is a wonderful time of year! I would love to win.
(Charlotte Zimmerman 9:26pm November 23, 2012)
No after Thanksgiving tradition for me...or black
Friday shopping.I worked this morning...gotta serve
those hungry shoppers some breakfast.
(Andie Wardlow 9:32pm November 23, 2012)
We used to go shopping for the black friday specials but since most of the
sales start the night before and you can find a lot of great deals online my
family and I just rest up from the day before and have leftovers.
(Karen Origer-Greco 9:59pm November 23, 2012)
cant wait to read!! i love guy on cover!!hot
(Jennifer Beck 10:05pm November 23, 2012)
We don't have any day after traditions...I did decide that I wanted to go to Target at 9 last night to try to shop. My husband decided he would go to(lol). As we pulled into the parking lot at 8:55 he saw the line to get in was wrapped around the whole shopping center he didn't even slow down..just kept on driving until we reached home. I think that is his new "black Friday" tradition. LOL
(Kimberley Coover 10:45pm November 23, 2012)
No day after traditions.
(Kathy Fowler 10:53pm November 23, 2012)
No Thanksgiving here in Australia. I do love reading about all
the different traditions though.
(Mary Preston 11:21pm November 23, 2012)
We had leftovers for lunch/brunch together at the table. I love my aunt and loved spending Thanksgiving with them. I'm sad my dad and her have grown apart. We'd also stay the night in my aunt's house. She had no guest rooms so we all slept in the living room. It was fun.
(Judith Quiroz 11:37pm November 23, 2012)
I'm usually working in the office on Black Friday.
(Mary C 12:06pm November 24, 2012)
Usually did Black Friday shopping but this year decided on brunch with close friends.
(p c 1:05am November 24, 2012)
We always get our tree, also. But, it is usually because it is very close to my birthday, so I always say it is my birthday gift.
(Debbie Penny 7:09am November 24, 2012)
I'm not doing the Black Friday shopping anymore--the crowds are overwhelming getting around the stores and finding clerks to help you is another task (usually only to find out that there are none left of that particular item). It's not worth the trouble, since later there are many sales to follow at all stores. Instead, I get out Christmas items, ornaments, etc. and get started with the decorating which is much more enjoyable. Then later headed out for a set of much needed tires for my car before the winter snow and ice comes. I did get a Black Friday deal on those (buy 3 tires, get 1 tire free) so I was pretty satisfied.
When my 3 boys were little, we used to head out to the tree farms to select our own Christmas tree each year, the day after Thanksgiving. We'd bring a sled and pull our youngest around in the snow. It was like being in the woods and so beautiful too. Always a fun family outing. One year, we bought one so huge, we had trouble getting it through the door! It was very pretty over 8 ft. tall and about 6 ft. or more wide!! It took up a large amount of space. They do always look smaller in the outdoors. It was very heavy too! Love your book cover and would love to read it!
(Linda Luinstra 5:09pm November 24, 2012)
Hi Gang--Thank you all so much for coming by the blog! I think it's
interesting to see what other folks do for their tradition--even if it's not
having one :) I'm sorry I didn't come by earlier but it was a crazy weekend with
kids, family visiting and decorating. I hope you all have a blessed holiday
season.
Dream on...
Sara
(Sara Humphreys 10:27am November 26, 2012)
our day after thanksgiving traditions is making a cold turkey sandwich with the leftovers :) I really dont shop black Friday only because I think it cuts into the meaning of thanksgiving and the time with the family .
(Danielle McDonald 12:03pm November 26, 2012)
Usually I'm making a list and checking it against my budget and dreaming of gifts for each person and the wrapping to go with. I also start wondering what happened to the tape and scissors.
(Alyson Widen 8:26pm November 26, 2012)
Registered users may leave comments.
Log in or register now!