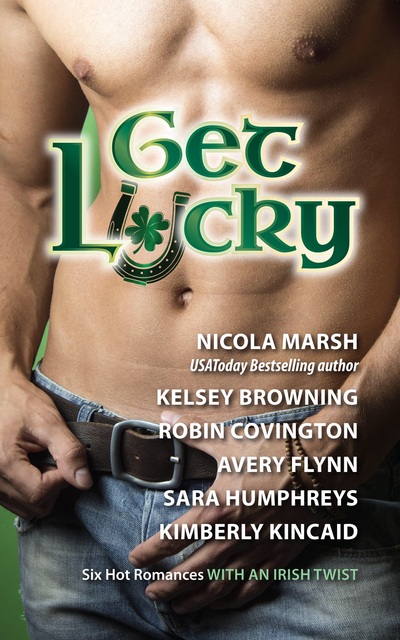 Purchase
Six Sexy Romances with an Irish Twist
Author Self-Published
March 2015
On Sale: March 16, 2015
511 pages
ISBN: 0151402698
EAN: 2940151402699
Kindle: B00TCKUELO
e-Book
Add to Wish List

Get Lucky Anthology
Six brand new Irish-themed contemporary, new adult and paranormal romance novellas that will give Get Lucky a whole new meaning.
From USA Today bestselling author Nicola Marsh - Walking the Line
Ellie is a decade older than Finn but that doesn't stop the charming Irishman from wooing her.
Ellie doesn't believe in the happily-ever-after dream any longer, not since hers imploded a long time ago. But can a smooth-talking Irishman sway a hard-hearted cynic to believe in love again?
From reader favorite Kelsey Browning - Amazed by You
Author's assistant Olivia McLaughlin must pull off an extravagant St. Patrick's Day garden party to win a coveted promotion, but her success hinges on landscape designer Cody Kavanaugh, her old high school boyfriend. Now, Olivia must decide which she can't live without—the job that will make her a success or the man offering her a second chance at love.
From sizzling hot and bestselling Robin Covington - One Little Kiss
Trapped by a snowstorm in the same place at the same time, Leighton and Jonas must decide if their hot night together was the end of their story or if they started forever with just one little kiss…
From RT Book Review Award nominee Avery Flynn - Big, Bad Red
There's nothing little or naive about this Red Riding Hood. Red runs the biggest fencing operation for fairytale treasures out of the back of Granny's Pub. But when she comes into possession of the Caladbolg sword things get hairy–as in hot, sexy Liam MacTíre the werewolf hairy.
From paranormal darling Sara Humphreys - Luck of the Irish
Banished to the mirrored realm for hundreds of years, Declan Aherne had nothing but time to plot his revenge and mourn the loss of his beloved wife. But when a beautiful human woman, with a familiar amulet, stares into the mirror....Declan's luck was about to change.
From the sexy sweet Kimberly Kincaid - Something Borrowed
When her successful brother announces his plans for an impromptu wedding in Ireland, unlucky-in-love chef Sasha Arrington is stuck between the Blarney Stone and a hard place. Sasha needs a wingman for her brother's wedding, and the romantic destination could be just what James Sullivan needs to tempt Sasha out of the friend zone.
Comments
2 comments posted.
Re: Get Lucky

I definitely have to read Big, Bad Red. The tease of the blurb
has left me super curious as to how Liam & Red work this
problem out.I love it. :) Thank you for sharing. Happy St.
Patrick's Day.
Carol L
Lucky4750 (at) aol (dot) com
(Carol Luciano 8:06pm March 17, 2015)
As many times as I've seen your name, as well as your books,
I've never seen an excerpt - until now!! After today's
posting an excerpt, it made me see why you're such a popular
Author, and I have your book on my TBR list, as well as your
other books!! Now I have some reading to catch up on!! The
excerpt on this particular book caught my interest, as well
as made me chuckle in parts, which is great.
Congratulations on your Novella, and I'll be keeping my eyes
open for your books from now on!!
(Peggy Roberson 9:46am March 18, 2015)
Registered users may leave comments.
Log in or register now!