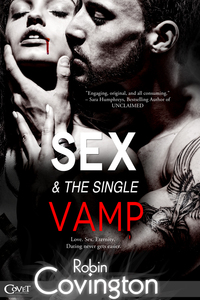 Purchase
Entangled Covet
April 2014
On Sale: March 24, 2014
Featuring: Cici Trent; 
Deacon
143 pages
ISBN: 162266485X
EAN: 9781622664856
Kindle: B00IQOFTEE
e-Book
Add to Wish List

Cici Trent, vampire and media darling, spends her days finding true love for humans and supernaturals (the "Others") at her dating agency. But someone is trying to sabotage her business and she needs help. Unfortunately, the best man for the job is the one who broke her still-beating heart two hundred fifty-four years ago.

Deacon is a patient vampire. He's only loved one woman in over three hundred years— CiCi— and she chose another. So when she shows up in his office asking for help, he finally has the chance to lay that demon to rest. He'll help her, but for a price—a night in his bed.

Adrenaline, mischief, and a little late-night B&E light the passion that even a couple of lifetimes couldn't put out. But Deacon has a secret and when Cici is suddenly mortal, his deception might be the only way restore her immortality. Can love bridge the gap between a heartbeat and forever?
Comments
14 comments posted.
I'm interested in any books that have to do with the World Wars, and this one would be no different. I'm very interested in reading your slant on things, and would probably find your book to be a good read, even though I've never read this genre before. I really enjoyed your posting today, and could totally relate to the way you felt, walking through Williamsburg. I also pick up strange vibes when I go through Historical places, although vampires don't come in the equation, but nonetheless, I do pick up feelings from people whose spirits are still there, and for the most part, I get a feeling of peace.
(Peggy Roberson 8:24am March 27, 2014)
The book sounds interesting. I like the thought of vampires helping in American History.
(Pam Howell 9:13am March 27, 2014)
That sounds very different and interesting. Sounds like there is a lot going on that will be a lot of fun to read.
(Larena Hubble 12:40pm March 27, 2014)
What an interesting premise for a book, certainly different
from what I have been reading.
(G. Bisbjerg 12:43pm March 27, 2014)
Sounds really really interesting! Thanks for sharing!
(Colleen Conklin 12:43pm March 27, 2014)
What an interesting take on history. Thanks for the chance to win a copy.
(Marcy Shuler 5:26pm March 27, 2014)
This sounds like an interesting and fun story.
(Janie McGaugh 8:58pm March 27, 2014)
It would make a very interesting world if vampires, weres, and other supernaturals do exist and go through life as a normal person would.
(Kai Wong 12:20pm March 28, 2014)
Sounds really good can't wait to read.
(Donna Reynolds 9:19am March 28, 2014)
Looks like an awesome book.
(Tina Lechuga 1:04pm March 28, 2014)
i have been wanting to read this sounds so good thanks so
much
(Denise Smith 2:55pm March 28, 2014)
Vampires in books are so yummy!
(Callie Stuck 10:02pm March 28, 2014)
OK!! That's some question. You wouldn't be a writer by any
chance????????
(Mary Preston 3:32am March 29, 2014)
It will very interesting to discover that vampires really
existed and that maybe they helped humans through out history
or tried to make us fail, who knows? i'm looking forward to
reading this book
(Sarah Hansrote 10:26pm March 31, 2014)
Registered users may leave comments.
Log in or register now!