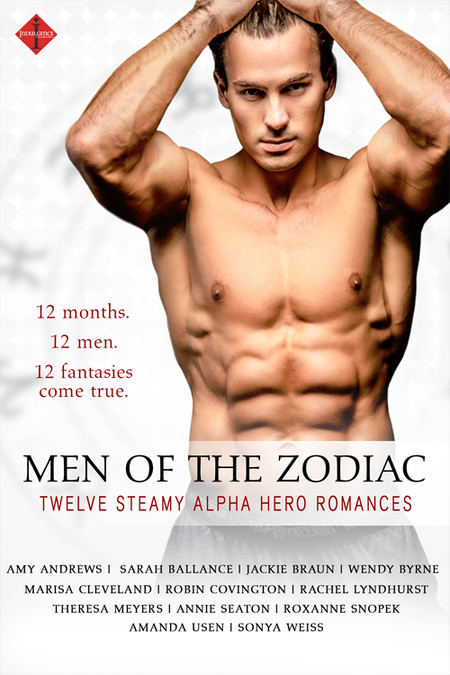 Purchase
12 Steamy Alpha Hero Romances
Boxed set
Entangled
March 2016
On Sale: March 28, 2016
ISBN: 1633756157
EAN: 9781633756151
Kindle: B01CNTOHV8
e-Book
Add to Wish List

Romance Erotica Sensual | Romance Contemporary
12 months. 12 men. 12 fantasies come true.
Drop everything and one-click your way to a world where alpha billionaires know how to take care of a woman...
Success, power, and money...these men have it all. Whether you swoon for a crowned prince, melt for a real estate mogul, or get hot and bothered over a self-made powerhouse, the Men of Zodiac bundle will indulge all of your fantasies.
They're all yours. Just click the button.
Impulse Control by Amanda Usen
Survivalist Russ Donovan has been strong-armed into filming a new show with dainty lifestyle expert Susannah Stone, and he plans to put Little Susie Homemaker to the test...in the Adirondack Mountains. But Susannah is tougher than she looks. She's had to fight her way through life, and there's no way she'll let a bossy mountain man show her up. No one—least of all Russ and Susannah—expects sparks to fly both on camera and off. And their risqué rivalry is about to break all of the rules.
The Millionaire's Deception by Wendy Byrne
For deal closer Rafe McCall, convincing small restaurant owner Frankie Ritacco to sell his business for property development should have been a piece of easy, profitable cake. It's not. For starters, "Frankie" is a stunning, stubborn woman who wants to preserve her idyllic small town. There is no way she's selling—even to a sexy millionaire who makes her heart race. But Frankie's café is in serious trouble, and Rafe must decide if he can close the deal...or if he's found the deal breaker of a lifetime.
The Millionaire's Forever by Amazon Bestselling author Sonya Weiss
Olivia Carter has a handsome, millionaire boyfriend. She's madly in love with him. The hitch? He doesn't actually exist. With her reputation and career in jeopardy, Olivia is desperate enough to do almost anything. Millionaire Mason Parker is ready for some revenge. Olivia and her father put him through hell, and now it's time for a little payback—starting with the announcement that he's her one and only. But none of his plans for vengeance included falling for the woman he planned to ruin.
Ten Days in Tuscany by Amazon Bestselling author Annie Seaton
Gia Carelli waits tables in her small Tuscan village, dreaming of a life in which her overbearing family allows her to move to Florence to pursue art. When a gorgeous, wealthy stranger arrives in town claiming he can help her, Gia wonders if her stars are about to change. But as their patron-protégée relationship is quickly eclipsed by desire, the mysterious Nic Baldini's identity might cost him the woman of his dreams.
The Millionaire Daddy Project by USA Today Bestselling author Roxanne Snopek
Successful restaurateur Dane Bergman is suddenly the sole guardian of an adorable, willful child, and he's counting on his executive assistant, Pamela Atwater. Even if it means bringing her along on a month-long ocean-side retreat. On vacation, however, Pamela sees a side of Dane she never imagined—a side that tempts her to cross the line between being professional and mind-blowingly personal. But one month may not be enough time to prove to Dane that his perfect assistant might just be his perfect match.
Revenge Best Served Hot by Jackie Braun
Brody Flynn waited years to get his revenge on Douglass Shipping for his parents' deaths. Now the company is fumbling, profits are down, and it's the perfect time for a hostile takeover. But Kate Douglass won't give up without a fight. Brody was never supposed to feel attracted to the daughter of his enemy. He was never supposed to want her as hard as he does. And the only thing stronger than his hunger for revenge is his hunger for her...
The Prince's Runaway Lover by USA Today Bestselling author Robin Covington
Crown Prince Nicholas Lytton is about to become the king. And the best way to secure his crown is to do the unthinkable—find a queen. While Isabel Reynolds works in the palace gardens, she has no desire to draw the attention of the way-too-flirty, would-be king. The promise of love would only end in disaster. Because while Isabel may be able to catch a king, her secrets would only destroy him...
The Colonel's Daughter by USA Today Bestselling author Amy Andrews
Away from her Colonel father's overprotective control, Ivy Danforth is experiencing all that life has to offer. She wants to end her summer with some sexy fun, and she has just the hottie in mind. But Seth Rodrigo is ex-Special Forces who's undercover, keeping an eye on Ivy as a special favor to her father. All he has to do is not give the game away and reveal who he really is. But this time, the Colonel's daughter isn't taking no for an answer...
One Night with the Billionaire by Sarah Ballance
Zoe Davenport is on her way to a private resort where there's no ex-fiancé and definitely no public scandal involving him. All it takes is one look at the sexy resort owner for Zoe to wonder if she's landed in even hotter water. But Ryder Nash isn't a stranger—he was once the bad-boy-next-door neighbor she couldn't stand...until her father got rid of him. If Ryder gives into the fiery attraction that rages between them—even for a moment—he'll lose everything all over again...
The Greek Tycoon's Tarnished Bride by Rachel Lyndhurst
No one can tell single mom Erica Silver how to live her life...especially not some handsome, arrogant Greek stranger, who wants to take her son away from his "unfit" mother. But taking the boy from his mother—however tarnished she may be—is pretty much the last thing Tito Makris wants. Now Erica has a choice: marry Tito and stay with her son...or lose the boy—and Tito—forever.
Blurring the Lines by NYT and USA Today Bestselling author Marisa Cleveland
Real estate developer CEO Blake Whitman is a philanthropist, but when it comes to work, he's driven and focused, and he would never, ever mix business with pleasure. But when it comes to his new, hard-headed and kind-hearted secretary, Kira Layton, he's breaking all the rules.
Her Sworn Enemy by Theresa Meyers
Headstrong antiquities expert Belladonna Dupre has put every asset she has into recovering her family's fortunes from a shipwreck in the Gulf of Mexico. Problem is she needs a dive salvage operator to make it happen. Enter black sheep of the McCormack dynasty, Tucker McCormack. For these two opposites, it's a battle on the high seas, where sparks fly, attraction smolders, and anything can happen.
Comments
No comments posted.

Registered users may leave comments.
Log in or register now!