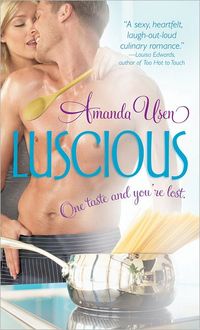 Purchase
One Taste and You're Lost
Sexy Chefs #2
Sourcebooks Casablanca
July 2012
On Sale: July 1, 2012
Featuring: Sean Kindred; Olivia Marconi
368 pages
ISBN: 1402262183
EAN: 9781402262180
Kindle: B0083JC1U2
Paperback / e-Book
Add to Wish List

A sizzling second book in a new contemporary series featuring sexy chefs.
Newly divorced chef Olivia Marconi is balanced on the knife-edge of a major meltdown. A week in Italy with Sean, her hot divorce attorney--not to mention the fantastic food and wine--sounds like the perfect getaway. If only she wasn't there to break her parents' hearts by quitting the family business.
Sean's attention makes her feel brave, desirable, and adventurous again. But Sean is hiding something, and Olivia is short on trust these days. Can a romantic interlude in Italy turn into something more, or will it all go up in smoke?
Sexy Chefs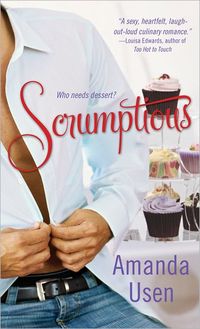 Scrumptious
#1.0
Amazon.com | BN.com | | |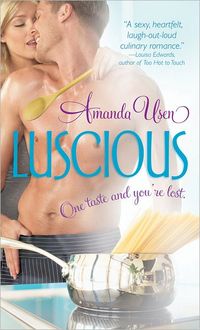 Luscious
#2.0
Amazon.com | BN.com | | |
Comments
32 comments posted.
Re: Luscious

I love a happy ending and feel happy for days after when I get one. It is exactly like the perfect dessert after a really good dinner.
Patricia Pascale
(Patricia (Pat) Pascale 10:48am July 19, 2012)
Hi

I read all genres so my favorite element is different for
each type I read. When reading romantic suspense it is the
thrill and conclusion when they are all safe and can finally
fall in love. For a true romance it is of course the moment
when they can't live without each other and for UF it is the
time when they can relax a little however knowing that
something can still happen (suspense).

Thanks for the chance
(Pam Brewer 10:51am July 19, 2012)
I look forward to a happy ending.
Blessings,
Marjorie
(Marjorie Carmony 10:53am July 19, 2012)
MY favorite part of a book is when the characters first realize their attraction. Things start heating up then and it's lots of fun. And I loved Scrumptious and am looking forward to this new book.
(Pam Howell 10:55am July 19, 2012)
I'm glad to see that I'm not the only person in the world who will sit and READ a cookbook, instead of just finding and making a recipe!! In fact, I read through the cookbook we put out at my church the other day, but that was business, pleasure (although I did find a batch of recipes I want to try), because I was looking for those errors that simply escaped the entire proof-reading committee! Found more than I wanted to (but fewer than expected - hooray!), but that's life in the Big 10, I guess.

I guess my favourite part is the anticipation of seeing how the H&H are going to react to their attraction (or antagonism) when they first meet. Seeing them working through to the HEA is fun!!

Thanks for the contest!

Later,

Lynn
(Lynn Rettig 11:05am July 19, 2012)
Enjoyed your blog. I could read cookbooks for hours and never try any of the recipes. Your new romance novel sounds like a great read.
(Sheila True 12:12pm July 19, 2012)
There are parallels between trying out a new recipe and meeting a new man - it could turn out fabulous and become a "keeper" or not turn out the way you think it will, but you tried something different and learned from the experience.
(Dana Wong 12:58pm July 19, 2012)
I love a book that has flawed characters...characters with a past. And, I love a little romance with my thriller.
(Sandy Fielder 12:59pm July 19, 2012)
I like to get a lot of background information in a story. It creates interest and provides information - about a country, a period or a profession say - and provides an environment in which the characters interact. Recently read a book set in Dallas, but nobody once looked out the window or drove along a highway, every scene was in an apartment, office or kitchen. So I have no idea what Texas or Dallas look like.
(Clare O'Beara 1:01pm July 19, 2012)
My family and friends are horrified, but, I'm one of those who checks the end of a book to make sure it has a "they lived happily ever after" ending.
(Anna Speed 1:02pm July 19, 2012)
I am deeply fond of culinary romances since I too have a love of food and romance. Many of the romances I had read recently were paranormal and urban fantasy. It is such fun to lose myself in the story and world-building.
(G. Bisbjerg 1:23pm July 19, 2012)
One of my favorite parts of a romance story is the attraction and romantic
tension between the characters, especially in a new or developing
relationship. It's the best part about romance for me.
(Debbie Burdeen 2:08pm July 19, 2012)
I like variety of subjects, and since I love cooking shows
having a culinary theme in a book would be my style.
(Diane Sallans 2:23pm July 19, 2012)
HI I JUST LOVE YOUR BOOKS. THEY ARE WONDERFUL I CAN'T PUT
THEM DOWN ONCE I START A BOOK I READ IT ALL WAY THROUGH. YOUR
MY FAVORITE AUTHOR OF ALL TIME. KEEP WRITING THOSE MARVELOUS
BOOKS.
(Shelly Caggiano 2:56pm July 19, 2012)
I like books featuring babies or small children, and I also like books with travel in them.
(Wilma Frana 3:12pm July 19, 2012)
Hello, everyone! Wow - great, thoughtful, fun comments! I'm sorry to chime in late today but the kids and I went blueberry picking. Not a ton of berries on the bushes this year but GREAT flavor. My son declared he wanted to make a blueberry pie with his, but we usually plow through them by the handful. Thanks for chiming in, all you lovers-of-a-happy ending! And I do read cookbooks for fun. I've learned as much about baking that way as I have in textbooks. There must be something in the air this summer, because I've been on a paranormal kick, too. I've been reading Nalini Singh, Jeaniene Frost, Thea Harrison and Kresly Cole like crazy! And finally, THANK YOU, SHELLY! YOU MADE MY DAY! As have all of you who stopped by to say hi! :-)
(Amanda Usen 3:45pm July 19, 2012)
I love the variety of romance books out there... something for my every mood... always look forward to the HEAs and the great feeling I leave a book with.
(Colleen Conklin 5:53pm July 19, 2012)
I like books that have faraway places and scary suspense. I also like ones that have paranormal in them. Thanks for the chance to win!
(Natasha Donohoo 5:53pm July 19, 2012)
I love a strong woman in a romance. I love reading about them interacting with their nieces/nephews/pets.
(Joanne Schultz 6:21pm July 19, 2012)
I like the mystery part of a romance the best.
(Sue Farrell 6:25pm July 19, 2012)
I like books that have romance and faraway places and those with a little mystery. Since I'm a cookbook collector and lover of recipes, I can't wait to read your books, Amanda. I haven't read culinary romances yet! I love reading cookbooks and origins of recipes. Thanks for the chance to win a delicious, fun book!!!
(Linda Luinstra 7:11pm July 19, 2012)
What draws me to a story depends on the genre I'm reading. For romances, it's knowing that there's a HEA.
(Mary C 8:00pm July 19, 2012)
What a great story - I have really gotten to love shows like Top Chef, Chopped, Iron Chef America, Hell's Kitchen - so I love these culinary love stories - I also love an unusual foreign setting - like many of the others, I also need my HEA ending, too - LOL - also love my paranormal romances, too!
(Felicia Ciaudelli 8:10pm July 19, 2012)
sounds like a real cool book
(Debbi Shaw 8:30pm July 19, 2012)
For me, a book has to have a hook. If it is an author I know, then it has to be characters I know from the series or a concept that attracts me. For an unknown author, I need an interesting cover, a concept that is in some way familiar and yet creative and a recommendation from a trusted reveiwer certainly helps.
(Jennifer Beyer 9:10pm July 19, 2012)
i love happy ever after!!
(Jennifer Beck 9:42pm July 19, 2012)
I've never read a culinary romance, so that isn't a book that I've had the pleasure to comment on -- yet!! When I'm in the mood for some lighthearted romance with a little mystery thrown in, I know that Janet Evanovich never lets me down. If I'm looking for a book that's totally off the wall and has nothing to do with romance, I look for Gregory Maguire's latest book. As for a real romance book, I scan the shelves. The story line has to grab me. I read the book the same way you do. I am the heroine, and experience the same things she does. I live the part. I do have my favorite authors, but don't want to be tied down to particulars. I want to experience other Authors as well, since there are so many talented ones out there that deserve a chance to be read. I look forward to reading your books, since we seem to be on the same page on so many levels. I may not have graduated from a culinary school, but I love to cook and bake, and reading, well, they go hand in hand the way we read them. Congratulations on your latest book.
(Peggy Roberson 9:53pm July 19, 2012)
My favorite part is watching how the relationships between characters develop.
(Chelsea Knestrick 10:59pm July 19, 2012)
The chemistry between the characters.
(Mary Preston 5:55am July 20, 2012)
Thanks for stopping by, everyone! It seems like many of you love a happy ending, chemistry, mystery, travel and (like my publisher Sourcebooks) a great hook. I'll be honest and say cover and title play in when I'm trying a new author too. Then blurb. Then maybe a page in the middle, lol! As mentioned above, a good rec from a friend is worth its weight in chocolate. Have a great weekend, y'all!
(Amanda Usen 7:02am July 20, 2012)
I love romance with a touch of cooking and enjoy recipes related to the story as they make my mouth water.
(Alyson Widen 6:56pm July 20, 2012)
I love reading cookbooks! I have a nice collection! I love the pictures and
the fantasy of cooking these recipes for my love! Which I do end up doing
for nice romantic dinners! What a great topic!
(Blue Sun 9:31pm July 24, 2012)
Registered users may leave comments.
Log in or register now!