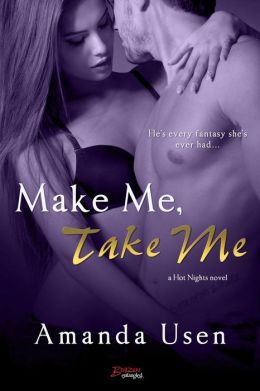 Purchase
He's every fantasy she's ever had...
Entangled
December 2014
On Sale: December 15, 2014
ISBN: 1633751562
EAN: 9781633751569
Kindle: B00Q20ASZY
e-Book
Add to Wish List

Romance Erotica Sensual | Romance Contemporary
Betsy Mouton knows that easy doesn't last forever. She's working her butt off to launch the Last Call Café so her family can leave the New Orleans bar business—and its heartaches—behind forever. That is, until the hottest one-night-stand of her life shows up next door, twice as uncompromising and two million times hotter, offering to buy the bar and send the Moutons to Easy Street.
Hotelier Quinton James has never forgotten the unbelievably hot night he and Betsy shared. Never forgotten how beautifully she submitted to him, or how he found the only peace he's ever known in her arms. Now that Betsy is the only thing standing in the way of his new hotel, she's the one in control. But there's more at stake than her cafe or laying their past to rest—Quin wants a future. With her. All he has to do is convince her...one sensual command at a time.
Comments
12 comments posted.
Re: Make Me, Take Me

Currently, I can't live without 2 things. The first thing
is my computer, because that's my lifeline. I have friends,
some of whom live overseas, and it's my only way of
communicating with them. I also do so many things on here,
that it would take up a lot of space to list it all. I sort
of told a fib. The second thing would be books, because my
life is so hectic, that I need to have an escape from
everything that I'm involved in. I manage the place where I
live with my Husband, and volunteer one day a week to teach
a knitting class. I'm also involved in other things, which
doesn't leave much "me" time. The third thing (where the
fib came in) would be my yarn, because I love to knit in
order to unwind a little. That's one reason why I
volunteered for the class, and another reason for the
computer. That way I could seek out patterns and other
information for class. I would love to read both of your
books, because my Father passed away earlier this year, and
after his will was presented, it created a lot of ill will
in the family. When you wrote about taking off the gloves,
I could relate completely, and would love to read your
books!! I also think that I would be able to relate to the
stories that you wrote, and somehow I need to get my hands
on your books!! I'm sorry that my answer was a little long.
Please have a very Merry Christmas, and a Happy New Year!!
(Peggy Roberson 11:13am December 17, 2014)
What I can not live without... my family, my pets, A/C in the summers, and books! :) Happy Holidays!
(Colleen Conklin 1:03pm December 17, 2014)
There are a lot of things that would make life much more difficult and/or depressing if we didn't have them, but knowing a little about the resilience of the human spirit and the sheer stubbornness that keeps people going, I fall back on the bare necessities of life that are necessary for survival. Of course, just having them might make it possible to survive, but not necessarily to WANT to survive.
(Cathy Burkhead 1:08pm December 17, 2014)
Can't wait to read this!
(Michelle Brown 3:07pm December 17, 2014)
I can't live without my family, books, & chocolate.
(Kv H 6:57pm December 17, 2014)
I'm sure there are tons of things I can't live without. But
I'm going to say my tablet.
(Kim Matlock 2:22am December 18, 2014)
I cannot live without Love, Family, & Books :)
Cheers and Merry Christmas. Best of luck to everyone
(Holly Loch 3:23am December 18, 2014)
Thank you so much for commenting! I can't believe I didn't put books on MY list! I have this recurring fantasy: me, a new book, a bowl of homemade Chex mix, and a Classic Coke. As soon as I finish galleys for my next book IMPULSE CONTROL (January 2015), I'm going to make that happen...
(Amanda Usen 6:15pm December 18, 2014)
Pens and books. I work in retail and pens are completely
necessary. Books are my sanity.
(Karin Anderson 10:50am December 19, 2014)
My grand daughter and her smile!
(Denise Austin 12:06pm December 19, 2014)
At the top of my list of what I hope to never be without is my family. Next would be books and my computer. Whenever something happens to my computer, I feel like I'm having withdrawals until it's repaired.
(Anna Speed 1:21pm December 19, 2014)
Your book sound really good cant wait to read it!!!
(Delia Chavez 3:25am January 3, 2015)
Registered users may leave comments.
Log in or register now!