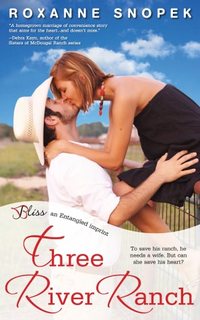 Purchase
To save his ranch he needs a wife, but can she save his heart?

Entangled
September 2012
On Sale: August 28, 2012
ISBN: 0015218627
EAN: 9781622669707
Kindle: B0091ZR6UM
e-Book
Add to Wish List

Needing a fresh start from her two-timing fiancé, Aurora McAllister answers a realtor's ad for a guesthouse on the beautiful, serene Three River Ranch. She shows up at Three River tired, heartbroken, and with no one but her trusty Labradoodle as a companion.
Cowboy Carson Granger has enough trouble in his life without adding a woman and her dog to the mix. There's the untamed mustang he's prepping to release into the wild, not to mention his father's crazy will, which stipulates that if Carson wants to fully inherit Three River, he'll need to find a bride. Carson wants nothing to do with love and especially not a marriage of convenience. But he soon realizes Rory, and everything she represents, might just be exactly what he needs.
Sometimes love arrives on your doorstep when you least expect it…
Three Rivers Ranch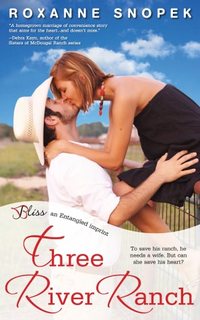 Three River Ranch
#0.0
Kindle | BN.com | | |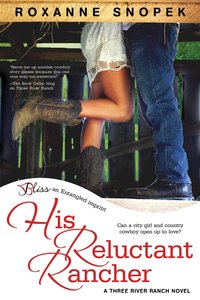 His Reluctant Rancher
#0.0
Kindle | BN.com | | |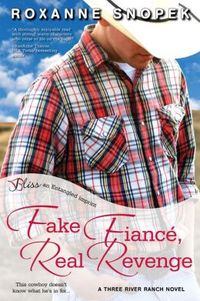 Fake Fiance, Real Revenge
#0.0
Kindle | BN.com | | |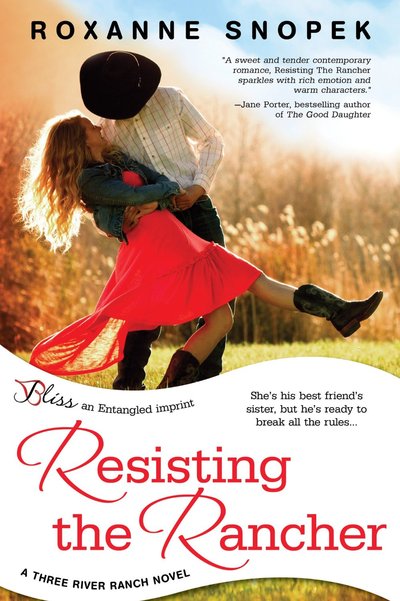 Resisting the Rancher
#0.0
Kindle | BN.com | | |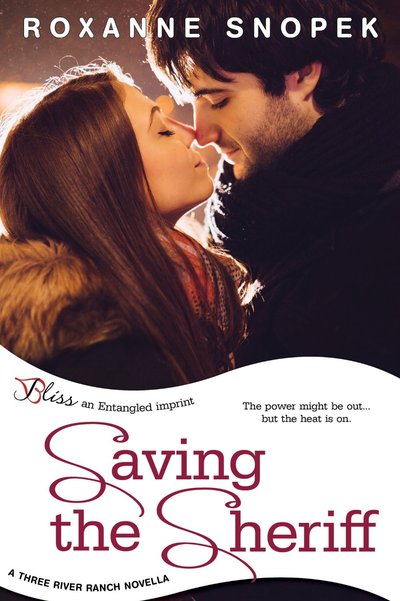 Saving the Sheriff
#0.0
Kindle | BN.com | | |
Comments
53 comments posted.
I haven't posted anything embarrassing yet and will be very careful after reading about your experience. It was funny though.
(Rita Wray 12:45pm September 17, 2012)
I have been rather cautious with what I share online and honestly can't think of anything embarrassing.
(G. Bisbjerg 12:48pm September 17, 2012)
Without going into detail now, it was something about my personal life. At the time, and having to do with the site I was on at the time, I was sort of goaded into it. I never would have revealed the information, but was at a pretty low point in my life, and reached out to someone for help. It wasn't an affair. They were girlfriends, and I still have them, 10 years later. They helped me through a really bad point, and even though I probably shouldn't have said anything, looking back, I probably would have done the same thing. Let me say that I think your cover is very heartwarming, and I'm looking forward to reading your book!!
(Peggy Roberson 12:59pm September 17, 2012)
Like I'd confess here, now that I know there could be almost 25 million reading (my fan base isn't as large as yours). However, I do know of someone who proposed marriage on Facebook. The answer was "no" – surprise, surprise. He was so confident that the answer would be yes. But really, who would marry a guy who proposed over the internet, even if it was a quirky and clever way that he did it?
I'm looking forward to reading Three River Ranch – I just bought it yesterday.
(Natasha Pow 1:00pm September 17, 2012)
Very wise, you cautious people. I wish I could say I'd learn from you... but it's probably easier to move and change my name.
(Roxanne Snopek 1:02pm September 17, 2012)
Peggy, you've made a good point: emotional-posting is like drunk-dialing, I think. Good chance you'll regret it later...
(Roxanne Snopek 1:04pm September 17, 2012)
And thank you, yes, didn't the cover artists do a FANTASTIC job?
(Roxanne Snopek 1:05pm September 17, 2012)
Aw, c'mon Natasha. Your secret's safe with us!
(Roxanne Snopek 1:06pm September 17, 2012)
What kind of a dorkus proposes over the Internet? Seriously.
(Roxanne Snopek 1:07pm September 17, 2012)
Unfortunately I don't have children, but if I did they would probably post embarrassing things on the internet about me.
Blessings,
Marjorie
(Marjorie Carmony 1:11pm September 17, 2012)
Like Rita and G. Bisbjerg, I have not posted anything of an intimate or embarassing nature on the internet especially since I am very cautious in what I reveal about myself or my family outside of the internet. I tend to guard my privacy rather jealously. However that doesn't stop me from wanting to read about it in your book... :)
(Angelina Daniels-Shaw 1:13pm September 17, 2012)
I do not have children so that saves them from me posting embarassing things and I have not posted anything embarassing about me or my husband but I love to read about embrassing situations.
(Shirley Younger 1:17pm September 17, 2012)
I don't post embarrassing things, I wouldn't want anyone doing that to me.
(Wilma Frana 1:19pm September 17, 2012)
I love your blog & I needed that chuckle this blessed Monday morning. Had doctor's appt & NSD (No Sign Disease) from Renal Cancer. CANCER FREE for 2 1/2 years. Isn't our God fabulous. All praises go to His wonderful & prcious name.

Looking forward to reading our book. I love entering contest and winning books by authors I've never read. Gives me an opportunity to try new authors, post reviews for them, and if I really, really like the author - then their name goes to my FAVORITE AUTHOR LIST at my local indy bookstore - its actually a used book store but they order new books for their customers. So each month they havemy list of authors & if I hear of a good book then they will order it for me to try. Thank you for the opportunity to enter. Have a very blessed day to you & your bloggers
(Pat Moore 1:22pm September 17, 2012)
Tho I've been tempted a few times, I try really hard to be
circumspect online & really careful how I phrase things about
others. They say that everything will be available forever.
(Diane Sallans 1:27pm September 17, 2012)
Sheesh - 100 days of Bikram? I get frazzled just thinking about it. Even the hot, sweaty, boys - usually one of my favorites - don't tempt me.

Kate
(Kate Austin 1:40pm September 17, 2012)
well with having "smut" in my tagline, i can confirm that sex does sell when it comes to internet postings.
best of luck with three river ranch!
(Nora Snowdon 1:41pm September 17, 2012)
Haha, Angelina! I humbly offer my foibles for your amusement!
(Roxanne Snopek 1:45pm September 17, 2012)
Lemme tell you, Kate, I think it got me through menopause. I figured maybe if I sat in the hot room long enough, I'd hot-flash myself out. Who knows if it helped, or if my hormones just finally gave up.
(Roxanne Snopek 1:48pm September 17, 2012)
LOL Nora! My books are pretty tame, in truth, so I can only hope my more adventurous readers don't put out a hit on me!
(Roxanne Snopek 1:51pm September 17, 2012)
Marjorie, Shirley, Wilma, I bow to your circumspect wisdom. I was once circumspect, if not wise. Then I got married. Then I had children. Dignity? Gone. Sense of humor? I was forced to grow one. Hopefully, I only aim it at myself, but who knows. My children may be plotting against me as we speak. I'm safe from my husband though... I know where the bodies, so to speak are buried.
(Roxanne Snopek 1:54pm September 17, 2012)
Pat, congratulations on the NSD report! My dad and father-in-law both had the same thing about, hm, a few years ago and are both all clear as well. (Dad? Is that you?? WHEN DID YOU LEARN ABOUT THE INTERNET??)

That's great news, Pat (if that's really your name...) and I'm so glad I gave you a chuckle!
(Roxanne Snopek 1:59pm September 17, 2012)
From what I can tell, Diane, it's ONLY the embarrassing stuff that lives forever. So, good for you for being cautious!
(Roxanne Snopek 2:01pm September 17, 2012)
I grew up pathologically shy. Socially terrified. Wretchedly awkward. I went through 12 years of public school without sneezing, for fear of drawing attention to myself. It's a wonder I still have eardrums.

Then in grade 10, one of my teachers took it upon himself to make me speak up in class, by whatever means necessary. He relentlessly - but kindly - poked at me, joking, pushing, pressing until I was forced to learn some rudimentary verbal self-defense. (I still wouldn't sneeze, though.)

It was such a relief to discover that laughing at myself could actually be fun! That I could say that answer that no one else knew, and show how smart I was. (Or, as it turned out, how dumb I was.) That I would not, in fact, die of embarrassment.

That was the genesis of my education in what my sister refers to as "self-defecating" humor.
(Roxanne Snopek 2:23pm September 17, 2012)
I HAVEN'T POSTED ANYTHING EMBARASSING YET.
(Shelly Caggiano 3:40pm September 17, 2012)
Does that mean you've never done anything embarrassing, Shelly?
(Roxanne Snopek 3:56pm September 17, 2012)
The best part about the "sweaty, naked boys" incident is that it wasn't *me* who was embarrassed. In fact, no one was embarrassed, although the one guy probably would have been, had he known what happens to tighty-whities after 90 minutes of hot yoga. Can you say transparent?

Let's just say, he had nothing to be ashamed of.
(Roxanne Snopek 4:03pm September 17, 2012)
You know I actually try very hard not to post embarrassing things of my or my kids on any social media! So what I post most on social media is about books! LOL!!
(Stacy Wright 4:05pm September 17, 2012)
I joined Facebook originally only so I could stalk my kids. I see perplexingly little, which makes me suspect I've been quietly unfriended.

And after all I've done for them.
(Roxanne Snopek 4:42pm September 17, 2012)
this book sound like a good way to escape from my life for a while...thanks so much
(Kimberly Hoefs 4:54pm September 17, 2012)
"Let's just say, he had nothing to be ashamed of."
Hee, hee.

I don't understand the appeal of Bikram, if you combine "sweaty" with "stranger" the ick factor kicks in. And see-through tighty-whities? Ewww. Please don't tell me they became droopy, too. Please.
(Natasha Pow 5:25pm September 17, 2012)
I have never posted anything embarrassing over the internet that I recall. Not that I've never done anything to be embarrassed about in my life! I remember back in my senior year of high school when two of my girlfriends and I decided to go out to the all-boys college in the town we lived in. We entered the back door of a building, not knowing it led into the boys dormitory. We saw a huge room with couches, chairs, fireplace, etc. and sat and waited to see if some boys would come into this lounge area and talk to us. Much to our surprise, "hot sweaty" boys who were heading in and out of the showers (wrapped in nothing but white towels) were passing the open doorway where we sat!! They started yelling and screaming, "Oh, whoa, there's girls in here!" We were laughing really hard and a few of them joined us...after they headed upstairs to their dorm rooms to dress! Met some nice guys and never got in trouble for being there. Maybe this was the highlight of their dull Fri. night!
Three River Ranch looks like a book I'd enjoy very much...cowboys and romance are my favorites, and I'd love to read this!
(Linda Luinstra 5:42pm September 17, 2012)
Ha, Linda, now you can say you HAVE posted one of those moments! Thanks for sharing that; I'll bet those guys were secretly thrilled...
(Roxanne Snopek 6:22pm September 17, 2012)
I know, Natasha! And I have personal space issues, too! Bikram is a special sort of hell... until you get into it. Then it's addictive. Very strange.

And I should confess, the thankfully-non-droopy UnderArmours those guys wore were no more revealing than your average yoga attire... well, the white was still a bad decision... but believe it or not, after the first pose or two, no one really pays attention to anyone else; you're too busy trying to breathe.
(Roxanne Snopek 6:29pm September 17, 2012)
I recently posted a picture of the giant spider in my garage. Turns out a lot of people hate spiders as much as I do! And everyone's got a spider story: nearly causing an accident when discovering one in the car, having one crawl out of your robe pocket and (my personal favorite) waking up to learn you've swallowed one because the LEGS are still on your lips.
(Roxanne Snopek 6:44pm September 17, 2012)
I don't know what made me think of spiders. I got tired of yoga, I guess. And some of my most embarrassing moments involve spiders.

Or, maybe my ADD is kicking in.
(Roxanne Snopek 6:49pm September 17, 2012)
I haven't posted anything embarrassing on the facebook but I have done something embarrassing. I send a email to the wrong person that it got a bit controversal. The opposite party and I had no idea what was being said until I finally asked them "What project are we talking about?" We were talking about the same project site location but a different project.
(Kai Wong 8:05pm September 17, 2012)
I've not posted anything embarrassing online or on facebook. My two adult children are embarrassed that their father & I luv attending country music concerts, NASCAR races and hockey games around the country. They think we're nuts. Can't imagine their reaction if they only knew that my "handle" in a private chat room is "Empty Nester With A Honeymoon Attitude".
(Joanne Hicks 9:15pm September 17, 2012)
I don't post embarrassing things. Thanks for giving me a chance to win your book.
(Linda Hall 9:18pm September 17, 2012)
that easy when i am on line to family and then bud on fb i am going to tell them the story when they were younger and then they pay back with the old pic of the family shots
(Desiree Reilly 11:11pm September 17, 2012)
It's too embarrassing! I'd love to win a copy of your book.
(Charlene Fraley 11:46pm September 17, 2012)
I don't post embarrasing things online because one never knows where the posts could end up.
(Mary C 12:22pm September 18, 2012)
Kai, I've had those exact conversations! Don'cha hate that?
(Roxanne Snopek 12:37pm September 18, 2012)
Empty Nester with a Honeymoon Attitude - I LOVE it, Joanne! That's awesome!
(Roxanne Snopek 1:02am September 18, 2012)
Such self-control... such admirable discretion... ladies, I am humbled by your wisdom.

Since I have almost no dignity left anyway, I shall continue to share my exploits. I think it's a writer thing. I figure if I can make others feel better about themselves, it's all good. Even if the only reason they feel good is because THEY AREN'T ME!
(Roxanne Snopek 1:10am September 18, 2012)
Thanks for joining me everyone - I've had a lovely time! One of you will win a copy of Three River Ranch as a thank-you for chiming in today.

For the rest of you, remember, for only $2.99, you not only buy your own copy, you'll be doing your part to keep me off the streets. It's good karma.

Cheers all, and good night!
(Roxanne Snopek 1:15am September 18, 2012)
I'm a very private person, so I don't post personal details over the Internet of myself or my children.
(Mary Preston 5:32am September 18, 2012)
Nope, haven't posted embarrassing stuff. I don't do social network sites of any kind.

Your cover art is lovely, I am sure the book is a great read.
- Clare
(Clare O'Beara 7:37am September 18, 2012)
I am very careful about what I post online. Naked, sweaty boys would definitely catch my attention!! Good luck and thanks for your wonderful stories.
(Teresa Sullivan 10:04am September 18, 2012)
Thanks, Clare! I agree! The cover art has gotten a lot of compliments.

Thanks for joining us, Mary and Teresa! I hope you like Three River Ranch.
(Roxanne Snopek 12:31pm September 18, 2012)
Like some of the others, I don't recall posting any
embarrassing things on the internet, I'm very careful about
that. Would love to read the book!
(Teresa Kerr 12:33pm September 18, 2012)
And just like that, you're entered to win a copy! Good luck, Teresa!
(Roxanne Snopek 3:41pm September 18, 2012)
I don't blog and so I hope I don't have much of an online presence but of course
I've said stupid things on FB (which you can go back and delete) and on Twitter
(which you can't, I believe.) I'm relieved there are no hot sweaty boys for prizes
in real life--although you got my attention RS with that--because I
unfortunately envision my 16 year old in gym class. ew. I mean lovely for the
girls in class but I prefer men showered up and clean smelling!
(Angela Hall 5:31pm September 18, 2012)
Registered users may leave comments.
Log in or register now!