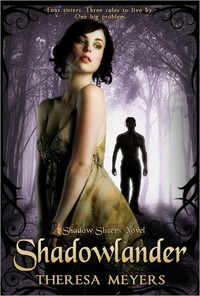 Purchase
Four Sisters. Three Rules to Live by. One Big Problem.
Shadow Sisters #1
Entangled
November 2011
On Sale: October 30, 2011
Featuring: Catherine Rowan Mary O'Connell; Rook
ISBN: 0013625098
EAN: 2940013625099
Kindle: B0061GHXYI
e-Book
Add to Wish List

Four sisters, three rules to live by, one big problem.

O'Connell Family Rule #1: Don't let the Fae know you see them.
O'Connell Family Rule #2: Don't talk to the Fae.
O'Connell Family Rule #3: Never, ever follow them.

Most people only believe what they can see. Gifted with the ability to see the deep, dark fae of Shadowland, Catherine Rowan Mary O'Connell would prefer not to. When the fae abduct her friend Maya, Cate breaks the sacred O'Connell Family Rules and sets a trap for the handsome fae who haunts her every step.

Rook, High Court Advisor to the Shadow King, has been following Cate since she was sixteen. When Cate reveals herself as one of the fabled "Seers", Rook is stunned---she is one of the few that can permanently open the gates between their worlds. If he turns her over to the Shadow King, his court will rule the human realm.

Cate knows she has precious little time to find Maya. By midnight, the glamour of Mid-Summer's Eve will fade, leaving her trapped forever in the Shadowland, but Maya's abductor won't give up the woman he's mesmerized easily.

The midnight hour is almost at hand. Cate must choose: her freedom or her destiny.
Comments
23 comments posted.
Re: Shadowlander

I have several. I love the Sherbrooke Bride family from Catherine Coulter's series.
(MaryAnne Banks 10:35am November 11, 2011)
I enjoy reading all the Miss Julia novels by Ann B Ross
(Sheila True 11:24am November 11, 2011)
Scarlett is a favorite of mine, but I also like Hannah Brown (Judy Garland's character in Easter Parade. I haven't met any heroine from Sherrilyn Kenyon's novels taht I don't love.
(Tamara Hunter 12:26pm November 11, 2011)
That's a tough one I have so many but recently the one who has really stood out is Alexander Barrington and Tatiana Metanova from The Bronze Horseman series. Another is Mac and Barrons from the Fever series. All these characters resonte with me and I really care about their story.
(Na S 12:49pm November 11, 2011)
So many great characters out there and I am sure there are some that I have not even met yet in books... some favs are Eve Dallas from JD Robb's IN DEATH series & Scarlett from GWTW...
(Colleen Conklin 12:58pm November 11, 2011)
Acheron, most of the BDB, Seeley Booth, I could go on and on. Now I'll be thinking about that all day!
LOL
(Patti Paonessa 2:07pm November 11, 2011)
So many characters... but the first one that comes to my mind is Westley from The Princess Bride. :)
(May Pau 2:47pm November 11, 2011)
I love Jamie Fraser from the Outlander series by Diana Gabaldon. I also adore all of the characters in the Elizabeth Peter's Amelia Peabody mysteries. They are so well written, they seem like real people to me.
(Jennifer Langford 3:58pm November 11, 2011)
How I wish that the prize wasn't an e-book. I don't own an e-reader!! Anyway, I wanted to tell you about the character Mary Toliver who is in the book Roses, by Leila Meacham. She is a cotton tycoon, and the love story that is told spans nearly 100 years. It is told with such passion, and the ride that you will go along with Mary, who is such a head-strong lady, will make you laugh, cry, and not be able to put the book down, even though it is over 500 pages long!! It's a very well-written book. I want to read your book very badly, and think the cover is outstanding!! The story you told in the beginning about someone in a funeral procession being forced to kiss a 12 year old girl reminded me of my childhood. I remember a relative picking up one of my cousins, who were small, and lifting them up over the body of one of my Uncles to give him a kiss. I was stunned, even at that young age!! Anyway, I wish that the book was a print one, and not an e-book.
(Peggy Roberson 5:14pm November 11, 2011)
LOVE BEING A WINNER.....AND READING!
(Linda Fickling 10:50pm November 11, 2011)
riley-keri arthur
(Jennifer Beck 11:11pm November 11, 2011)
J.D. Robb's Eve Dallas and Roarke, Lee Child's Jack Reacher
and Kay Hooper's Bishop series, to name a few.
(Mary C 11:26pm November 11, 2011)
I often get completely into a story so that when I have to stop for some reason or other, I feel somewhat alienated from my real surroundings for a while. Oddly enough, some of the characters I remember best are in books I read 50 or more years ago. The name that immediately popped into my head when I read your question was Tibby Mawes, though I thought of her as Tibby Day, her married name. She appears in the first book one of my favorite series, Elswyth Thane's Williamburg Series that starts in 1774. I still love those seven books.
(Sigrun Schulz 12:37pm November 12, 2011)
My favourite characters of all time always seem to be the ones in whatever I'm currently reading. So, since I'm reading a Stephanie Laurens right now, those Cynster characters are my favs.

And Peggy, Kindle, Nook, and Kobo all have FREE apps for your home computer, so you can read e-books there. Also, there's a chance the e-book would come as a pdf format, which is completely readable on a computer.

Later,

Lynn
(Lynn Rettig 2:36am November 12, 2011)
Acheron, Zerek, Zsadist and oddly enough Artemis =D

Emily T
emilytardy@yahoo.com
(Emily Tardy 3:30am November 12, 2011)
Acheron, Hypatia Cade, Anna Latham, Honor Harrington and
Miles Vorkosigan are the ones that immediately spring to
mind for me.

Ilona
felinewyvern at googlemail dot com
(Ilona Fenton 4:11am November 12, 2011)
I read Wuthering Heights when I was about 16 and I still have a crush on Heathcliff.
(Heidi Durham 4:41am November 12, 2011)
Characters, all time, Scarlett-Buffy the Vampire Slayer-right now movie
wise I am in love with Anonymous, I do love Lord of the Rings The
Fellowship series. I think I love too much, I am very ecletic.
(Carla Carlson 10:38am November 12, 2011)
Cat & Bones, Dallas and Roarke, Anita Blake, Acheron, all of the Sisters from Fern
Michael's revenge series--there are so many more , and many more to come. I
read all the time--don't you?
(Sandra Spilecki 12:08pm November 12, 2011)
I like Dalls and Roarke too!
(Molly Wilsbacher 8:55pm November 12, 2011)
Jamie Fraser, Sam Starrett and the TS men, BDB, Acheron are just a few of the characters that stand out to me.
(Maude Allen 1:17pm November 13, 2011)
Leslie Carron in Gigi has always been a favorite of mine with her perkiness and French accent.
(Alyson Widen 4:52pm November 13, 2011)
i am looking forward to read your books it will be my first or yours they sound great
(Brenda Hook 6:27pm November 13, 2011)
Registered users may leave comments.
Log in or register now!