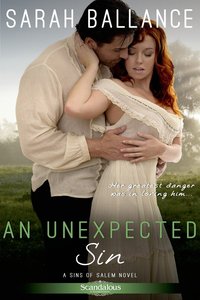 Purchase
Her greatest danger was in loving him...
Sins of Salem #2
Entangled Scandalous
April 2014
On Sale: April 14, 2014
168 pages
ISBN: 1622665473
EAN: 9781622665471
Kindle: B00J6UKBFE
e-Book
Add to Wish List

Colonial Salem
The moment the stranger's dark eyes meet hers, Anne Scudder's world is immediately overthrown by chaos. That single flare of desire is immediate, driving away all notions of propriety. Instead, Anne is consumed with sinful thoughts - ones that no unmarried girl should ever have for a man who isn't her husband...
But Josiah Cromwell is no stranger.
It's been six years since Josiah stole kisses from Anne, his best friend's younger sister. Six years since Josiah left after his best friend's death, burdened by the knowledge that he was responsible for destroying Anne's family. Now he's returned to claim the woman he can't live without. But even as their desire threatens to consume them both - body and soul - the dark workings of suspicion and witchcraft are afoot.
Because in Salem, too much passion can lead a woman to ruin... and condemned to death.
Sins of Salem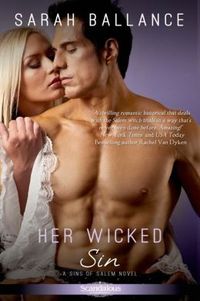 Her Wicked Sin
#1.0
Kindle | BN.com | | |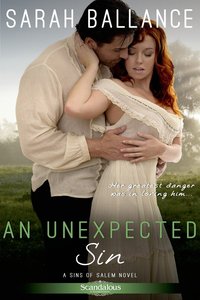 An Unexpected Sin
#2.0
Kindle | BN.com | | |
Comments
19 comments posted.
Wow, the book/blurb is awesome! I've always been fascinated by the witch trials in all countries & can't wait to check out your book.

Mindy :)
Birdsooong@comcast.net
(Mina Gerhart 8:00am April 19, 2014)
I really connected to your posting in so many ways, and
really wanted to read your book in the worst way. However,
I don't have an e-reader, and am very disappointed that you
didn't give people a choice of print or e-copy. I'm so
fascinated with Salem myself, and remember those stories in
my textbooks with the shaded drawings. The teachers back
then just touched down on the subject, for some reason, then
moved on, as if it was taboo. I suppose that we had to get
older to learn some of these subjects on our own, and that's
why I got interested in topics such as this. The cover to
your book is beautifully done, and does your story justice,
too!! Congratulations on your series!!
(Peggy Roberson 9:46am April 19, 2014)
Good grief! You grabbed my attention. What a fabulous idea. A romance set in the middle of the witch trials. I love it. Sounds like a story that would keep you at the edge of your seat!
(Lisa Hutson 11:01am April 19, 2014)
I've read An Unexpected Sin (and left reviews) and would love
to read this one! Thanks!
(Linda Townsend 11:24am April 19, 2014)
@Mindy: Thank you! I'm so glad I'm not the only one lured by
the era. I hope you enjoy the book. :)

@Peggy: I hope the book will be available in print soon! In
the meantime you can read ebooks on your computer (on Amazon
just click "read now in the cloud" and it will show up in
your browser) and there are a number of free reading apps
available for other devices as well. As for Salem, isn't it
funny how so many of us had the same school experience? (And
a number of other topics as well, I'm sure.) I wish I'd
known back then how interesting history really is! Thank you
for your lovely comment.

@Lisa: Thank you so much. I'm thrilled the idea intrigues
you. :)

@Linda: I can't tell you how much I appreciate your reviews.
I hope you'll enjoy the first book as much as you did the
second!
(Sarah Ballance 12:34pm April 19, 2014)
Wow this sounds like a great series... thanks for sharing a bit about it with us!
(Colleen Conklin 1:34pm April 19, 2014)
Great perspective. Most history classes neglect the actually
people involved in historical events and how the event
affected them and their families.
(Glenda Martillotti 3:31pm April 19, 2014)
This historical novel sounds like one is really in old time Salem, living as a
member of the community & becoming acquainted with the hysteria &
heartbreak of the Salem Witch Trials. Adding romance to this time of terror is
sure to be a winner!
(Sheila Veikune 4:12pm April 19, 2014)
@Colleen: Thank YOU for visiting and commenting!

@Glenda: You are so very right. I don't think I would have
come to that conclusion without my foray into Salem, but
it's a valuable lesson. Thanks for commenting!

@L: Thank you for stopping in!

@Sheila: I'm so glad you think so! I hope if you have the
opportunity to read the series that you enjoy it. :)
(Sarah Ballance 5:06pm April 19, 2014)
I love books about this time in history. Will have to check
it out!
(Vicki Hancock 2:35am April 20, 2014)
I can see this being all kinds of interesting to read.
(Mary Preston 5:41am April 20, 2014)
This definitely sounds like a book I'd love to read. Thanks!
(Bonnie Capuano 8:39am April 20, 2014)
this sounds really good thanks so much
(Denise Smith 9:20am April 20, 2014)
Love the blurb! I am most intrigued by your concept and can't wait to see the story unfold for myself!
(Kimberley Coover 11:32am April 20, 2014)
Sounds like a great book. I would like to read your vision of
the Salem Witch Trials.
(Denise Austin 1:16pm April 20, 2014)
The Salem Witch trials were always a part of history that facinated me.
Your book blurb makes me want to read.
(Cindy Olp 4:18pm April 20, 2014)
That sounds like it would be a fascinating story. It is definitely an interesting time period.
(Larena Hubble 11:57pm April 20, 2014)
And those trials weren't confined to Salem, but sprouted up
all over New England where ever there were folks jealous of
their neighbors' good fortunes. A number of men were also
accused. I think I would like fiction way more than the real
thing!
(Janet Martin 7:07pm April 21, 2014)
What an interesting premise. I've never read a romance set in
Salem for that specific reason and you've given all the
reasons why I should change my mind about it. Well done!! I'll
be given it a try ASAP.
(Joanna Moreno 11:57pm April 25, 2014)
Registered users may leave comments.
Log in or register now!