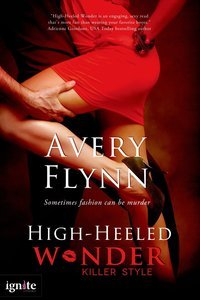 Purchase
Killer Style #1
Entangled Ignite
February 2014
On Sale: January 27, 2014
Featuring: Sylvie Bissette; Tony Falcon
144 pages
ISBN: 1622662091
EAN: 9781622662098
Kindle: B00HP1JYRC
e-Book
Add to Wish List

Romance Suspense | Novella / Short Story
Sylvie Bissette may be one of Harbor City's youngest glitterati, but only her best friends know her most closely guarded secret. She's the woman behind The High-Heeled Wonder, a must-read blog for fashionistas everywhere. Gossip, fashion advice, exposés. Too bad some people can't take a little criticism. When an internet troll discovers her secret identity and escalates from stalking her to threatening her life, Sylvie turns to security expert Tony Falcon for help. The investigator from the other side of the tracks is the olive oil to her Evian water and aggravates her to no end, but it's not just her temper he's inciting...
Tony Falcon wouldn't know a kitten heel from a tabby cat, but since most of the bad guys he tracks down aren't wearing stilettos, it's never been a problem...until he meets Sylvie. When a murder investigation leads him to the same place Sylvie works, he realizes the feisty fashionista may be his best chance at catching the criminals who killed his best friend. It all leads back to the cut-throat fashion world. But solving that case means going after the people Sylvie cares about, and soon his attraction for her--and the danger she's in--has him wondering if solving the case is worth hurting the woman he can't stop fantasizing about ...
When Sylvie's almost run over in broad daylight, Tony goes undercover as her boyfriend to infiltrate the close- knit fashion community. And when they discover Sylvie's stalker may be linked to Tony's own investigation, what started as a simple plan to find his friend's killers turns into a hot bed of secrets and revelations. In a world full of overblown egos and dog-eat-dog ambition, Tony and Sylvie must work together to find her revenge-obsessed stalker before Sylvie ends up with a literal knife in the back.
Killer Style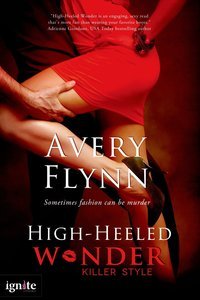 High-Heeled Wonder
#1.0
Kindle | BN.com | | |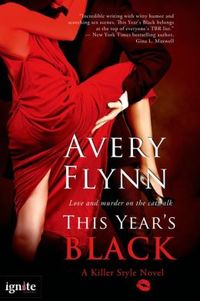 This Year's Black
#2.0
Kindle | BN.com | | |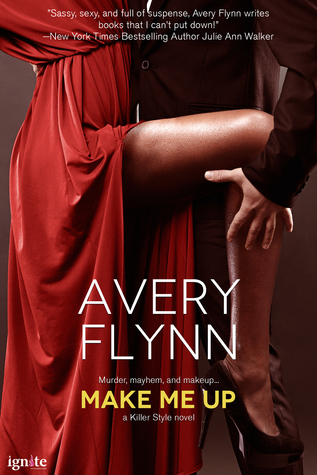 Make Me Up
#3.0
Kindle | BN.com | | |
Comments
27 comments posted.
I love a good mystery and this combo sounds great.I cant
wait!
(Denise Austin 2:43pm February 17, 2014)
I would like it
(Aaron Polish 3:05pm February 17, 2014)
Please Please Please I want to win!
(Amber Kuehn 3:08pm February 17, 2014)
I would love to read High-Heel Wonder. I love that partnership between the news reporter and the vice detective. Thanks for the giveaway.
(Kai Wong 3:15pm February 17, 2014)
shoes and books... oh yeah!
(Nancy Krueger 3:20pm February 17, 2014)
I love the look of heels on others & love to read fashion magazines, but I am a t-
shirt, jeans, & flats kind of gal!

High-Heeled Wonder sounds like it has key elements of romance & suspense. I
can't wait to read it!
(Rachel Kerrinski 3:32pm February 17, 2014)
I've read a lot of nice comments about this book on blogs
(Denise Holcomb 4:54pm February 17, 2014)
I am more of a Minnetonka moc gal but I love a good read!
(Susan Coster 6:14pm February 17, 2014)
Sounds like a great read...I love high heels too. Thanks for the giveaway.
(Kathleen Beale 6:48pm February 17, 2014)
Wow, Congrats on your new book: HIGH-HEELED WONDER. I like
the book cover too! I have never shopped at DSW but those are
beautiful shoes and I would love to win this great prize and
read your book in the New Year 2014. Thank You very much.
Cecilia CECE
(Cecilia Dunbar Hernandez 8:58pm February 17, 2014)
Sounds like a great book. I love heels too. Thanks for a chance to win.
(Linda Hall 11:56pm February 17, 2014)
Loving this!
(Vanessa Primer 4:08am February 18, 2014)
Oh, and duh, yes I want to be entered!
(Vanessa Primer 4:08am February 18, 2014)
sounds really good
(Denise Smith 5:52am February 18, 2014)
I shop at DSW and have for many years. While I didn't think of it when buying shoes and purses there, now I know every time I do......and thank you for writing this book. Sounds like a very well dressed book with very interesting characters.
(C Culp 7:42am February 18, 2014)
At my age, I'm afraid heels are out, but I'd love to win this book!!!! Thanks for the great giveaway!
(Bonnie Capuano 8:23am February 18, 2014)
Wow! Never heard of Beto but yum! This looks cute and I certainly will be checking it out!
(Sue Galuska 8:50am February 18, 2014)
I've looked at the site Go Fug Yourself a couple of times, and gotten a kick out of it. Unfortunately, my time has been limited on the computer for quite a while, due to commitments and other things going on in my life which have had to take priority ( i.e. sick Dad in nursing home ). I loved reading your posting today. It not only made me realize how much I've missed, but it brought a bit of a smile to my face. Your book sounds like it'll be a fun, mysterious read, and the type of book I can put on my TBR list. What a way to start out the series!! Congratulations!!
(Peggy Roberson 10:36am February 18, 2014)
I like heels but not too high! Congrats on the book!
(Colleen Conklin 11:51am February 18, 2014)
I adored High-heeled Wonder, Avery! Funny, hot hero, great suspense...read it in a day. I'm afraid most of the couture names and designer shoes were lost on me, though. I'm a yoga-pants and sweatshirt kinda girl. :) Really look forward to your next novel in the series.
(Sarah Andre 12:11pm February 18, 2014)
I enjoy reading a good romantic mystery. I used to love wearing high heels, but age has made me more cautious. Now I have to admire them on others.
(Anna Speed 12:47pm February 18, 2014)
I like reading any type of romantic theme books.
(Tina Lechuga 1:20pm February 18, 2014)
Sounds like a fun book. I've learned I can look at some pretty groovy shoes
but they'll never fit my big feet. They'll just have to inspire a shoe cake or
two.
(Laura Gullickson 9:25pm February 18, 2014)
Count me in! This is great!
(Melanie Backus 12:28pm February 19, 2014)
What an exciting book! Fashion and murder sound like a great combination. Thanks for sharing.
(Bonnie H 11:57pm February 22, 2014)
Your checklist sounds like fun. I want to sleuth with your
vice detective and find the fashion details which you
sprinkle through the story.
(Alyson Widen 5:50pm February 25, 2014)
Wow, i would love to read this book and your funny comments
also made it more interesting than it already was. Thank you
for posting this giveaway, i really hope i can win it :)
(Sarah Hansrote 4:43am March 6, 2014)
Registered users may leave comments.
Log in or register now!