Avery Flynn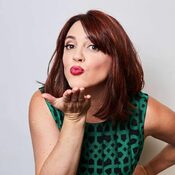 Blogging at Fresh Fiction
Avery Flynn | Exclusive Interview: MAMA'S BOY
October 1, 2021
Welcome to Fresh Fiction, Avery! We are happy to have you here. Please tell us about yourself and your new book, Read More...
Have You Ever Milked A Snake?
April 27, 2017
No, that's not a euphemism. It's an actual job and my heroine, Clover Lee, in Read More...
Avery Flynn | Modernizing the Grumpy Duke
November 20, 2016
Historical romance - Regency in particular - is my crack. I love it. I can't write it, but OH MY GOD do I love it - like Read More...
Special Chance To Win and Help the REACH OUT AND READ CHARITY with THE SUTHERLANDS pre-order
January 30, 2016
Pre-Order THE SUTHERLANDS For Only 99¢ and Help The Reach Out and Read Charity Looking for a way to do Read More...
Avery Flynn | 10 Things I Love About Romance
November 10, 2015
Hey all! Like any writer, I started off as a reader and romance novels were (and still are) my fa-vorites. So what is it Read More...
Avery Flynn | Get Lucky: Excerpt from Big, Bad Red
March 17, 2015
I'm so excited to provide this exclusive excerpt of Big, Bad Red (part of the Read More...
Avery Flynn | Make Me Up Makeover
February 16, 2015
I love a makeover. Like seriously love a makeover be it a heroine (or hero) in a romance novel, a person on a TV show Read More...
Avery Flynn | Top Five Sexy Football Movie Heroes
January 28, 2015
I'm a sucker for a sports movie. So it was a real hardship *insert eye roll* to watch some of my favorite football movies Read More...
Avery Flynn | Whew! I Love a Strong and Silent Hero
November 5, 2014
I am a talker. I know that shocks you. :) But in my latest steamy romance, Read More...
Avery Flynn | Back to Reality
August 27, 2014
I don't know about you but it's been a long, hot summer in the Flynn household with three kids running around like banshees Read More...
Avery Flynn | What's Hotter Than a Tattooed Bad Boy?
June 23, 2014
So here, in no order except for how they occurred to me, are the top 10 things I learned while writing Read More...
Avery Flynn | Tequila and Men: What Could Go Wrong?
June 3, 2014
Who here knows a man like this? There were men Ryder had slept with and never thought much about again. Then, there was a Read More...
Avery Flynn | You've Got to Coordinate - Shoes, Stalkers and Sylvie
February 17, 2014
How do you put fashion and murder together? Well, like all things fashion, it's about the styling. :) I have an addiction to fashion blogs Read More...
Avery Flynn is a USA Today and Wall Street Journal bestselling romance author. She has three slightly-wild children, loves a hockey-addicted husband and is desperately hoping someone invents the coffee IV drip.

She was a reader before she was a writer and hopes to always be both. She loves to write about smartass alpha heroes who are as good with a quip as they are with their *ahem* other God-given talents. Her heroines are feisty, fierce, and fantastic. Brainy and brave, these ladies know how to stand on their own two feet and knock the bad guys off theirs.
Follow Avery on Instagram, Twitter, and Pinterest. Like her on her Facebook page or friend her on her Facebook profile. She's also on Goodreads and BookLikes.
Join her street team, The Flynnbots, and receive special sneak peeks, prizes, and early access to her latest releases!
Also, if you figure out how to send Oreos through the Internet, she'll be your best friend for life.
Interviews for Avery Flynn
Avery Flynn is Brewing Up Trouble and Romance in the Sweet Salvation Brewery Series
Enemies on Tap
September 10, 2014
Log In to see more information about Avery Flynn
Log in or register now!
Series
Killer Style | Sweet Salvation Brewery | B-Squad | MacKenzie Family | Tempt Me | Harbor City Romance | Instantly Royal | Hartigans | Gone Wild
Books:
Witcha Gonna Do?, December 2022
Trade Size / e-Book
Mama's Boy, October 2021
Last Man Standing #1
e-Book
Back in the Burbs, April 2021
Trade Size / e-Book
The Wedding Date Disaster, September 2020
Mass Market Paperback / e-Book
Attracting Aubrey, April 2020
Gone Wild #3
e-Book
Royal Bastard, March 2019
Instantly Royal
Mass Market Paperback / e-Book
Muffin Top, November 2018
e-Book
Butterface, August 2018
Hartigans #1
Mass Market Paperback / e-Book
The Schemer, April 2018
Harbor City Romance #3
Mass Market Paperback / e-Book
The Charmer, October 2017
Harbor City Romance #2
e-Book
The Negotiator, April 2017
Harbor City Romance #1
e-Book
Her Enemy Protector, November 2016
Tempt Me
e-Book
Bang, September 2016
B-Squad #2
e-Book
Brazen, June 2016
B-Squad #1
e-Book
His Undercover Princess, May 2016
Tempt Me
e-Book
The Sutherlands, March 2016
e-Book
Bullet Proof, February 2016
MacKenzie Family Novella
Paperback / e-Book
Designed for Murder, November 2015
Killer Style #4
e-Book
Seven Sins, October 2015
e-Book
Dodging Temptation, September 2015
e-Book
Trouble On Tap, June 2015
Sweet Salvation Brewery #3
Paperback / e-Book
Get Lucky, March 2015
e-Book
Make Me Up, February 2015
Killer Style #3
e-Book
Hot Dare, January 2015
Dare To Love
e-Book
Hollywood on Tap, November 2014
Sweet Salvation Brewery #2
e-Book
Enemies on Tap, July 2014
Sweet Salvation Brewery #1
Paperback / e-Book
This Year's Black, June 2014
Killer Style #2
e-Book
Betting the Billionaire, April 2014
e-Book
High-Heeled Wonder, February 2014
Killer Style #1
e-Book
Jax and the Beanstalk Zombies, June 2013
Fairy True #1
Paperback / e-Book
Passion Creek, March 2013
The Layton Family, Volume 3
Paperback / e-Book
Seduction Creek, April 2012
The Layton Family, Volume 2
Paperback / e-Book
Temptation Creek, April 2012
The Layton Family, Volume 1
Paperback / e-Book
Up A Dry Creek, June 2011
e-Book