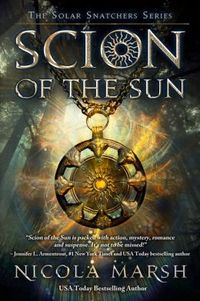 Purchase
Month9Books
November 2013
On Sale: November 5, 2013
ISBN: 0988340925
EAN: 9780988340923
Kindle: B00FVE9CEU
Paperback / e-Book
Add to Wish List

When she least expects it, sixteen-year-old Holly Burton's unremarkable life is shaken to the core. A vision of the mother Holly never knew leaves her questioning everything she believes.
Eager for answers, Holly enrolls at a boarding school for highly gifted students in Wolfebane, New Hampshire. But Holly's complicated life worsens when she accidentally transports to a parallel existence where she's confronted by a dark and ancient evil.
With the help of Joss, a sexy alpha warrior sworn to protect her, and her new BFF, the equally swoon-worthy Quinn, Holly faces her fears and an unlikely adversary in a showdown that is worse than anything she could've possibly imagined …
Comments
31 comments posted.
Re: Scion of the Sun

I have found YA to be extremely creative and admit that I love
the paranorml/urban fantasy forms of it. Was initially
surprised about how sophisticated the world building could be.
(G. Bisbjerg 12:31pm November 4, 2013)
Love paranormal, ya and sounds like a great book
(Vicki Hancock 12:42pm November 4, 2013)
How cool - even though I have never read the Twilight books (GASP - HERESY!) I do love paranormals AND Young Adult books - still have my stash from when I was in grade school and high school and love to re-read them too!
(Felicia Ciaudelli 1:20pm November 4, 2013)
I've been reading YA for years, I'll even occasionally read
a younger book despite not having kids. Bunnicula sounded
fun so I read it. Took about 10 minutes and I wouldn't
really recommend it to other adults, but it was cute. I've
cut back a bit in the last year because I found myself
becoming too critical, what appeals to a 15 year old in
terms of relationship drama both between friends or more
than friends was becoming grating to a 50 year old woman. I
did give up on the last Twilight book and have not seen the
movies, but I enjoyed Harry Potter in both forms and love
Rachel Caine's Morganville Vampire series.
(Anne Muller 1:48pm November 4, 2013)
I would so wear a necklace that looked like that...
(Callie Stuck 1:56pm November 4, 2013)
this sounds great
(Patricia Lambert 1:59pm November 4, 2013)
I'm looking for ya for my young reader. She reads as much as I do and
would love to find some appropriate authors for her to read.
(Michelle Schafer 3:22pm November 4, 2013)
This sounds like a great book. I have been doing a lot of YA
reading lately too. Though luckily most of the series I have
been reading have all of the books or at least a lot of books
out so I can read a bunch of them without having to wait for
the next one. LOL
(Larena Hubble 3:44pm November 4, 2013)
Wow! This sounds like an awesome series. I'm looking forward to checking it out.
I drop into the YA book section every now and then. My family and I enjoy them. There are some fine authors out there.
(Lisa Root 3:44pm November 4, 2013)
I love YA. To me that is the best genre. It seems to be filled with the most creative writers who allow even grown ups to be filled with the fun of believing that anything is possible. Scion of the Son sounds like a truly amazing story that will be a delight to experience.
(Janet Shook 6:41pm November 4, 2013)
I've also enjoyed reading a few YA paranormal books. I just happened to be walking through that section at our library and discovered them. I do not recall which authors they were any longer, but I did enjoy reading them. I really love your book cover! This sounds like a great story!
(Linda Luinstra 6:49pm November 4, 2013)
Sounds like a real winner to me! Congratulations!
(Betty Gelean 7:16pm November 4, 2013)
sounds like a great read cant wait
(Jennifer Beck 8:19pm November 4, 2013)
Wow, Congrats on writing and publishing 43 great books in 10
years. What an accomplishment! Congrats on your new book:
SCION OF THE SUN. I love the book cover too! Yes, I love
reading and watching Paranormal stories. I watch A HAUNTING
on TV all the time. I get so fascinated by the stories and I
would love to win and read your new book this Fall. Thank
You very much. Cecilia CECE
(Cecilia Dunbar Hernandez 10:20pm November 4, 2013)
Congratulations on the new book. Sounds like a great read.
Will put it on my "to read" list.
(Sharon Extine 11:58pm November 4, 2013)
Books sounds great. Thanks for a chance to win.
(Linda Hall 12:29pm November 5, 2013)
Twilight got me into reading for fun! I can't wait to read your new novel! It sounds amazing!
(Chelsea Brooks 1:18am November 5, 2013)
I should read YA again too. I was wandering the library shelves and spotted some of my favorites in the YA I haven't read in a while.
(Laura Gullickson 1:19am November 5, 2013)
The book sounds good. It has paranormal and cult which makes the story a bit interesting.
(Kai Wong 1:26am November 5, 2013)
My daughter introduced me to YA, but I haven't read the
TWILIGHT Books yet.
(Mary Preston 6:59am November 5, 2013)
I am usually pleasantly surprised by the young adult books out there. My absolute favorite is the Hunger Games series.
(Pam Howell 9:41am November 5, 2013)
I must confess that I haven't gotten into YA yet. I'm hoping that you'll be the one to introduce me to that genre. The reason I haven't gotten into it, is because the press made such a big deal about Robert Pattinson, and I didn't see anything special about him. Hate me if you will, but when the press goes crazy over someone, and makes them into some type of God, I immediately get turned off. The same thing happened with Harry Potter, and I have yet to want to read one of those books. I may be missing out on a good series of books, but the way the press and the people went crazy over it, made me run the other way. I'm willing to give your books a try, and see what I'm missing.
(Peggy Roberson 9:50am November 5, 2013)
I love the cover and can't wait to read this book!!! I love paranormal books!!! Thanks
(Bonnie Capuano 10:38am November 5, 2013)
I was brought up on Young Adult Fiction as a young person. I usually will read YA books when I want something different. There are times when you just don't really want to read something heavy and time consuming. Sometimes you just want to read for fun and escape. I used to tell my kids when they were younger that you don't have to use drugs to escape...just read a good book.
(Sandy Fielder 11:25am November 5, 2013)
Always looking to read something new and different! Cannot wait to read this. Sounds great!!!
(Kellie Barnett 11:35am November 5, 2013)
Lately I have found myself enjoying a few YA books and this one does sound really good! Thank you for this contest.
(Vennie Martinisi 11:56am November 5, 2013)
I enjoy YA books, I have read quite a few. This one sounds great, excited to read it.
(Crystal Young 7:34pm November 5, 2013)
i do enjoy YA books i love the paranormal ones the most this
does sound really good i would love to read this
(Denise Smith 11:13pm November 5, 2013)
Well done on creating so many books. YA books can be excellent reads but do not have to be paranormal. Try Fifteen Days Without A Head, This Song Will Save Your Life and The Elephant Of Surprise for a non-fantasy feast.
(Clare O'Beara 9:50am November 7, 2013)
Looks like YA rubbed off on you in a good way. It's fun to
revisit the time and angst of youth and letting the
imagination run wild with new worlds and situations.
(Alyson Widen 1:07pm November 9, 2013)
You've been very busy writing 43 books in 10 years! That's quite a big accomplishment. I haven't read any of your books yet, but this one sounds excellent and I look forward to reading it. I do enjoy reading YA books (esp. paranormal ones) which have so many unusual twists in them. Congrats on your latest, Scion of the Sun!!! Great cover!
(Rich Cook 3:57pm November 9, 2013)
Registered users may leave comments.
Log in or register now!