Sara Humphreys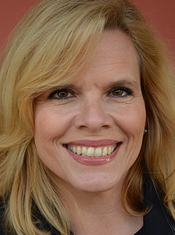 Blogging at Fresh Fiction
Sara Humphreys | My Top 5 Summer Beach Reads
August 4, 2016
I'm heading out to our family beach house for a week of fun in the sun and toes in the sand. Life has been Read More...
Sara Humphreys | The Good, the Bad, and the Fabulous of Being a Vampire
January 7, 2016
Since I am not a vampire, I had to enlist the help of the hero and heroine from "The Good, the Bad, and the Vampire Read More...
Sara Humphreys | Author Book Signings
September 1, 2015
While in-store signings don't sell millions of books, they can be a wonderful way to connect with readers. It's always a thrill Read More...
Sara Humphreys | 10 Fun Facts You May Not Know About My Vampires in NYC
March 5, 2015
1. They live in a closed society, meaning the majority of humans don't know of their existence. They get along with the other supernaturals Read More...
Sara Humphreys | My Favorite Moment with Shane and Maya in VAMPIRE TROUBLE
July 10, 2014
Picking a favorite scene is almost as daunting as picking a favorite character but If I must then I must. Maya and Shane's story Read More...
Sara Humphreys | A Very Amoveo Christmas
December 12, 2013
If the Amoveo were to celebrate Christmas, I'm quite sure they would gather at the royal family's ranch in Montana. The place has Read More...
Sara Humphreys | Top 10 Reasons Why Being a Vampire Would Rock
August 1, 2013
I'm sure if you asked a hundred people why vampires are awesome, they'd have a hundred different answers. But that's what's Read More...
Sara Humphreys | Top 4 Must Have Qualities in a Romance Novel Hero
May 16, 2013
What makes a romance hero attractive? Well, for me there are four must have qualities that my heroes simply have to have. To me it Read More...
Sara Humphreys | Turkeys, Trees and All the Trimmings
November 23, 2012
Happy Day After Thanksgiving! I hope everyone had turkey with all the yummy trimmings yesterday and you were surrounded by loving family. I know today Read More...
Sara Humphreys | Top 10 Benefits of Discovering You're Amoveo
April 20, 2012
Riddle me this...What does a human woman do when she finds out that she's not merely a human woman? Freak out? Sure Read More...
Sara Humphreys | Name Your Favorite Shapeshifter
October 10, 2011
People have asked me, on many occasions, if I could shapeshift into any animal from the Amoveo clans…which one would I choose? That's Read More...
Pseudonym: Willow James.

Sara is a graduate of Marist College, with a B.A. Degree in English Literature & Theater. Her initial career path after college was as a professional actress. Some of her television credits include, A&E Biography, Guiding Light, Another World, As the World Turns and Rescue Me. In 2013 Sara's novel UNTAMED won two PRISM awards--Dark Paranormal and Best of the Best. Sara has been a lover of both the paranormal and romance novels for years. Her sci-fi/fantasy/romance obsession began years ago with the TV Series STAR TREK and an enormous crush on Captain Kirk. That sci-fi obsession soon evolved into the love of all types of fantasy/paranormal; vampires, ghosts, werewolves, and of course shape shifters.
She also writes spicier contemporary romance under the name Willow James, so that her mother won't be totally mortified by her choice of career.
Sara is married to her college sweetheart, Will. They live in New York with their 4 boys. For a full list of Sara's books and reading order, please visit her website.
Log In to see more information about Sara Humphreys
Log in or register now!
Series
Amoveo Legend | Dead in the City | McGuire Brothers | Amoveo Rising
Books:
Undiscovered, March 2017
Amoveo Rising
Paperback / e-Book
Trouble Walks In, August 2016
McGuire Brothers #2
Paperback / e-Book
The Good, the Bad, and the Vampire, January 2016
Dead in the City #4
Paperback / e-Book
Brave the Heat, September 2015
The McGuire Brothers #1
Paperback / e-Book
Get Lucky, March 2015
e-Book
Vampires Never Cry Wolf, March 2015
Dead In the City #3
Paperback / e-Book
Unbound, January 2015
The Amoveo Legend Novella
e-Book
Vampire Trouble, July 2014
Dead in the City
Paperback / e-Book
Enthralled, June 2014
Stilettos and Seductions #2
e-Book
Pumped, January 2014
Stilettos and Seductions #1
e-Book
Unclaimed, December 2013
The Amoveo Legend
Paperback / e-Book
Asmodeus: Demon of Lust, December 2013
Princes of Hell Book 1
e-Book
Tall, Dark, And Vampire, August 2013
Dead in the City #1
Paperback / e-Book
Undone, May 2013
Amoveo Legend #4
Paperback / e-Book
Untamed, November 2012
The Amoveo Legend #3
Paperback / e-Book
Untouched, April 2012
Amoveo Legend #2
Paperback / e-Book
Unleashed, October 2011
Amoveo Legend #1
Paperback / e-Book