While in-store signings don't sell millions of books, they can be a wonderful way to connect with readers. It's always a thrill to meet people who've already read my books but it's equally thrilling to be introduced to new folks and hopefully make them one of my lifelong readers.
I don't sit behind the table waiting for random customers to walk up to me because most people won't. Perhaps they find it intimidating or they don't realize that I'm there selling my books. You'd think the sign with my picture on it would be dead giveaway.
To engage customers, I usually stand by the table and strike up conversations with those who wander by and make the egregious error of making eye contact with me.
Once you do that….you're all mine. Bwahahaha!
Most people are really cool and want to chat with an author but others…not so much.
Also, if you think that an author can get a swollen ego at an in-store signing, think again. These events can be humbling experiences. However, if you keep your sense of humor intact, it's all good.
Here are 10 frequently asked questions or conversations that have taken place at my signings.

1. Where's the bathroom?

2. Do you work here?

3. Customer: You're the author?
Me: Yes.
Customer: So…you wrote it?
Me: …..yes

4. Can I borrow your pen?

5. Do you know the guy on the cover? Is he real?

6. Customer:Oh! You write schlock? Y'know. That crap they sell at the airport?
Me: (Blank stare)…..

7. Me: Do you like romance novels?
Customer: No. I don't read. I'm only here for the coffee.

8. You wrote this? I wrote a book too. Can you tell me how to get it published?

9. Customer: What kind of book is it?
Me: It's a romance.
Customer: Oh…so lots of sex? Do you do personal research on that?
Me: …….

10. I love your books! When is the next one coming out?
All of these interactions make me smile for one reason or another but that last one is the best. I am grateful for every single person who reads my books and if you come see me at a signing, and save me from the bathroom seekers, I totally love you! I know you have a lot of choices out there and I'm honored that you include my books among them.

Dream on,
Sara
Sara is a graduate of Marist College, with a B.A. Degree in English Literature & Theater. Her initial career path after college was as a professional actress. Some of her television credits include, A&E Biography, Guiding Light, Another World, As the World Turns and Rescue Me. In 2013 Sara's novel UNTAMED won two PRISM awards--Dark Paranormal and Best of the Best. Sara has been a lover of both the paranormal and romance novels for years. Her sci-fi/fantasy/romance obsession began years ago with the TV Series STAR TREK and an enormous crush on Captain Kirk. That sci-fi obsession soon evolved into the love of all types of fantasy/paranormal; vampires, ghosts, werewolves, and of course shape shifters.
She also writes spicier contemporary romance under the name Willow James, so that her mother won't be totally mortified by her choice of career.
Sara is married to her college sweetheart, Will. They live in New York with their 4 boys. For a full list of Sara's books and reading order, please visit her website.
Website | Goodreads | YouTube | Twitter | Facebook | Blog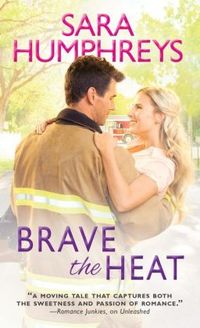 The only fire he can't put out...
Jordan McKenna is back in town, and Fire Chief Gavin Maguire's feelings when he sees her after all these years are as raw as the day she left. Then he was just a kid wearing his heart on his sleeve. Now he spends every day trying to atone for the tragedy he couldn't prevent.
Is the torch he carries for her Jordan's life has not exactly worked out the way she expected. A divorced mother of two with a failed acting career, Jordan's biggest concern about coming back to Old Brookfield was seeing her first love. But when a series of suspicious fires breaks out, Jordan and Gavin realize that dealing with the sparks between them may be the least dangerous of their problems.
No comments posted.