Tee O'Fallon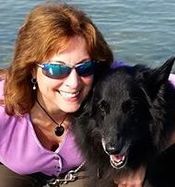 Contests
Tee O'Fallon's Holiday Month Giveaway - Win BLOOD MONEY & Amazon Gift Card

Social Media:
AMAZON
INSTAGRAM
BOOKBUB
GOODREADS
TWITTER
FACEBOOK

E-mail me when Tee O'Fallon releases a new book.
Blogging at Fresh Fiction
Tee O'Fallon | Title Challenge: HONOR 'N' DUTY
July 18, 2022
Hey everyone! I'm Tee O'Fallon, a romantic suspense author hailing from New York Read More...
Tee O'Fallon Interview - Federal Agents, Canines, and Romance
April 4, 2022
Is it soon apparent in TOUGH JUSTICE who the bad guys are, and the challenge is Read More...
Tee O'Fallon | Title Challenge: SERVE 'N' PROTECT
September 20, 2021
Hi Everyone! I'm TEE O'FALLON, a romantic suspense writer bringing you hunky heroes, feisty heroines, and courageous dogs. It&rsquo Read More...
Tee O'Fallon | 20 Questions: TRAP 'N' TRACE
June 15, 2020
1--What's the name of your latest release? TRAP 'N' TRACE Read More...
Tee O'Fallon | Behind the Scenes of Dark 'N' Deadly, A Federal K-9 Novel
November 1, 2019
The Plot: It never fails that someone asks me where I come up with the story lines for my books, and I Read More...
Tee O'Fallon | Writing Dog-Speak
February 22, 2019
Taking on a K-9 series has been one of the most rewarding, yet challenging endeavors of my writing career. Sure, it's easy to Read More...
Tee O'Fallon | How My Job Influences My Novels
January 25, 2017
As a writer of romantic suspense, I truly am fortunate to be a federal agent. Every day, and all around me, is true-life fodder Read More...
Tee O'Fallon | Behind The Scenes–My Inspiration For Burnout, NYPD Blue & Gold Series, Book 1
June 14, 2016
Many people have asked me what my inspiration was for writing BURNOUT. Answering that question Read More...
Tee O'Fallon has been a federal agent for twenty-three years, and is now a police investigator, giving her hands-on experience in the field of law enforcement that she combines with her love of romantic suspense. Tee's job affords her the unique opportunity to work with the heroic men and women in law enforcement on a daily basis. Besides writing, Tee loves cooking, gardening, chocolate, lychee martinis, and all creatures canine.
Awards
Fresh Fiction Box Not To Miss, , Tough Justice, May 2022

Log In to see more information about Tee O'Fallon
Log in or register now!
Series
NYPD Blue & Gold | Federal K-9 | K-9 Special Ops
Books:
Burning Justice, April 2023
K-9 Special Ops #2
Mass Market Paperback / e-Book
Honor 'N' Duty, July 2022
Federal K-9 #6
e-Book
Tough Justice, April 2022
K-9 Special Ops
Mass Market Paperback / e-Book
Serve 'N' Protect, October 2021
Federal K-9 #5
e-Book
Trap 'N' Trace, June 2020
Federal K-9 #4
e-Book
Dark 'N' Deadly, October 2019
Federal K-9 #3
e-Book
Armed 'N' Ready, February 2019
Federal K-9 #2
e-Book
Disavowed, September 2018
NYPD Blue & Gold #3
e-Book / audiobook
Lock 'N' Load, June 2018
Federal K-9 #1
e-Book
Blood Money, February 2017
NYPD Blue & Gold #2
e-Book
Burnout, June 2016
NYPD Blue & Gold
Paperback / e-Book