Hi Everyone! I'm TEE O'FALLON, a romantic suspense writer bringing you hunky heroes, feisty heroines, and courageous dogs. It's great to be here with you today and to share some fun tidbits about my new book, SERVE 'N' PROTECT, book 5 in the Federal K-9 series. U.S. Secret Service Officer Markus York doesn't want or need anyone muddling up his life. Until he's seriously injured and left for dead. The only help around is his way too cheery, way too enticing next-door neighbor. If they can stay one step ahead of whoever's trying to kill him, they just might have a shot at falling in love!
Get ready…
S is for surly. When Cassidy Morgan first meets Markus York, she thinks he's the stereotypical surly cop. Until she discovers the warm, caring, and sensitive side of his personality.
E is for eventually. No worries here, eventually Cassidy and Markus will find their HEA.
R is for recovery. Both Markus and Cassidy are recovering not only from physical injuries but from emotional wounds, as well.
V is for villain. This book's got plenty of villains to keep the hero and heroine busy.
E is for evil. The forces after Markus and Cassidy are as evil as it gets.
*
N is for nuclear. When Markus learns Cassidy's life is in danger, he practically explodes.
*
P is for protective. Not only is Markus a Secret Service officer who specializes in protection, but he'll do anything to protect Cassidy. And his K-9, Ghost, will do anything to protect them both.
R is for romantic. Markus never thought of himself that way before he met Cassidy.
O is for odds. At the beginning of the book, you'll be thinking the odds are against Markus and Cassidy falling in love. Trust me, just keep reading…
T is for thoughtful. What Markus does for Cassidy at the end of the book to get her back is one of the most thoughtful things a guy could possibly do.
E is for Eve. As in Christmas Eve. A lot of fun things happen in this book on Christmas Eve.
C is for courageous. Sure, Markus is courageous, but his K-9, Ghost, steals the show!
T is for tempting. Cassidy has sworn off men, but Markus tempts her more than any man ever has.
Ambushed and left for dead, U.S. Secret Service K-9 Officer Markus York is on the mend and laying low in a safe house while his team tracks down his attacker. But Markus isn't good at sitting still. Even with his K-9, Ghost, for company, he gets restless and decides now is the perfect time to do some repairs around the house…and inadvertently tears open his wounds.
Fresh out of a bad relationship that ended after a car accident left her with limited mobility, freelance accountant Cassidy Morgan has sworn off men. At least, that's the plan. Until a frantically barking dog leads her to a neighbor's house where she finds a mysterious man out cold and bleeding on the floor...and mumbling things like "no, they'll find me" when she tries to call an ambulance.
Yeah, that's not at all concerning.
Despite Markus's surly attitude, Cassidy senses there's something else at work beneath his rugged, keep-your-distance exterior. Whatever it is, it's sexy as hell.
With someone still trying to kill him, Markus doesn't want an innocent to get hurt, let alone take care of him.
If only his dog wasn't crazy in love with her.
If only the chemistry between Markus and Cassidy didn't explode whenever they were in the same room.
If only Cassidy wasn't a target now, too.
Romance Suspense | Romance Military [Entangled: Amara, On Sale: September 20, 2021, e-Book, ISBN: 9781649372352 / eISBN: 9781649372352]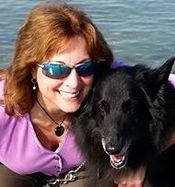 Tee O'Fallon has been a federal agent for twenty-three years, and is now a police investigator, giving her hands-on experience in the field of law enforcement that she combines with her love of romantic suspense. Tee's job affords her the unique opportunity to work with the heroic men and women in law enforcement on a daily basis. Besides writing, Tee loves cooking, gardening, chocolate, lychee martinis, and all creatures canine.
No comments posted.