1--What's the name of your latest release?
TRAP 'N' TRACE
2--What is it about?
This story is about tracking an elusive killer, and the police can't find a motive. The only link between the victims is that they were discovered by the same person--Katrina Vandenburg. Kat is a wealthy socialite with a heart of gold. She gives oodles of money to charity every year and has her own charity--the Canine Haven, a rescue shelter that finds good homes for dogs and trains some of them to be service animals. FBI agent Dayne Andrews and his K-9 Remy are drawn into the investigation and wind up protecting Kat. Despite their extremely different backgrounds, the sparks fly between Dayne and Kat.
3--What word best describes your heroine?
Caring. Many people often equate wealth with snobbishness, insensitivity, and self-centeredness. Kat is just the opposite of that, and Dayne is surprised to learn just how warm, generous, and caring she really is.
4--What makes your hero irresistible?
I just love a strong hunky guy with emotional wounds from his past, and Dayne is no exception. He's tall, dark, and broody with amazing green eyes, and he's got a soft spot for Kat. Although it takes him a while to wrap his brain around that. I don't want to give anything away, but Dayne's got a lot of baggage that makes the odds of him and Kat ever getting together pretty slim.
5--Who are the people your main characters turn to when they need help?
Each other, of course!
6--What do you love about the setting of your book?
This is where I grew up. The Canine Haven doesn't actually exist, but it's based on a rescue shelter in upstate New York. The castle, however, is real. I used to play there as a child. It was fun writing about my home turf.
7--Are you a plotter (follow an outline) or a pantser (write by the seat of your pants)?
I'm definitely both. I start out with a fairly detailed outline that ranges from 50 to 75 pages long. But writing doesn't always follow a linear path, so I always wind up deviating from that path. When I start writing a scene, things often change a bit. The characters dictate that change. As they grow and deal with their issues, their conversation and actions have to align with who they're becoming, and I may very well wind up writing something different than I originally intended. But that's okay because it makes the scenes and dialogue more real and more in keeping with the characters' personalities.
8--What is an ideal writing day for you?
Without question, the ideal writing day starts with getting my puppies outside before anyone has an accident then settling in front of my laptop with a huge cup of strong coffee. If I can get three thousand words down before noon, that's a good start. The afternoon is usually taken up with marketing, promotion, and social media. And, of course, more puppy outings.
9--Do you listen to music while you write, need total silence, or do you have the TV on?
I write in silence. I know many write to music, but that never worked for me. That said, I get some of my best ideas while listening to the radio in my car or my iPod while I go for a run.
10-- How do you approach research?
Luckily, I don't have to do much law enforcement research, but there's always something I need to look up. What different poisons do; medical symptoms and treatments, geography… The list goes on. If I can interview a doctor in person or go to the location myself, I'll definitely do that. The internet can certainly be a good resource, although any responsible writer needs be cautious about the source.
11--What is your publishing journey story?
My story is kind of middle of the road. I'm not an overnight success. The first story I pitched to literary agents and editors makes me cringe today, and I can totally see why it was rejected. It took three different books before I landed an agent. Once I got an agent, it wasn't long before an editor at Entangled picked up my NYPD Blue & Gold romantic suspense series about a team of tight knit detectives. I just finished my second series, the Federal K-9 series, and I'm honestly not sure what's coming next.
12--Do you have critique partners/writing groups you want to give a shout-out to?
Absolutely! Kayla Gray, MK Mancos, and Cheyenne McCray…you're the best! And to my friend and beta reader, Rachel M, thanks for jumping on board the Tee O'Fallon train.
13—What are the most frustrating things about being an author?
Without a doubt, all the behind the scenes marketing and promotion. I love going to conferences and meeting other authors, readers, and fans. But promoting myself from a desk is no fun. I'd much rather chat with folks at a bar or during a book signing. The other thing most people aren't aware of is that once an author finishes a book and submits it to his/her editor, that's not the end of that book's journey to publication. Hardly. The book goes back and forth several times between author and editor. Then it goes to the copy editor and goes back and forth. Then it goes to galleys and goes back and forth with the proofreader. It's a necessary evil, and by the time all is said and done, I'm ready to move on to the next story!
14--What's your favorite scent?
Chocolate-vanilla-cinnamon. I know that's three, but I'm a foodie and can't limit my answer to just one.
15--What movie will you watch no matter what if it's on TV?
Again, there are too many to limit to just one. The Hunt for Red October, Something About Mary, Maid in Manhattan, The Cutting Edge, To Hell and Back--a WWII movie about Audie Murphy. I could probably keep going, but I'll stop there.
16--Do you like breakfast, lunch, or dinner best?
I love 'em all. I just love to eat. Period. And I love to cook.
17--What's one thing you wish you knew more about?
Editing my website! Seriously. I just started doing some edits and it's not that easy. But it's fun and very gratifying when I finally get it right.
18--What's the silliest thing you've recently done?
Well, this isn't exactly silly, but. . . Three months ago, I got a puppy. Two months later, I got another one. What was I thinking??? Now, I'm their servant.
19--What can readers expect from you next?
I honestly can't say. I've pitched some ideas to my publisher and literary agents, and I'm waiting to hear back. Could be another K-9 series or something completely new. Either way, it will definitely be a romantic suspense/thriller series.
20--How can readers reach you?
I love hearing from readers and can be contacted via my website https://teeofallon.com or at [email protected].
Federal K-9 #4
For wealthy socialite Katrina Vandenburg, business meetings and charity galas are all part of her orderly, structured world--one that gets blown to hell after finding two dead bodies in the same day. The police think she was in the wrong place at the wrong time. FBI Special Agent Dayne Andrews thinks otherwise. Dayne and his K-9, Remy, are tracking a cold-blooded killer, and that trail. . . leads straight to Kat.
Kat and her rescue shelter--the Canine Haven--are the only common denominators between the murders, and Dayne is convinced she's dead center in the killer's sights. Protecting her will test every ounce of his steely resolve. She's the most intriguing woman he's ever met. And everything he shouldn't want. Too bad neither of them seem to have gotten the memo.
And they need to focus on catching a killer now more than ever. Because if Dayne and Remy fail in their mission, nothing will stand between Kat and the killer's deadly blade.
Romance Suspense [Entangled: Amara, On Sale: June 15, 2020, e-Book, ISBN: 9781640638983 / eISBN: 9781640638983]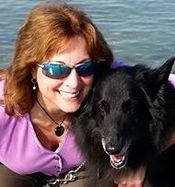 Tee O'Fallon has been a federal agent for twenty-three years, and is now a police investigator, giving her hands-on experience in the field of law enforcement that she combines with her love of romantic suspense. Tee's job affords her the unique opportunity to work with the heroic men and women in law enforcement on a daily basis. Besides writing, Tee loves cooking, gardening, chocolate, lychee martinis, and all creatures canine.
No comments posted.