Many people have asked me what my inspiration was for writing BURNOUT. Answering that question is a piece-a-cake.
I've been a federal agent for over two decades, so the suspense part of the story flowed naturally from my brain to my fingers, and from there, to my keyboard. That, and I've always enjoyed the underlying crime that has to be solved in a suspense novel. That aspect of a story inevitably throws the hero and heroine together under extreme circumstances, something that always leads to emotions and passions running high. Perfect fodder for a romantic suspense.
Having worked with police and federal law enforcement officers my entire career, I have the most amazing contacts. I like to be factually accurate, so when I don't personally know a specific agency factoid, I have an incredible contact list of cops and feds who are only too happy to assist in the creation of my stories and bringing my characters to life.
There is also a huge part of me in this book. Many times in my career, I've considered leaving "the business" and doing something completely different, like opening a small restaurant or a bed-and-breakfast and cooking my little heart out. The heroine of Burnout, Cassie Yates, is likewise at a crossroads in her life. Cassie grew up in a family of cops and followed her father and brothers into the police academy. But as the darkness and pressures of long term undercover work begin to gnaw at her soul, Cassie ponders a major life change.
As for the hero of Burnout, Chief Mike Flannery, he is somewhat a product of my childhood. My father was police commissioner of the little New York town where I grew up, and he was responsible for hiring the chief of police. Dad was smart and wanted only the best for our itty-bitty burg, so he always hired retired NYPD officers, figuring he'd be more likely to get cops with hardcore experience from the big city. The perfect men to protect us. Mike Flannery is a former NYPD officer with a tortured past rough enough to take down any normal man. Mike has that same hardcore experience my dad was always looking for in our police chief. Plus a drool-worthy physique, of course.
Last, but hardly least, I had to include my beautiful Belgian sheepdogs in my story. I've loved all the dogs in my life, but those Belgians are absolutely awesome! Smart, beautiful, intelligent, loving. Very protective dogs with the soul of a human. They are my friends. They are family. My Belgian sheepdogs will always be with me.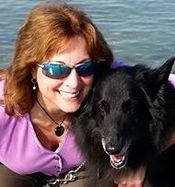 Tee O'Fallon has been a federal agent for twenty-two years, giving her hands-on experience in the field of law enforcement that she combines with her love of romantic suspense. Tee's job affords her the unique opportunity to work with the heroic and sexy men in law enforcement on a daily basis. For Tee, research is the easy part!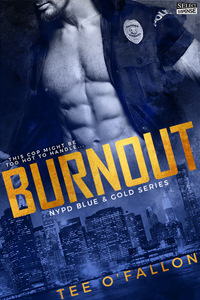 He's been a cop too long not to recognize the signs of a woman running from her past.
She's not who she says she is—and isn't about to share her secrets.
Sexy-as-sin Police Chief Mike Flannery knows the new arrival to Hopewell Springs is trouble. She has a smoking-hot body and a quick wit…and he'll be damned if that's not a turn-on. But this former NYPD cop and small-town heartthrob has been burned before, and there's no way he'll let that happen again.
New York City Detective Cassie Yates is on the run. A six-month undercover sting in a sleazy bar seemed like a textbook arrest—but now there's a hit out on her. Armed with fake ID, her K-9 companion, and a police-issued SUV, she flees to a quiet upstate town where she trades her badge and gun for a spatula, finally finding peace in the dream she tossed aside to follow her family into law enforcement.
There's no denying the fire and ice between them. But as the hired assassin closes in, Mike's past comes roaring back and secrets are revealed in an explosion destined to tear them apart—if not destroy them.
No comments posted.